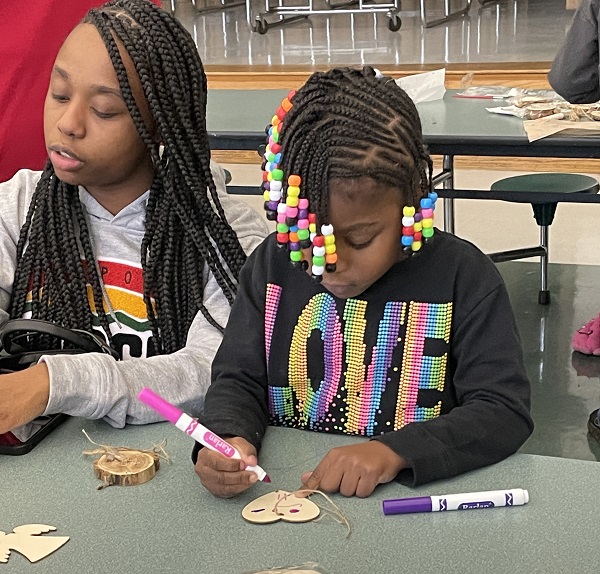 BY KARISSA MILLER
Twenty Statesville High School leadership students are discovering this holiday season what a difference giving back can make in the lives of younger students.
On Monday afternoon, the leadership students were divided up into two teams. Half of the students went to Third Creek Elementary School and the other half to East Iredell Elementary School leading to help the after-school Primetime students with holiday activities.
"Our students chose to give back with a service project that spreads holiday cheer. We are helping the younger kids paint ornaments, make cards, decorate a cookie and are singing holiday songs," Statesville High leadership advisor Jill Hartle, who was multi-tasking as a volunteer and advisor.
The leadership program, which is part of a partnership with Chick-Fil-A, aims to teach students how to be effective leaders at their school and in the community.
"It teaches our students to be role models. The big kids are demonstrating servant leadership and the younger kids look up to them," Hartle said.
While the leadership group is still a relatively new program, Hartle has watched many of the students put their skills into action by getting involved in extra-curricular activities at their schools or through athletic opportunities. She is proud of all of her students.
Leadership students Eden Pomonis, 15, and Chasity Bowman, 14, said they have experienced the positive value of giving one's time to help others.
"We learned that serving others helps us grow, and it can also be fun," Bowman said.
Pomonis said that she enjoys working with younger kids.
"It's great to see everyone having a good time, and it's Christmas time so you don't know if everyone can celebrate. They have cookies they can eat and ornaments and cards to take home and give as gifts," she said.
PrimeTime director Jill Wingler, who was on site at Third Creek Elementary, ordered all of the supplies. The sugar cookies were made by the culinary students at Career Academy and Technical School.
Wingler said that all activities were paid for through a grant, but admits that she would have paid for the supplies out of her own pocket because she loves seeing how much joy th event brought the students.
Statesville High Chick-fil-A Leadership Students
• Addison Goforth
• Amber Dalton
• Arianna Powell
• Chasity Bowman
• Eden Pomonis
• Jaziah Lackey
• Liliana Billings
• Nyla Jones
• Xavier Odom
• Kemiyah Cowan
• Miracle White
• Samara Bowman
• Emma Peters
• Me'Cala Holland
• Promise Lovelace
• Rory Lackey
• Sakari Johnson
• Darbee Lewis
• Paiton Saner
• Juh'tyreaunna Gaither
Photos