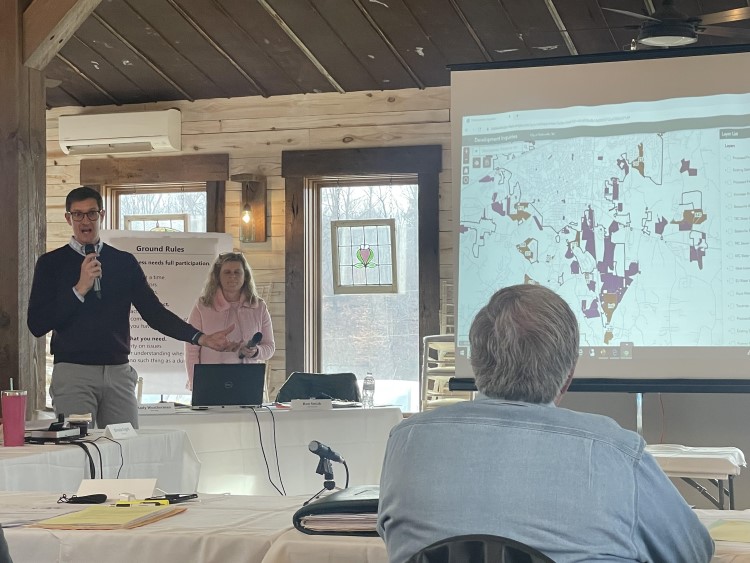 BY MIKE FUHRMAN
At the start of the Statesville City Council's annual planning retreat on Thursday, City Manager Ron Smith advised council members to be prepared for the growth that's rapidly approaching.
"Put on your seat belts," he said. "We have a lot of development coming our way."
Council members and about a dozen senior staff members are spending Thursday and Friday at The Kinleeshop Farm off South Chipley Ford Road engaged in discussions about how to best handle all of that growth. Staff from the Centralina Council of Government are helping facilitate the discussions.
The strategic decisions the council makes during the retreat will help guide how city staff manages the growth.
"We are being pulled in every direction literally," Smith said. "And we need to know what to do about it. In my opinion, 2022 is The Year of Statesville."
Fortunately for Statesville, the growth is coming at a time when city coffers are flush with state and federal funds related to COVID-19 pandemic relief — what Smith called "generational money" — as well as funds that the city council has set aside in recent years through conservative spending and cost controls.
Planning Director Sherry Ashley detailed more than a dozen residential developments in various stages of development — from planning to earth moving — throughout the city. All total, there are more than 4,000 residential units in the pipeline, most of which are single-family homes. The largest is an 840-unit project off Bell Farm Road, which includes 570 single-family homes and 270 attached units.
Access to water and sewer services is a driving force in the location of the projects, Ashley told the council.
Challenges for the council include ensuring all residents have access to safe, affordable housing. While the city can regulate density of residential developments, by law it cannot dictate price points and legislate the aesthetics of each development.
"Trying to figure out affordable housing is very difficult," Ashley said. "All of these that are coming in are going to be the same product in the same price range."
Jenn Bosser, president and CEO of the Iredell Economic Development Corporation, told the council that Iredell County and Statesville are attractive to industry looking to expand or relocate because of access to great healthcare, good schools, strong water and sewer capacity and the interstate system — and the low state corporate tax rate and low property tax rates.
The temperate climate, safe communities and housing costs are also attractive to industries who are moving to the region.
"This is a great location to live," Bosser said. "Sometimes we forget that."