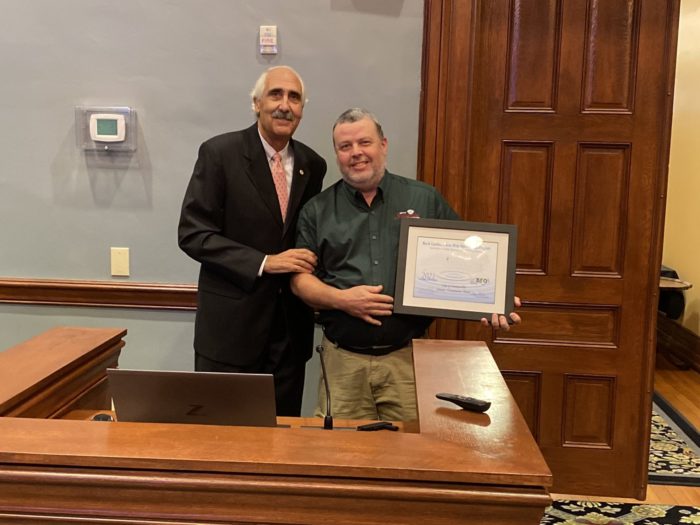 Special to Iredell Free News
The Statesville City Council recognized employees at city's water treatment plan this week for earning the N.C. Area Wide Optimization Award from the N.C. Division of Water Resources for the fourth consecutive year.
Mayor Costi Kutteh presented the award to Harry Hull, water treatment plant supervisor, during Monday's council meeting.
Hull thanked the council for the recognition and for approving the budget necessary to keep the plant operating at this level. He explained that 2021 was a rough year and this award would not have been possible without his team and their dedication.
The water treatment plant performed improved its performance by 20 percent in 2021.
The N.C. Area Wide Optimization Award, which was presented to 66 water treatment plants in North Carolina for surpassing federal and state drinking water standards in 2021, is part of a state effort to enhance the performance of existing surface water treatment facilities.
Each year the awards are given to water systems that demonstrate outstanding turbidity removal, which is a key test of drinking water quality. Turbidity is a measure of the cloudiness or haziness of water caused by individual particles that can interfere with disinfection and provide a medium for microbial growth. Microbes are microscopic particles that occur naturally but can include harmful bacteria and viruses.
All drinking water systems must meet strict state and federal drinking water standards. Recipients of the The N.C. Area Wide Optimization Award met performance goals that are significantly more stringent than state and federal standards.