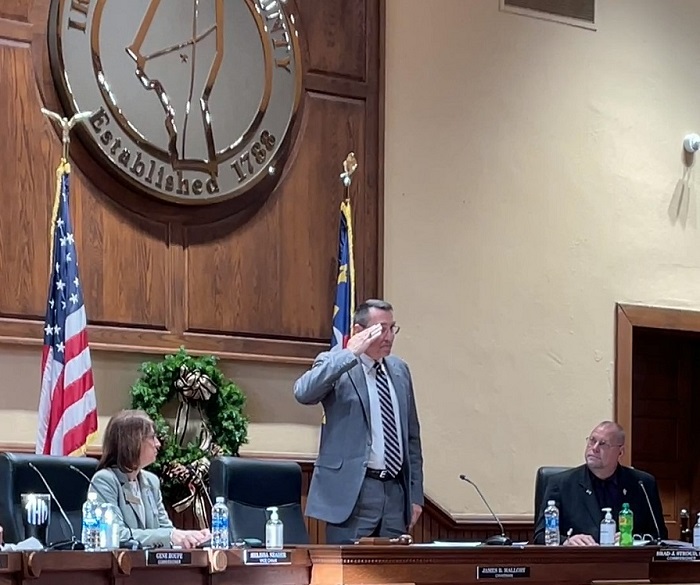 BY KARISSA MILLER
Iredell County Board of Commissioners Chairman James Mallory delivered a heartfelt goodbye to the community at large and his colleagues during his final meeting as a commissioner.
Mallory, who did not seek re-election, was first elected in 2014 and re-elected in 2018. He served as chairman for all eight years he was on the board.
In his final "Mallory Minute," a phrase coined by his fellow commissioners to describe his well-crafted speeches — which often lasted longer than a few minutes, Mallory expressed his appreciation for the opportunity to work with various municipalities, school boards, county departments, nonprofit organizations, economic development, volunteers, faith-based organizations, local business and the public.
"We have all worked together to achieve our common goals of making Iredell County a premier place to live, work and raise a family," he said.
Mallory also thanked past and present legislators, commissioners and county administrators for the important role they play in decision making for the county.
"All have worked tirelessly as a team to accomplish our goals and objectives for the people of Iredell County," he said.
Mallory closed by addressing the new board, which includes Brad Stroud, Bert Connolly, Gene Houpe, Melissa Neader and Scottie Brown.
A retired U.S. Army major general, Mallory called upon the traditional U.S. Navy Sailor's nautical blessing of "Fair Winds and Following Seas" in his farewell. The blessing is a gesture of good luck to those you will miss and sailors — or in this case, commissioners — who have served with honor and courage.
"May the winds be at your back, and propel you forward, and may the ocean tides and currents work with you, not against you, as you sail the ship of state into the future. Good luck, Godspeed, and I salute you all," Mallory said, quoting the sailor's blessing.
The outgoing chairman then saluted the crowd, and those in attendance gave him a standing ovation.