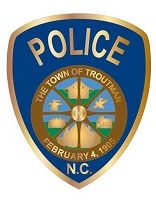 Special to Iredell Free News
A Statesville woman faces numerous charges after being stopped by Troutman police for a traffic violation on Thursday.
According to a Troutman Police Department news release, Officer Dotson made contact with Megan Partlow, 40, about 12:15 a.m. Thursday during a routine traffic stop on Charlotte Highway at Appliance Avenue.
Partlow initially handed the officer a Tennessee driver's license belonging to a 23-year-old female, police said. Officer Dotson continued his investigation and found that Partlow had several outstanding warrants for her arrest, according to the news release.
Officer Dotson and Sgt. Benge observed narcotic paraphernalia inside Partlow's vehicle, police said.
During a probable cause search of the vehicle, officers discovered methamphetamine, heroin, cocaine, and a large number of syringes, according to the news release.
Partlow was placed under arrest and transported to the Iredell County Detention Center, where she appeared before a magistrate.
The suspect was served with the outstanding warrants and charged with identity theft, possession of cocaine, possession of methamphetamine, possession of heroin, and possession of drug paraphernalia.
Partlow was ordered held on a $45,000 secured bond.