BY DEBBIE PAGE
debbiepage.iredellfreenews@gmail.com
The Troutman Town Council approved the proposed revisions to the Town Charter to send to the state legislature for approval during Thursday's meeting. The council also approved a code of ethics resolution for the council, and an ethics policy for all town boards and committees.
TOWN CHARTER
The last revision of the Town Charter, dating from 1981, contained outdated language and terminology, and sections no longer reflected the policies, ordinances, and practices adopted by various councils over the past 40 years.
Town Attorney Gary Thomas, Town Manager Ron Wyatt, and Council members Sally Williams and George Harris updated the document section by section to reflect gender neutral language, updated legal terms and job/position titles, and ordinance changes enacted over the past four decades.
After council's unanimous approval, the proposed charter will now go to the N.C. Gneral Assembly for required approval and, if approved, be returned for final council adoption.
CODE OF ETHICS
Although the council already follows a state code of ethics and undergoes training, North Carolina law requires the governing boards of cities, counties, and local boards of education to adopt local codes of ethics, and requires the members to complete ethics training after each election or re-election to office.
The local code of ethics unanimously adopted by the council emphasizes integrity, respectful behavior, following government processes, responsible use of the public trust, and maintaining independence while being responsive to the needs of citizens.
The code states that council members should also advance legitimate citizen needs while balancing public interest and private rights as they reach fair, impartial decisions. They should also obey all applicable laws, keep up-to-date with changes in statutes, not disclose confidential information, and give all people fair and equal treatment.
Council members should also be "incorruptible, self-governing, and unaffected by improper influence while at the same time being able to consider the opinions and ideas of others." They should also disclose any conflict of interest, even if only in appearance, and conduct business in a transparent manner.
The Advisory Board and Committee Guidelines that council also passed clearly defines conflicts of interest, including participating in decisions that would result in a board member's financial gain, benefit a relative, friend, or business associate, or cause an appearance of impropriety.
Board members should also have an open mind, hear all evidence or opinions, and refrain from advocating for a specific matter before the board or committee.
They should also be respectful in comments or interactions with other boards, elected officials, town employees, and the public. Once a majority decision is made by any board or committee, "the minority should respect and honor the decision."
POLICE RECOGNITIONS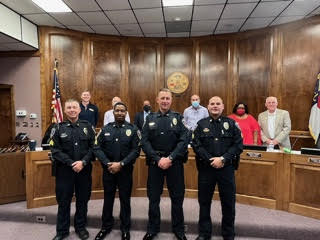 Police Chief Josh Watson introduced new department member Sgt. Daniel Stikeleather to the council. Watson said his criminal investigative and training experience will benefit the department.
Watson also recognized Sgt. Chad Trivette and Sgt. Rex Eure for their promotions.
Trivette has 10 years of law enforcement experience, including work for the Davie County Sheriff's Office and as a patrol officer with the Mocksville Police Department.
Trivette is also an instructor with the department in several areas. Watson describes him as "calm and level-headed, and his experience with help guide new officers and be a mentor to them."
Eure, a U.S. Navy veteran, has four years of law enforcement experience, serving as a police officer at St. Augustine College, Four Oaks Police Department, and N.C. Central University. He has a history of strong community involvement and wants to be more involved with departmental training.
OTHER BUSINESS
In other business:
♦ Council approved designated 13 Glock 9mm pistols purchased as secondary weapons by a previous chief but not well utilized as surplus. The department will get a $215 credit for each pistol, which will be used toward the purchase of four rifles. They will also trade in two other Glocks ($275 each) and three Mossburg shotguns ($150 each) for further credit toward rifle purchases with Lawmen's Police Supply.
Watson said the new rifles will cost an estimated $4,000, and the trade-in credit will cover nearly $3,800 of that cost.
♦ Council approved the retirement of 6-year-old K9 Jackpot and his sale to his current handler Officer Hunter Riddle. Because Jackpot has had four handlers due to resignations, long training gaps, and is too old to sell and retrain, Chief Watson recommended Jackpot be retired.
Statesville and Mooresville police departments and the Iredell County Sheriff's Office have K9s that will assist Troutman as needed. Watson said when the agency is back to full manpower and growing, the department will look into developing a properly managed K-9 program.
♦ Council also heard a presentation in memory and recognition of Martin Luther King Jr., recognizing his dedication to liberty, equality, justice, human dignity, and non-violence for all people through the Civil Rights Movement, which resulted in the Civil Rights Act and King's Nobel Prize in 1964.
♦ Council also approved a street maintenance acceptance process, which involves town inspections, the developer addressing any deficiencies that do not meet town street requirements, paperwork submission, and a council vote of acceptance.
♦ The council approved a 50 percent match for up to $100,000 in state grant funding to construct sidewalks on the east side of Wagner Street.
♦ The council proclaimed January 23-29 as School Choice Week, recognizing the vital role education plays to prepare children for successful lives and to the town's economic vitality. The resolution stated that Troutman has a multitude of high quality public and nonpublic schools and home school options from which parents can choose.
♦ The council voted to accept the donated right-of-way on the east side of North Main Street fronting the Iredell County Fairgrounds.