BY DEBBIE PAGE
debbiepage.iredellfreenews@gmail.com
Troutman Mayor Teross Young welcomed about 60 attendees to the town's first Dr. Martin Luther King Jr. Day celebration at the South Iredell High School Performing Arts Center on Saturday morning. The free breakfast featured nationally known speaker Kenston J. Griffin and a service project as part of its "Make it a Day ON, Not a Day OFF" theme.
After an opening prayer, Young recognized a large number officials attending the event, including Town Council members, N.C. Rep. Jeff McNeely, Iredell County Commissioner Melissa Neader, Register of Deeds Maureen Purcell, Iredell-Statesville Schools board members Todd Carver and Martin Page, and I-SS Superintendent Jeff James.
Griffin, who is a SIHS graduate, opened his presentation with the moving "Glory" music video (performed by John Legend, Common at https://www.youtube.com/watch?v=ZzbKaDPMoDU), which featured "Selma" movie clips of Dr. King, civil rights marches, and the brutal beatings of protesters, who were seeking the "glory" of equality in the early 1960s.
Griffin then quoted an unknown author, saying "Never stop a task until it's done. Be your labors great or small, do it well or don't think about doing it at all." He congratulated Troutman for having the event to "bring the community together as one."
"In this sensitive time, it takes courage to be the first," added Griffin. "The question is, if not now, when? If not you, then who? If not this, then what?"
Griffin acknowledged the service of some attendees, beginning with the Troutman Police Department, who he said is "working, working, working" for the community and asked the crowd to give them "a thunderous round of applause."
After thanking the mayor and town council for their service, Griffin thanked Carver and Page for their school board efforts. "I know for a fact that these gentlemen are fighting more than you know," he said.
He also thanked James, SIHS Principal Kelly Shoffner, and CATS Principal Larry Rogers for their dedication to children.
Griffin then spoke of the tumultuous year the country experienced in 2021, including COVID-19 waves, mask debates, and loss of loved ones, challenging teaching and learning situations, Black Lives Matter and Blue Lives Matter movements, discrimination against Asians, hurricanes, and the attack on the U.S. Capitol on January 6.
These experiences made people "stronger in some aspects … We learned how to lean on each other even more."
Griffin posed some questions to consider for 2022, starting with, "Do we really want equality? For everybody to win?" He pointed to the diversity of age and race in the room "that is Iredell County."
He next asked, "Are we really talking about college and career readiness?" Griffin pointed out not everyone wants to attend college, and he praised the excellence of the CATS program available to area students.
Griffin next asked, "Do you want to give up your power?" He noted that by 2025, women will be 80 percent of graduate school students. He pointed to council member Felina Harris, a female elected to the position.
He then asked if the community will use words of encouragement to people who are different than them. Griffin said with the strength achieved by coming together and with the empowering of other people, the community can accomplish anything.
He next asked, "Do you want to pray and pass or pray and oppress?"
Griffin asked if they will pray for people beyond their family or help or support someone who doesn't look like them. "They took the prayer out of school, but who said they took the prayer out of you?" he asked.
Griffin then turned to the topic of schools, noting many of the challenges today were "a big people problem," not the children. He also lamented the lack of respect students sometimes display today.
He also noted the steep rise of mental health issues in the past two years.
"We have to be role models for them now more than ever before because if you don't give them something to look at, they will look at 'tel-lie-vision.' "
He urged the community to understand that "there is one race — the human race" and to stop seeing those who look different as adversaries.
"Are you ready to see blended families?" Griffin next asked. By 2027, the number of blended families will greatly increase, according to research. "How are we going to embrace someone from the LGBTQ+ community?"
"If you just treat everybody right, the best is yet to come!"
"The things we do right now are going to set us up for choices later in life."
Mayor Young thanked Griffin for his inspiring words, but noted that, "Coming together is a beginning. Keeping together is process. Working together is success."
He challenged the community to embrace collaboration to solve issues facing it.
Town Manager Ron Wyatt thanked the many involved in making the breakfast and service project possible, including Lowe's, Bojangles, Dynamic Landscape Services, the South Iredell High School MJROTC and FCA, the Crosby Scholars, Iredell-Statesville Schools, Sherry Smith, and Town of Troutman department leaders Chip Smith, Emily Watson, Josh Watson, and Adam Lippard.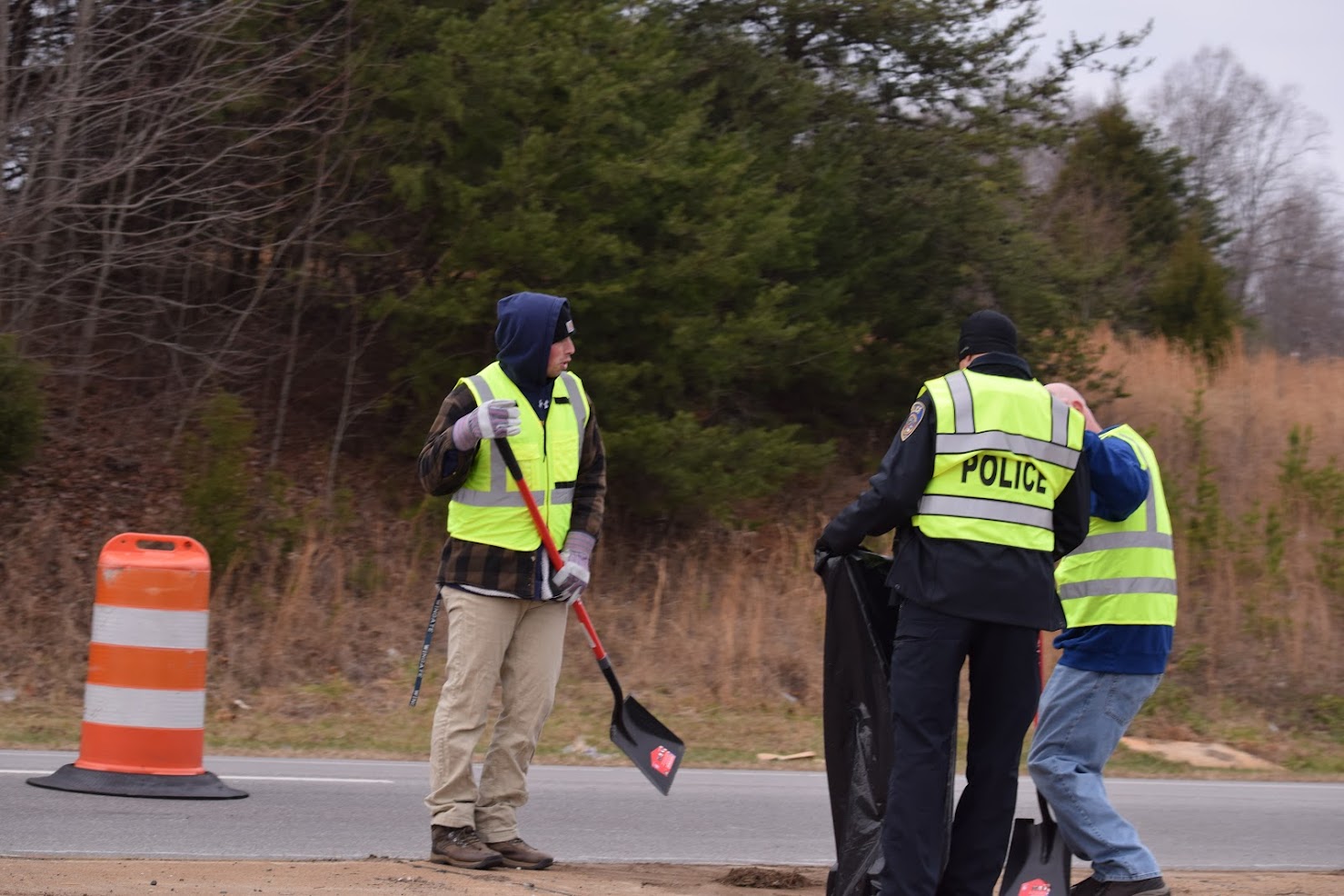 After the breakfast, a group of about 40 headed out to the Exit 42 area to spend the rest of the morning cleaning and weeding the median and adjacent areas, under the supervision and direction of the police and public work departments to ensure safety.
Lowe's provided equipment and reflective safety vests. Cones were set up to block off one lane on either side of the media, with digital traffic warning signs and police cars with lights flashing to provide a safe work area.
Photos