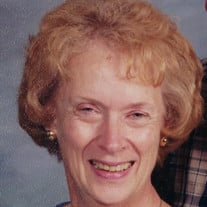 Eunice Blanche Cobb Kellogg, 83, of Statesville, N.C., passed away on Thursday, January 13, 2022, at Maple Leaf Health Care in Statesville. Born on August 4, 1938, in Newark, N.J., she was the daughter of the late Walter Cobb and Alice Weeks Cobb.
Mrs. Kellogg graduated from Nyack Christian College and Oneonta States Teachers College with a master's degree in education. Her career included teaching elementary education in Buffalo, N.Y. and in Germany on Darmstadt military base, physical education at Elmira College in New York, and she was one of the first four teachers at Statesville Christian Academy.
Eunice and her husband Robert were members of Western Avenue Baptist Church, where she shared her passion for singing in the church choir. She also sang in the choir while attending Nyack Christian College.
"For God has not given us a spirit of Fear. But of power and love and of a sound mind." (2 Timothy 1:7)
In addition to her parents, Walter Cobb and Alice Weeks Cobb, she was preceded in death by her brother, David Cobb.
She is survived by her husband of 51 years, Robert Kellogg; her sons, Scott Robert Kellogg and Timothy Mark Kellogg and his wife Shari; step-children, Randy Kellogg, Robin Walter and her husband Dan, Roxanne Schrier and her husband Joe, and Rosalie Wiggins; three grandchildren; seven step-grandchildren; six step-great grandchildren; and her two nieces, Cynda Cox and Leigh Pierce.
A graveside service in her memory will be held in late Spring of 2022 in Cander, N.Y.
The family would like to thank the staff at Maple Leaf Health Care for the care and compassion they provided to Eunice while she was in their care.
In lieu of flowers, memorial contributions may be made to Western Avenue Baptist Church, c/o The Building Fund, 1206 Museum Road, Statesville, NC 28625, www.westernavenue.org; or to Gideons International, P.O. Box 140800, Nashville, TN 37214-0800, www.sendtheword.org.
For those who wish, online condolences may be made to the family at www.nicholsonfunerals.com.
Nicholson Funeral Home has the honor of serving the family.