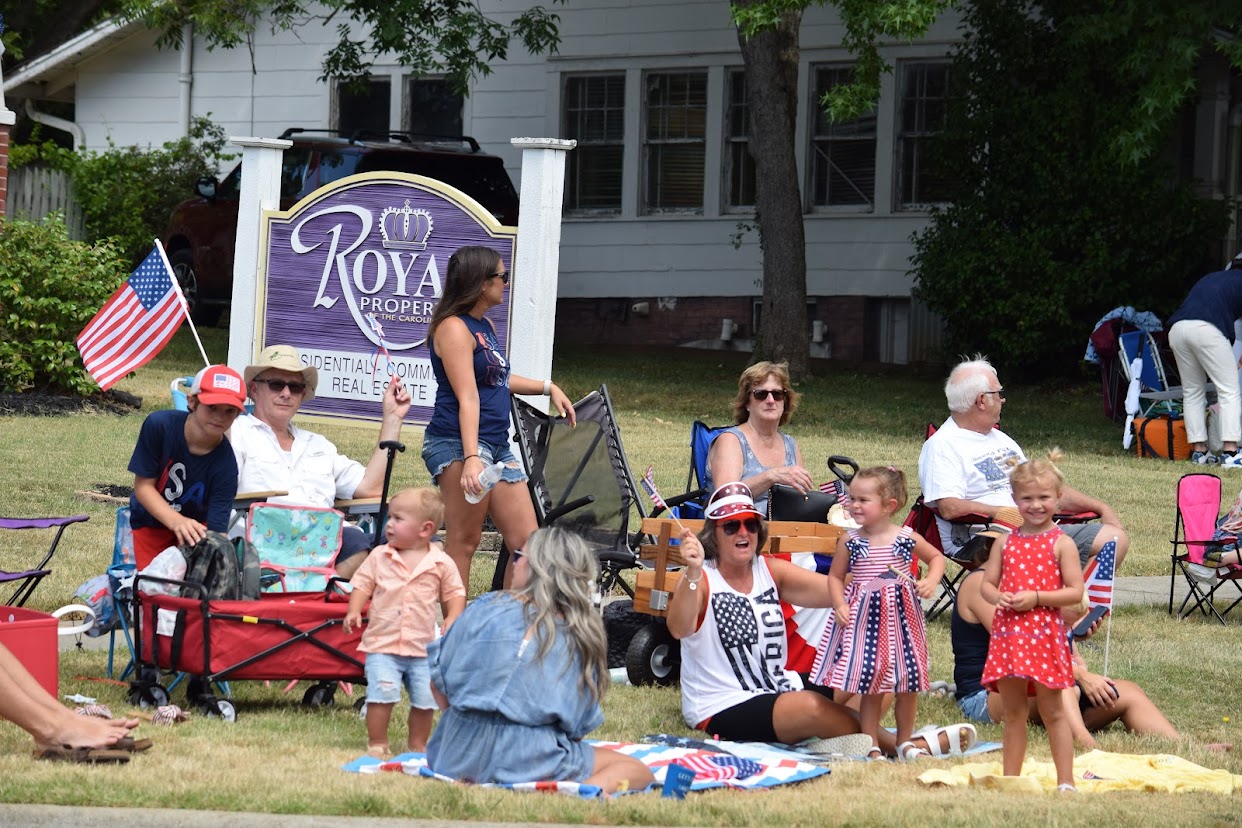 Festival, music, food trucks and fireworks follow Saturday night at the Iredell County Fairgrounds
BY DEBBIE PAGE
debbiepage.iredellfreenews@gmail.com
The 17th Annual Independence Day Parade in Troutman marched down Highway 21 to celebrate America's birthday on Saturday complete with a three-plane flyover and loads of red, white and blue excitement.
Town Manager Ron Wyatt said 96 entries and 194 vehicles traveled the parade route. There various types cars, trucks, and tractors, horse-drawn carriages, and emergency vehicles from area first responders and law enforcement agencies.
Over 1,000 people participated in the event in floats, marching units, dance and acrobatic troupes, church groups, civic organizations, Scout troops, motorcycles, military units, classic and antique cars, fire engines, beauty queens, re-enactment groups, politicians, military vehicles, planes, and, most importantly, veterans of the United States Armed Services.
Wyatt thanked all volunteers and especially the staff and their families that helped make this event a success. "Many of us staff enjoy showing our town off, but a couple staff take it personally, and it has shown. I really thank them for their efforts," he said.
INDEPENDENCE FESTIVAL/FIREWORKS SET FOR SATURDAY NIGHT
At full dark (about 9:30 p.m.) at the Iredell County Fairgrounds, the community is invited to gather with friends and family to enjoy Troutman's free annual fireworks display. Gates will open at 7 p.m. for spectators to park and position blankets and chairs at the perfect viewing spot on the midway.
The event will feature a free Kids' Zone, live music with Waves Entertainment, The Dropouts and Rockie Lynne. There will also be face painting and glow sticks.
Lots of food options are available, including Southern Treats Ice Cream, Skinner's Shaved Ice, Old Time Concessions funnel cakes & cotton candy, Hopper's Soul Food, Pat's Place Hamburgers & Hotdogs, Rowdy Energy Drinks, and Franks Tacos on the Road.
Attendees for the Saturday evening event are reminded that no coolers, smoking, alcohol, or pets are allowed in the fair grounds.
Participants may bring lawn chairs or blankets to the midway area to view the show, but all bags are subject to being checked by police officers for prohibited items.
Parking is available inside the fairgrounds. The town asks that no one park on private property.
Photo Gallery