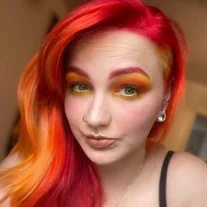 Christinia Jean "Chrissy" Ledford, 24, of Statesville, N.C., died Thursday, June 30, 2022, at Iredell Memorial Hospital. Chrissy left this world a hero by donating her organs so that others could live.
She demonstrated this same nature by having a heart of gold and loved giving rather than receiving. She was very outgoing and loving to everyone around her. She loved her vivids, stiletto fingernails, unique clothing, make-up, shopping, skating, hiking, and food, especially sushi. More than anything, she loved her husband Nathaniel and her daughter, Violet.
Chrissy was born in McDowell County, N.C., on April 17, 1998, to Barbara Ledford.
Those left to cherish her memory include her mother, Barbara Ledford; husband Nathaniel Davis; daughter, Violet Isabel Davis; brother, Quiniten Ledford; father-in-law and mother-in-law, Lee and Aimee Davis; sister-in-law and soul sister, Ashley Stine (Jay); and three aunts, Elizabeth Ledford, Martha Ledford and Vanessa McGee.
A Celebration of Life Service will be held Wednesday, July 6, 2022, at 5 p.m. at the Nicholson Funeral Home Chapel with Pastor Louis Smith officiating.
"Where hearts give freely, and love prevails
Where secrets are told, and sweet memories live
It's where we began and where we will end
My family, all my love I give"
Nicholson Funeral Home is honored to serve the Ledford/Davis family.