FROM STAFF REPORTS
The Town of Troutman's Land Use Map Advisory Committee will host a public input meeting next week as part of its ongoing work to create a new planning map for the town.
The public input meeting is scheduled for 6 to 8 p.m. on Wednesday, June 29, at Troutman Town Hall. It is a drop-in meeting to give residents the opportunity to ask questions and provide feedback on the existing map and make suggestions for the new map.
The Land Use Map Advisory Committee meets on the fourth Thursday of each month. The committee is scheduled to make its final recommendations for the planning map during the Town Council's September 22 meeting. Council could adopt the Land Use Map during its October 13 meeting.
The council directed staff and the advisory committee to review the existing map and make recommendations for possible changes in response to concerns expressed by residents related to plans for residential and industrial development in the town's jurisdiction.
"We've had so much growth we want to make sure the map reflects what we want to be," explained Planning Director Lynne Hair.
Residents can view the map on the town's website and contact town staff with questions throughout the process.
Existing Land Use Map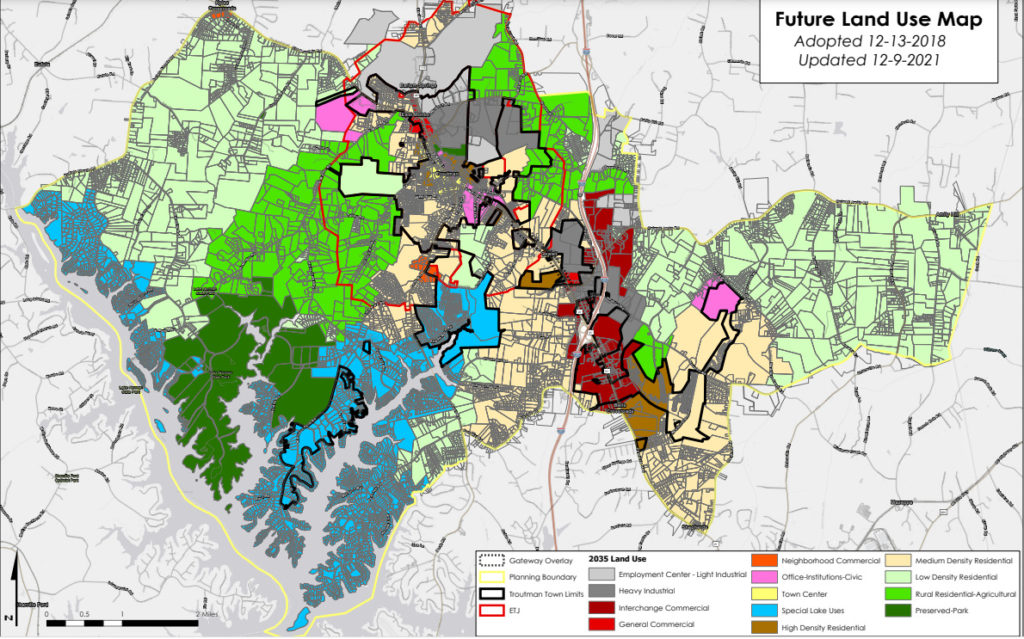 Barium Project
Prestige Corporate Development has submitted a concept plan to town officials for the mixed-use development planned for the Barium project just north of Troutman on the former site of the Barium Springs Home for Children.
The project includes plans for about 2,500 residential units, including up to 1,000 age-restricted single family homes, up to 650 traditional single-family homes, up to 500 townhomes and up to 450 multi-family units. Plans also include space for retail, land for a new school and about 45 acres of open space.
Town staff members are working with the developer to address possible issues with water and sewer capacity.
A community meeting will be held on Thursday, July 7, from 6 to 8 p.m. at Troutman Town Hall to provide residents with an opportunity to review the plans, ask questions and provide feedback to the developer, town staff and the Troutman Town Council.
Important Dates
♦ July 25: The project will be reviewed by the Troutman Planning and Zoning Board. Following a public hearing, the board will vote to recommend approval or denial of the developer's rezoning request.
♦ August 11: The Troutman Town Council will hold a public hearing and vote on the developer's request for rezoning and possible annexation.