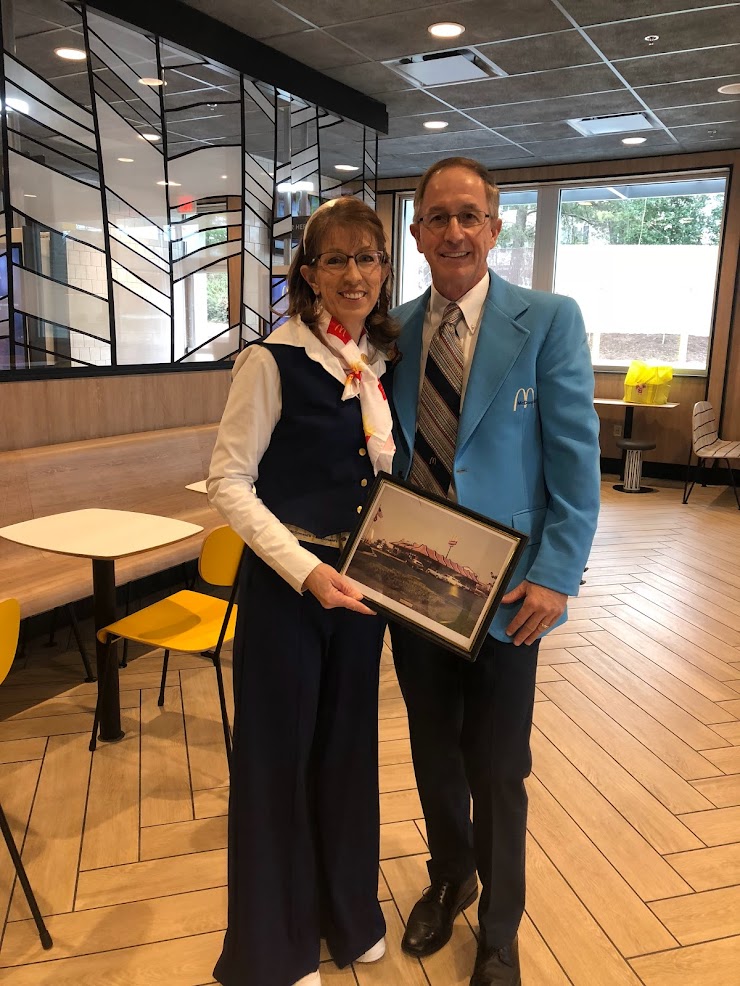 BY DEBBIE PAGE
debbiepage.iredellfreenews@gmail.com
A chance meeting at Mooresville gas station in 1990 led to a decades-long romance for a dynamic business duo that built a McDonald's network in Iredell County and northern Mecklenburg County. As Mike and Melissa Neader close the sale of their franchises and enter retirement this week, their dedication to their life "mission" is winding down, but they are adamant that their involvement in their beloved community will continue.
The couple's story began when Mike, who was supervising his father Jim's Mooresville and Cornelius McDonald's locations, pulled into the Texaco gas station off Exit 36 and was intrigued by the cute brunette clad in a yellow landscaping company T-shirt, white tennis shorts and work boots he saw at the gas pumps.
In the market for a landscaper for his stores, Mike jotted down the company's name and number from her T-shirt as he stood behind her in line at the cash register. Melissa, who was in a serious work mode, said she didn't notice Mike at all and jokingly teases that he stalked her.
Mike later called the company number, arranged for a meeting with Melissa's boss, and signed a contract for landscaping services for the stores. A few days later, he was pleasantly surprised when Melissa and her crew arrived to take care of the landscaping.
Melissa, who aspired to be a state park ranger, was foreman for the work crew that serviced 48 accounts a week. She and another employee, Eileen, "kicked butt" and "were the talk of Mooresville," she said.
Because of her tight schedule, Melissa was all business in her conversations with Mike until she noticed a Harley-Davidson sticker on his Blazer as they talked in the parking lot one day. "When are you going to take me for a ride?" she asked.
Thirty-one years later, Mike laughed at the memory and added, "What a ride!"
As they couple's relationship grew serious and they got engaged in the next few months, Melissa "switched her total life plan."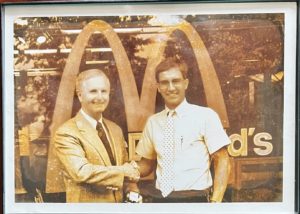 Realizing Mike was part of a family business, Melissa put in her notice at the landscaping company and began working for Mike's dad Jim, immersing herself in learning every role and process in running a McDonald's restaurant. As a breakfast coordinator, she "learned to cook, cashier, everything."
The burger business was already in Mike's blood. His father was a supervisor for Burger Chef in West Virginia, and Mike grew up going with his dad to the stores.
Mike was 14 when his dad decided to build a McDonald's franchise in 1974 in Statesville beside Signal Hill Mall, and he started working in the store alongside his father when it opened in 1975.
Jim quickly expanded his business to Lincoln County, Mooresville, Cornelius, and other Iredell County locations in the next few years.
After the couple married in 1991, the Neaders finally became owner-operators of their first store on Plaza Drive in Mooresville. They spent their honeymoon in Raleigh at an operational advisory board meeting. The couple eventually bought four of his dad's other stores in Statesville and Mooresville and then opened six more locations over the years.
Mike noted that he spent two years going through the extensive process and training to become a store owner and purchase that first store from his dad. While he and Melissa operated the Mooresville location, Mike also continued to work as a supervisor of his dad's stores.
Melissa emphasized that nothing was given to them by Mike's dad. "That's a misconception. We sacrificed and did everything all other operators go through as you build your business," she said.
"And a lot of money," added Mike. "The plan was to buy Dad out, little by little." He also said that being an owner's kid actually put more pressure and scrutiny on him by the McDonald's corporation before he was approved.
The Neaders went on to own 10 stores, deciding that was the maximum they could operate and still provide the best service to their customers.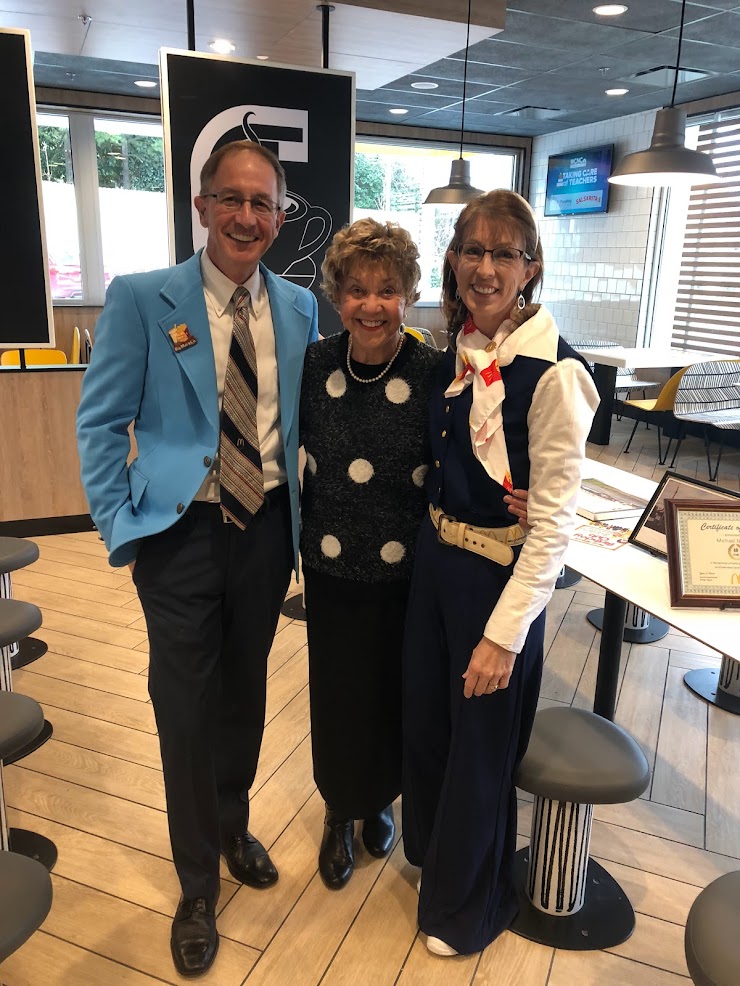 Mike could have gone elsewhere to open a franchise, but he truly enjoyed working with his father. "He and I were very close," he said.
Mike said he and Melssia "were in the right place and did the right things" to make the locations successful. "We grew slow, opening a new store about every two years," he explained.
"We're hands on. If we wanted to, we could have had 20 stores. I just didn't think we could run them properly."
The couple was serious about being in the stores and in the community every day, along with their children Nick and Eliza who later joined the family business in various capacities. Youngest daughter Jennie also gets in on the marketing fun with her mom and sister.
As they opened each new store, Melissa was in charge of dining room design and marketing while Mike would get the kitchen and back of the house ready. "We handle things very well together," said Melissa.
The original Signal Hill location is now in its third rebuild, but Melissa noted "the same Golden Arches have watched over three generations of Neaders." She also reminisced about the generations of customers who celebrated football victories, held birthday parties and fundraisers, and enjoyed special events over the years at the original location.
The Neaders said their biggest challenge has always been finding the best people to work in their stores. Melissa sees herself as the "head cheerleader" for their crews to foster a good working atmosphere. They have always tried to bury any negativity or challenges with the positive, whether from within the store or from outside forces.
The evolution of operating McDonald's restaurants has also been fascinating to Mike. He remembers the first drive-thru being added, which he said "changed the industry."
He and Melissa also noted other changes, including the additions of credit card payments, cash registers connected to constantly updated servers, order kiosks, the advent of delivery services like DoorDash, and new kitchen technology, with conveyer belts and layouts that drastically reduced employees' steps.
The business also increasingly emphasizes efficiency.
"If you can shave five seconds off your drive-thru an hour, that equates to so many dollars per day," added Mike.
Ninety-two percent of their business comes through the drive-thru now that their dining rooms are closed due to COVID-19.
Melissa, who is an Iredell County commissioner, said that her post-retirement schedule is already full with her political duties, WAME radio show, continued volunteering in schools, and McDonald's marketing consulting with the new second generation owner, Jason Cornet, who currently operates six stores in the Salisbury area and bought all five of the Neaders' remaining stores.
"The biggest change I will see is that I will be toting less biscuits," she joked. They have purchased a lot of Happy Meal toys to give out on future school visits.
"We don't want to stop what we started in the community. We're going to find ways to make it continue with the new team," said Melissa.
"The connections in the community are so important, and we don't want to lose those. It's given me so much fun and joy to represent the arches.' What other job can I wear costumes and not get in trouble?" Melissa laughed.
The memories are so numerous. Without McDonald's, Mike noted, "I wouldn't have met Melissa."
They have also had a number of famous guests in their stores over the years. Jimmy Carter, Michael Jackson, Michael Jordan, Shaquille O'Neal, and numerous pro sports figures and race car drivers have stopped in to visit their locations.
Mike plans a lot of long-neglected fishing in the boat he bought in 2017 and only has 40 hours of run time on its engine.
Citing his retirement research, Mike said, "I'm not going to make any big plans for six months. I'm just gonna keep going to the gym every morning, have my coffee and breakfast here, and then we'll see."
He's not ruling anything out, including part-time work or other ventures.
As he enters this new life phase, Mike said, "It's time. We're going out on our terms. The stores are running well, clean, up-to-date and modernized."
As they end their decades with McDonald's this week, Mike said he feels a weight lifting from his shoulders. "I wouldn't change a thing. I'm ready. I have no regrets."