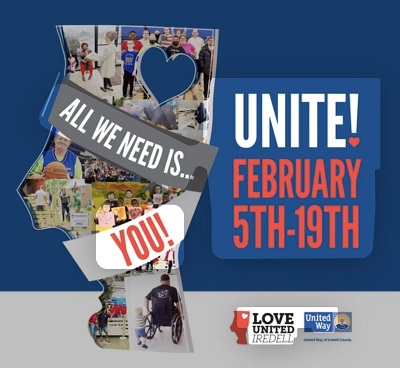 FROM STAFF REPORTS
The 2023 Love United Iredell campaign is officially underway. This year's campaign runs from February 5-19.
Over the next 14 days, residents have the opportunity to help fund the work of 10 nonprofits organizations across Iredell County. The United Way of Iredell County has vetted all of the organizations and projects.
"This is a great way to get familiar with some nonprofits that you might not necessarily be aware of in Iredell County," explained Jody Taylor, director of marketing & digital engagement for United Way.
This year's fundraising goal is $25,000.
Participating nonprofits include:
♦ Iredell County Partnership for Young Children;
♦ Lake Norman Special Olympics;
♦ Iredell Friends of the Library;
♦ Pharos Parenting;
♦ Back2School Bash;
♦ Rainbow Kidz;
♦ Ride United Last Mile Deliver;
♦ Purple Heart Homes;
♦ Food for Days; and
♦ G4G Ministries
A total of 45 nonprofits, schools, businesses and civic groups are participating in this year's campaign.
Many of the projects require only a small dollar amount, but they all have the potential to have a major impact on the lives Iredell County residents.
Projects include supporting Purple Heart Homes' efforts to provide wheelchair ramps for service-disabled veterans, and providing meals and clothing for East Iredell Middle School students through Food for Days. A donation to Rainbow Kidz will help provide grief counseling for children who have lost a loved one.
The community can also help these organizations by donating their time. Lake Norman Special Olympics, for example, needs volunteers to help out at weekend events.
"Volunteerism is critical in our communities," Taylor said. "Showing up really matters. It can be the lifeblood of an organization."
LEARN MORE
Visit https://fundraise.givesmart.com/vf/2023LUI/ or text "2023LUI" to 71777