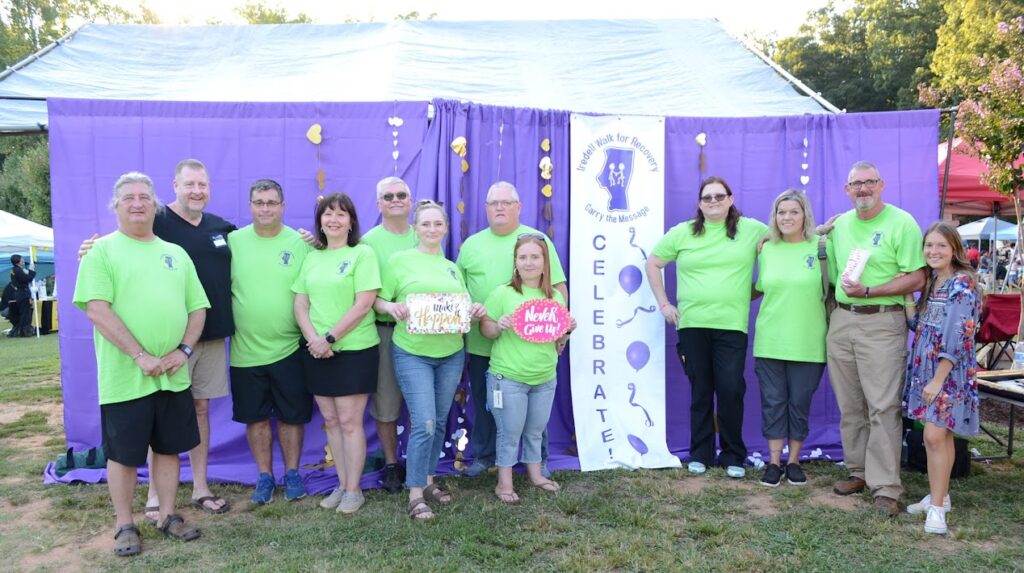 BY DEBBIE PAGE
PHOTOS BY LISA CRATES
An estimated 800 folks descended on ESC Park in Troutman for the 6th Annual Iredell Walk for Recovery on Saturday to enjoy an afternoon of fun, music, and inspiring recovery stories.
This event was part of National Recovery Month, which seeks to increase awareness and understanding of mental and substance use disorders, and celebrate the individuals living in recovery or who have overcome obstacles.
Recovery Month also aims to increase awareness and encourage everyone to take advantage of the increased dialogue around behavioral health needs and the increased emphasis on tackling our nation's opioid crisis.
The special moments of the event were recovery stories from featured speaker Terri Blankenship, an EMS Community Support Response Team peer support specialist who turned her life around after childhood tragedies and addiction.
Blankenship spoke of her own experience with opioids that began as a child because of pain from a rare birth defect. As a teen, she became physically dependent on opioids and anxiety medication after losing her mom in a car accident.
She also lost her father and uncle to overdose before she turned 18.
"It was a really long road after that," said Blankenship, who struggled with substance use for ten years until her son confronted her, causing her to seriously seek treatment and recovery. She now has nine years of recovery and works as an EMS peer support specialist to help others seeking treatment and leave addiction behind.
Blankenship's life in recovery was depicted in a photo exhibit of moments with her husband and daughter, her friends, her colleagues on the job, and in special life moments.
Max Benfield also shared his emotional recovery journey to overcome substance misuse, detailing his challenges resulting from his substance use disorder that began in middle school after his father's death.
After a failed first marriage, loss of child custody, run-ins with the law, and a jail stint for two felonies, Benfield met his second wife, who gave him the first unconditional love he'd ever experienced.
After several failed attempts at sobriety, Benfield found strength to recover through Bible study, faith in Jesus Christ, and participation in Celebrate Recovery. He is now 11 years substance-free and living happily with his three children with his supportive wife.
Between the powerful stories, families enjoyed a wide variety of activities at the festivities, listening to live music from Leed Not Follow, feeding the goats and llamas at the Zootastic petting zoo, getting their faces painted, visiting magician Mr. Marvel for balloon animals, posing for pics at the photo booth, and playing games and collecting giveaways at the 33 vendor booths.
The Statesville Dance and Performing Arts Competition Team also gave a great performance for the appreciative crowd.
As folks "walked" the circle of vendors associated with mental health, substance misuse, recovery, and other helping agencies, they got a card to be stamped as they visited booths to be eligible for prize drawings.
Adults also received free Walk for Recovery T-shirts, and all enjoyed hotdogs and sides and water donated by Niagara Water.
The event's executive committee thanked the event's Platinum Sponsors, including the Drug-Alcohol Coalition of Iredell, Foundation of Hope Ministries, ICGH-Statesville, Partners Iredell Community Collaborative, PQA, Piedmont Healthcare, and Southern Family Medicine.
Gold Sponsors were Fifth Street Ministries, Iredell Free News, Iredell-Statesville Schools, and NAMI. Addiction Recovery Medical Services (ARMS) was a Silver Sponsor, and Bronze Sponsors were Foundry House, Sawyer Insurance, and Turning Point Family Services.
The committee also thanked the many individuals who volunteered as well as the incredible South Iredell High School Marine Junior ROTC cadets for their assistance throughout the venue and Planet Fitness-Statesville volunteers who served the meals.
FOR MORE INFORMATION
For information on recovery and to keep up with 2024 Walk for Recovery plans, visit https://sites.google.com/view/iredellcountywalkforrecovery/ and like the Facebook page (https://www.facebook.com/IREDELLWALKFORRECOVERY)
24 Hour Crisis Assistance Lines
♦ Hope for NC Helpline – 1-855-587-3463
♦ Partners – 1-888-235-HOPE (4673)
♦ National Suicide Prevention Lifeline – 1-800-273-8255
DACI IREDELL COUNTY SUBSTANCE USE RESOURCE GUIDE
♦ Visit https://www.daciredell.com/_files/ugd/02b9be_7823279009fb4a438f59eb98b83dc928.pdf