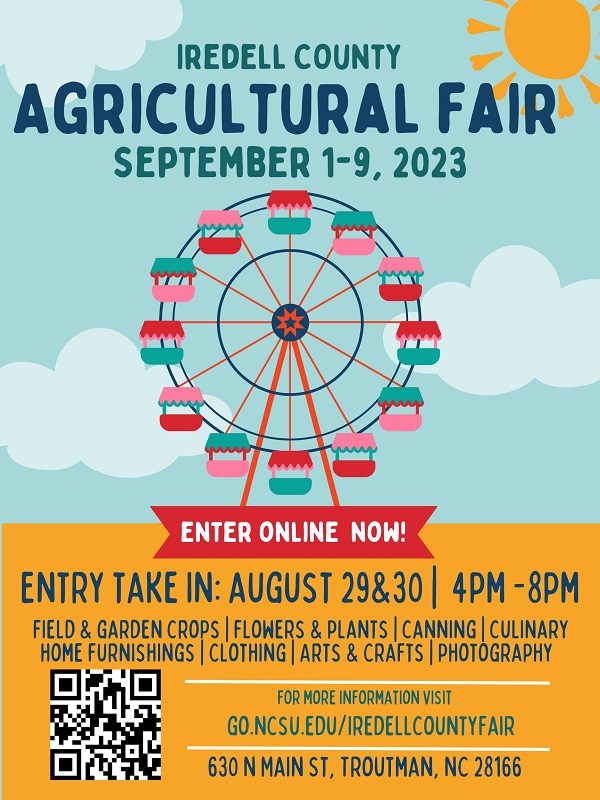 BY DEBBIE PAGE
Thrills and yummy fair food will abound as the 87th Iredell County Agricultural Fair opens on Friday, September 1, at 5 p.m. with the official ribbon-cutting ceremony scheduled for 7 p.m.
The fair runs through Saturday, September 9, providing nine days of rides, entertainment, exhibits, and competitions.
The Iredell County Cooperative Extension Service and the Kiwanis Club of Statesville partner to host the fair, the purpose of which is to promote local agriculture, improve youth participation in agricultural-related activities, and educate the public about the impact of agriculture in their community and daily lives.
The Kiwanis Club uses the profits from the fair to sponsor local organizations or service projects. Past recipients include the Boy and Girl Scouts, Relay for Life, United Way, Special Olympics, 4-H programs, Boys & Girls Clubs, My Sister's House, and Hospice & Palliative Care of Iredell County.
Kiwanis also gives out thousands of dollars in scholarships to the county's high school seniors. Area youth also get involved with agriculture through 4-H, FFA, and other clubs involved in the fair.
CELEBRATING AGRICULTURE
Supporting and learning about county agriculture is also important since Iredell is a state agricultural production leader. Agriculture-related business had a $622 million economic impact on the county, according to the Iredell County Economic Development Corporation.
Farmers, gardeners, cooks, and craftspeople will show off their crops, products, arts, crafts, and creations in extensive exhibits for fair attendees to enjoy.
Iredell County Cooperative Extension Director Nancy Keith said that though the number of farms in Iredell County has decreased, farm size, livestock numbers, and production have all increased.
A new twist this year is the "giants" competition, which Keith hopes will draw a lot of entries. In March, the Cooperative Extension gave out pumpkin, watermelon, and sunflower seed starter packs to spur interest. The largest pumpkin and watermelon, and tallest sunflower will win a $100 prize in each category.
Another addition is a "special needs" division in every entry category to expand participation opportunities for people of all ages with special needs.
Keith encourages residents to visit those family farms that sell directly to the public to get great fresh, local produce and products and to learn more about where their food comes from. She also pointed out the diversity of agriculture products that Iredell County produces, including corn, silage, wheat, rapeseed, cotton, barley, hay, tobacco, forestry, and landscape nurseries.
The Iredell EDC also reported that Iredell County is No. 1 in the state in dairy cattle, all cattle production, and silage, No. 5 in hay production, and No. 6 in layers (chickens).
Keith lamented that the county is losing a lot of farmland to development. Shrinkage of farmland is a national problem as well. By 2030, farmers are going to have to produce about 50 percent more food on less land. By 2050, they will have to be able to produce 70 percent more.
New technology, scientific research, improved crops, and computer-programmed equipment will help farmers to do more with less personnel, but a shortage of farmers will be a continuing issue. With the average age of a farmer now 59 years old, Keith hopes the fair and other agriculture awareness events will stimulate young people's interest in farming and other agri-business careers.
ADMISSION
General admission is $5 with children 6 and under admitted free. Gates open at 5 p.m. except on Saturdays, Sundays, and Labor Day, when they will open at 3 p.m. The fair closes at 11 p.m.
No one will be readmitted after leaving the fairgrounds without the purchase of another ticket.
Free admission day for K-12 students, senior citizens (over 60), and veterans (with military ID) is on Thursday, September 7.
Special deals on rides are also available. Fairgoers can purchase an unlimited rides wristband for $20 each day.
Parking is $2 per car in Kiwanis-operated lots on the fairgrounds property.
COMPETITIONS
The fair gives local farmers and 4-H Club members opportunities to show off the county's booming agriculture industry. Crafters, artists, seamstresses, gardeners, and homemakers can also show off their talents in various competitions.
The Cooperative Extension staff are in charge of the livestock shows, educational exhibits, and the entries in canning, cooking, clothing, flowers, plants, vegetables, and other areas.
Over $60,000 in premiums are being offered for a wide variety of competitions in field and garden crops, farm display, garden clubs, flowers and plants, family and consumer science categories, clothing, furnishings, arts and crafts, 4-H and youth exhibits, livestock, rabbits and poultry.
Club displays installment began Friday, August 25, and should be complete by Monday, August 28, at 5 p.m., before the opening of the fair. Departments will accept entries Tuesday, August 29, and Wednesday, August 30, from 4 to 8 p.m. with Poultry Department entries on Thursday, August 31, from 4 to 7 p.m.
Online application forms are available online at go.ncsu.edu/iredellcountyfair. More information on entry rules, the premium book, and Best of Show guidelines is available HERE.
Prizes are awarded to 1st, 2nd, and 3rd places in all competition categories, with cattle prizes going through 5th place. The prize money comes from gate proceeds.
The 2023 Agricultural Fair "Best in Show Competition" at the North Carolina State Fair features the best arts and crafts entries from local agricultural fairs across the North Carolina. Iredell judges will select one youth and one adult entry from their blue ribbon entries to enter the state competition. These two entries will receive a $100 prize.
The NC State Fair, which runs through October 12-22 in Raleigh, will display all counties' "Best of Show" entries. After judging, one youth and one adult entry will earn the state's $500 Grand Prize Award.
RIDES
B & K Carnival offers a variety of exciting rides, including the Roundup, Yoyo, Barrel of Fun, Circus Train, Orient Express, Racing Cars, Bumper Cars, Scrambler, Hurricane, Super Slide, Tiny Tractors, Car Motorcycle Jump, Eli Ferris Wheel, Hawg Heaven Fun House, Merry-Go-Round, Astroliner, Funny Farm Fun House, Radical Run, Sea Ray, and Sky Jump. Visit B & K Carnival online at https://www.bandkcarnival.com/activities.
DAILY ENTERTAINMENT
The Space Adventure Thrill Show will be performing multiple times each day. The show seeks to educate people of all ages using the STEM curriculum (science, technology, engineering, and mathematics).
The show features hair-raising stunts with an educational foundation, teaching spectators about the moon, centrifugal force, the equipment to get to the moon and little-known facts about space travel.
For more information, visit https://www.facebook.com/3ringsupercircus/.
DAILY SPECIAL EVENTS
On opening weekend, fans will get their thrills at the Go Kart Racing competition at 7 p.m. at the outdoor arena on Friday and Saturday nights. The dairy cattle show will be on Sunday at 7 p.m.
On Monday night, Go Kart racers will again take the track at 7 p.m. at the outdoor arena. Tuesday will feature a Beef Cattle Show at 6 p.m. along with the Mini Outlaws Racers competing at 7 p.m.
Mini Outlaw Racing will return on Wednesday at 7 p.m. On Thursday, fair-goers can enjoy the Sheep & Goat Show at 6 p.m., followed on Friday, September 8, with the Dairy Judging Contest at 3:30 p.m. and the Dairy Show at 7 p.m.
The fair's final Saturday on September 9 will feature the 5th Annual Special Abilities Junior Dairy Show at 3 p.m. at the Indoor Arena. This show is for participants (youth through adults) with special needs to have the opportunity to work alongside an exhibitor and show a dairy calf.
The Demolition Derby finale is scheduled for Saturday at 7 p.m. For racing or demolition derby competition information and prizes, contact Jeremy Burnett at 704-701-1665 or email at JBurnett@minioutlawseries.com.
FAIR SPONSORS
Sponsors for the 2023 fair include Millridge Speedway, Iredell County FFA, Iredell County 4-H, Iredell County Agricultural Extension Service, Iredell County Sheriff's Office, Iredell County EMS, Troutman Police Department, and the Town of Troutman.
LEARN MORE
For additional information, xall the fair office at 704-508-2126.