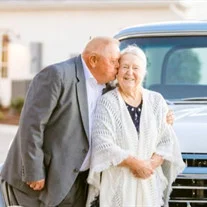 It is with heavy hearts that we announce the passing of Joseph Clinton "J.C." Curtis, a loving husband and cherished member of the Mooresville community. J.C. peacefully left us on August 26, 2023, leaving behind a legacy of kindness and compassion.
J.C. was born on September 16, 1939, in his beloved hometown of Mooresville, N.C. He was the embodiment of a true gentleman, adored by all who had the privilege of crossing his path. His genuine smile and warm, welcoming nature made him a friend to many and a pillar of strength for those in need.
Throughout his life, J.C. stood as a shining example of love, resilience, and devotion. His unwavering commitment to his family and the community will forever be etched in our hearts. He was a devoted spouse to his beloved wife of 64 years, Judy Buie Curtis, with whom he shared countless joyous memories and a lifetime of love and support.
J.C. was owner/operator of Curtis Logging Company and member of Liberty Baptist Church, Mooresville.
In addition to his wife, J.C. is survived by his sons, Ricky Curtis and Jerry Curtis (Suzanne); sisters, Carolyn Stallings and Phyllis Caldwell; grandchildren, Michael Curtis, Jodie Williams (Ralph) and Hunter Curtis (Brittney); great grandchildren, Baylee Williams and Kaige Williams; and great-great grandson, Ryder Williams.
Funeral services to honor and celebrate J.C.'s remarkable life will be held at 2:30 p.m. on Monday, August 28, 2023, at Liberty Baptist Church, Mooresville. Friends and family will be received from 1 to 2:30 p.m., prior to the service at the church.
In memory of J.C., donations can be made to Liberty Baptist Church, 171 Johnson Dairy Road, Mooresville, NC 28115 or S. Mitchell Mack Hospice House, 1325 Mecklenburg Hwy., Mooresville, NC 28115.
Cavin-Cook Funeral Home, Mooresville, is serving the family of Mr. Curtis. Condolences may be made to the family at www.cavin-cook.com.