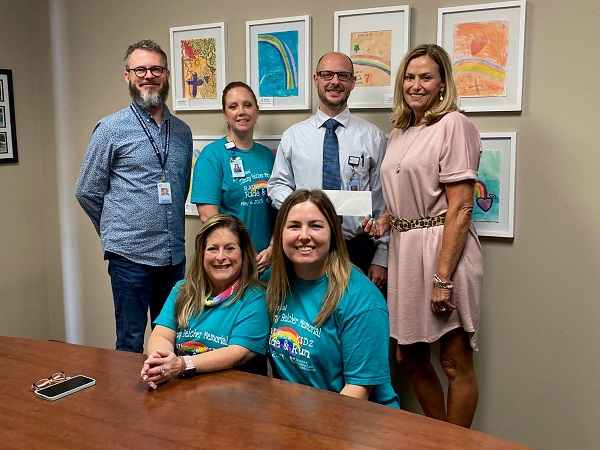 Special to Iredell Free News
On Friday, June 16, the eve of the start of two weeks of Camp Rainbow, Rainbow Kidz received an incredible gift.
On behalf of the Miller Family and in memory of June P. Miller and Mary Claire Kyles, Mary Miller presented a generous donation to support Rainbow Kidz.
"My daughter was a beautiful ray of sunshine whose light was dimmed after she passed away from fentanyl poisoning," Miller said. "Many of the Rainbow Kidz participants have also experienced the loss of someone special to them due to substance abuse. I feel by honoring her memory, her light will continue to shine and help heal the hearts of these children.
"My mother lost her mother when she was ten years old and had to raise her siblings," she added. "A program like this would have been amazing for her. It was also very important to my family that this gift supports children right here in Iredell County."
Rainbow Kidz is the pediatric grief and bereavement program of Hospice & Palliative Care of Iredell County. Rainbow Kidz provides in-school grief groups in all Iredell County schools and one-on-one counseling sessions. During the summer months, Rainbow Kidz offers two weeks of grief camp, Camp Rainbow, and grief groups at both the Boys & Girls Club and the Statesville Family YMCA.
All of Rainbow Kidz services are provided at no cost.
Leigh Ann Darty, director of Rainbow Kidz, was overwhelmed by Miller's thoughtful gift.
"My heart is overflowing with excitement and so much gratitude with this amazing gift that will care for hundreds of Rainbow Kidz children and families," Darty said. "I thought so much of Mary's Mom, June, who loved to talk with me about the Rainbow Kidz program. What a beautiful way to carry on June's legacy of love and support for grieving children. The Invisible String is powerful in our community!"
Hospice President & CEO Mike Smith said he is "continually amazed" by the community's support of the nonprofit and Rainbow Kidz.
"The Rainbow Kidz program is an extraordinary service to our community, and this gift is a testament to their impact on the youth in need of grief support in Iredell County," he said. "I cannot begin to thank Mary, her mother, June, and the entire Miller family for this transformative gift that will allow us to serve more grieving children and teens."
LEARN MORE
Rainbow Kidz serves any Iredell County child ages 5 to 18 years old. If you have a grieving child and want to learn more, visit www.HOIC.org or call 704-873-4719.