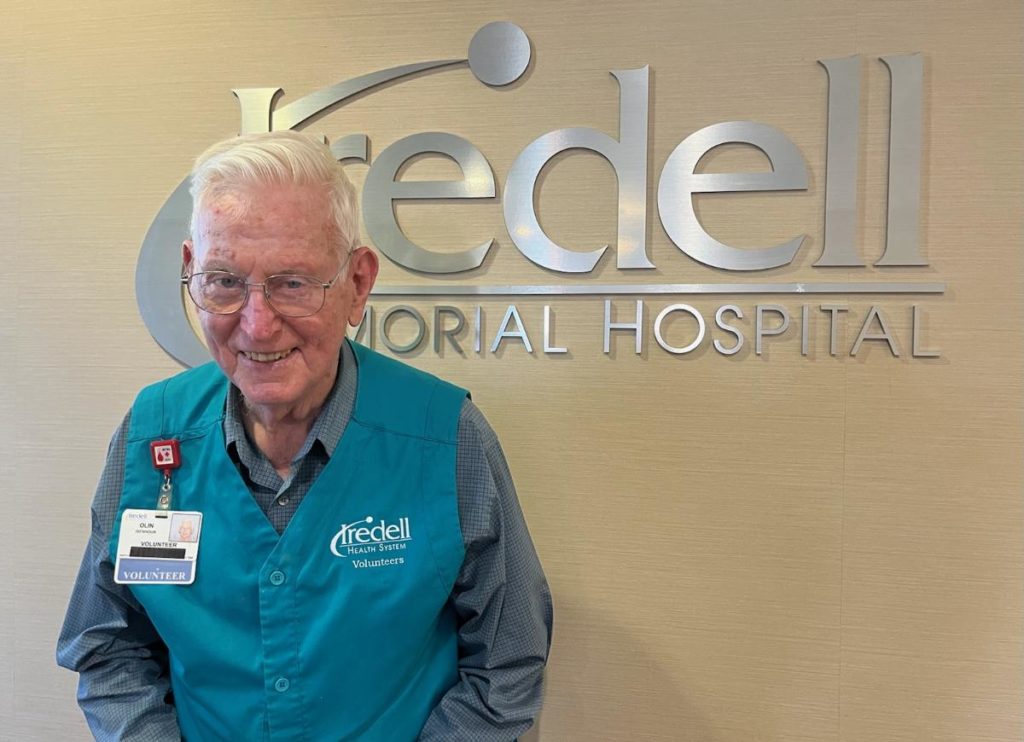 Special to Iredell Free News
For 14 years, Olin B. Isenhour worked as a dedicated member of Iredell Health System's volunteer auxiliary, accruing over 2,600 hours as a volunteer during that time.
Although Isenhour loves helping others throughout the hospital, he recently decided it was finally time to hang up his volunteer vest. His last day as an Iredell volunteer was Thursday.
"Iredell was the hospital I chose for my own needs. When I came to the hospital one day and saw what the volunteers were doing, I decided to become one too," he explained.
In his time at Iredell, Isenhour has volunteered in several departments delivering messages and
newspapers throughout the health system, among other duties. For the last few years, he has welcomed patients and visitors at the front desk.
When asked why he dedicated his many years to Iredell, Isenhour explained that the opportunity to help others was the driving factor. As a retired minister, he has devoted his life to helping improve the lives of others.
"Through volunteering, I learned how easy it was to help people who are in need," he said. "I enjoyed learning more about the hospital too."
Isenhour said he will miss all of the friends he has made at Iredell.
"Olin's contributions to both IHS and the community are immeasurable. It has been a blessing to have him as part of our family for all these years," said Jed Pidcock, director of Patient
Experience and Volunteer Coordinator at Iredell Health System.
About Iredell Health System
Iredell Health System includes Iredell Memorial Hospital; Iredell Mooresville; Iredell Home Health; Iredell Wound Care & Hyperbaric Center; Community and Corporate Wellness; Occupational Medicine; the Iredell Physician Network and more. Iredell Memorial Hospital is the largest and only nonprofit hospital in Iredell County. The comprehensive healthcare facility has 247 beds; more than 1,800 employees; and has 260 physicians representing various specialties. Centers of excellence include Women's and Children's; Cardiovascular; Cancer; Surgical Services and Wellness & Prevention. The Health System's newest campus, Iredell Mooresville, is home to the area's only 24-hour urgent care facility, as well as an ambulatory surgery center, imaging center, rehabilitation services, and physician practices. The mission of Iredell Health System is to inspire wellbeing. For a comprehensive list of services and programs, visit www.iredellhealth.org.