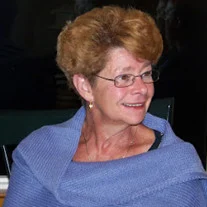 Maureen Patricia Collins D'Andrea of Troutman, N.C., passed away Thursday, December 5, 2023, after a gallant five-year effort against cancer.
Maureen was born in 1953 in Greenwich, Conn., to the late John and Elizabeth Collins. After graduating from Greenwich High School, Maureen worked as an Executive Secretary for the Town of Greenwich, and then married her high school sweetheart, Joseph D'Andrea, also of Greenwich. They moved to Danbury, Conn., to raise their two sons, Joseph and Thomas.
A devoted mom, Maureen was legendary for hosting the family holiday parties and cooking up a storm — her mashed potatoes were the world's best!
With Joe's retirement in 2010, they moved to their dream home in Troutman, N.C., where Maureen became an expert gardener, an avid reader, and caring "fur mom" to her beloved beagles, Julie and Maddie.
Even after her diagnosis of cancer, Maureen always thought of others first — baking cookies for her oncology nurses, and just two weeks before her passing, hosting a festive Christmas celebration for her family.
Mostly, Maureen loved her family.
In addition to her parents, she was predeceased by her mother and father-in-law, Grace and Joe D'Andrea, whom she dearly loved as they loved her.
She is survived by her children, son Joseph and his wife Jennifer and granddaughter Stella Grace, son Thomas, sisters-in-laws, Birdie D'Andrea and Laurie Church, and many cousins.
The family would like to thank the staffs at Lake Norman Oncology and Hospice & Palliative Care of Iredell County, Mooresville, for their competence and compassion.
The family will receive friends on Thursday, January 12, 2023, from 2 to 4 p.m. with a prayer service at 3 p.m. at Cavin-Cook Funeral Home, 494 E Plaza Drive, Mooresville, NC 28115. Burial will be private.
In lieu of flowers, please consider a donation to The Hospice of Iredell County, 1325 Mecklenburg Hwy., Mooresville, NC 28115 (https://apps.hoic.org/donate-now).
Cavin-Cook Funeral Home & Crematory, Mooresville, is serving the D'Andrea family. Condolences may be made to the family at www.cavin-cook.com.