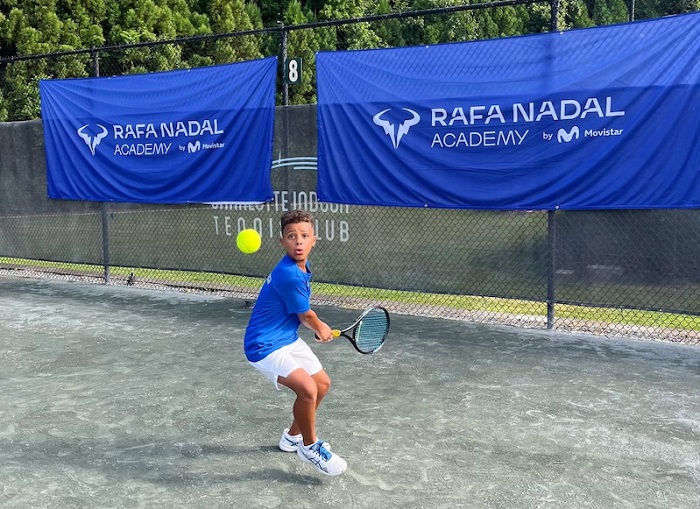 BY KARISSA MILLER
In pressure moments, Theo Johnson relies on hours of practice, his instincts and reflexes to hit winning shots on the tennis court.
Johnson, who recently celebrated his 10th birthday, is making a name for himself after taking up the sport about three years ago. Along with his teammates, Isabel Fernandez, 12; Maris Caudill, 11; and Lucy Caudill, 12, Johnson finished third in the state in Junior Team Tennis in the 12U Division. Johnson, who was 9 years old at the time of the competition, played one division up.
"We never lost a match. That's how we made it to state," Johnson recalled.
He loves the challenge that tennis presents, along with the fun and excitement that comes with playing.
"The more stressful it gets, the more exciting it gets. If you win the match, everybody is going to be cheering," he said.
Johnson enjoys playing singles and doubles, and his tennis friends are like his family.
"I like that I get to meet new people every day in my class. I come really early to class. I am also a coach in one of the classes. I like to help people with their tennis and hopefully go pro," he said.
Eager to improve his own game, he practices four times a week and, when given the chance, will play against high school girls and boys.
"I always want to show people how good I am, and I don't want them thinking I'm a bad tennis player because of my age," he said.
Johnson also understands the value of hard work.
"My serve took a lot longer than usual. My coach wanted me to have a hard serve because I play with older kids. That way they can't rocket the ball back to me," he said. "It took me eight months to learn my serve. Now, when I play with kids my age, it's fun when it is my serve."
Johnson is coached by Stacie Kennington of Blue Skies Tennis in Statesville.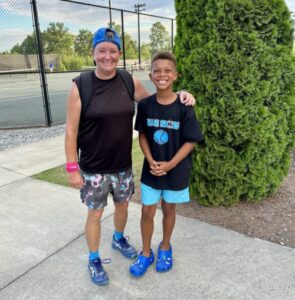 Rafael Nadal Academy in Spain 2024
Johnson learned that he had been invited to train at the Rafa Nadal Academy in Spain in 2024 at practice. His tennis buddies helped celebrate by throwing paper airplanes at him.
"There was a big sign saying, 'Theo! Rafa needs you in Spain!' That sign is now in my bedroom. It reminds me of that (moment) every day," he said.
The turnout for Johnson's surprise announcement showed him how much support he has in the local tennis community.
He's really looking forward to the trip – and the opportunity to improve his game.
"This will be my first time going out of the state and out of the country. It will be my first plane ride. I'm really excited about that," Johnson said.
"I will get to meet really good coaches. I'm excited to see how they coach me. I'm excited to see how hard they are going to make me work, and I really hope I come back being better than I was before," he added.
According to his coach, Johnson was one of 56 kids out of 1,400 from all over the United States who were invited to train at the Rafa Nadal Academy, which was founded by tennis great Rafael Nadal.
"This is a huge honor for a 9-year-old to be selected from such a competitive field to represent our communities from Statesville, Lake Norman, and the Greater Charlotte Metropolitan Region," Kennington said. "Theo has the perfect balance of skill, sportsmanship, and personality to be a great ambassador for our communities and our sport."
He is proud represent his community and wants to take a flag of Statesville and North Carolina with him to Mallorca, Spain.
Johnson would like to thank his mom, Emma Johnson, for driving him to practices and matches, as well as his coach and teammates and other coaches that have helped him become a good tennis player.
Theo Johnson is currently raising money for his trip through a GoFundMe page. Those wishing to support him can visit his GoFundMe at https://gofund.me/f1646533