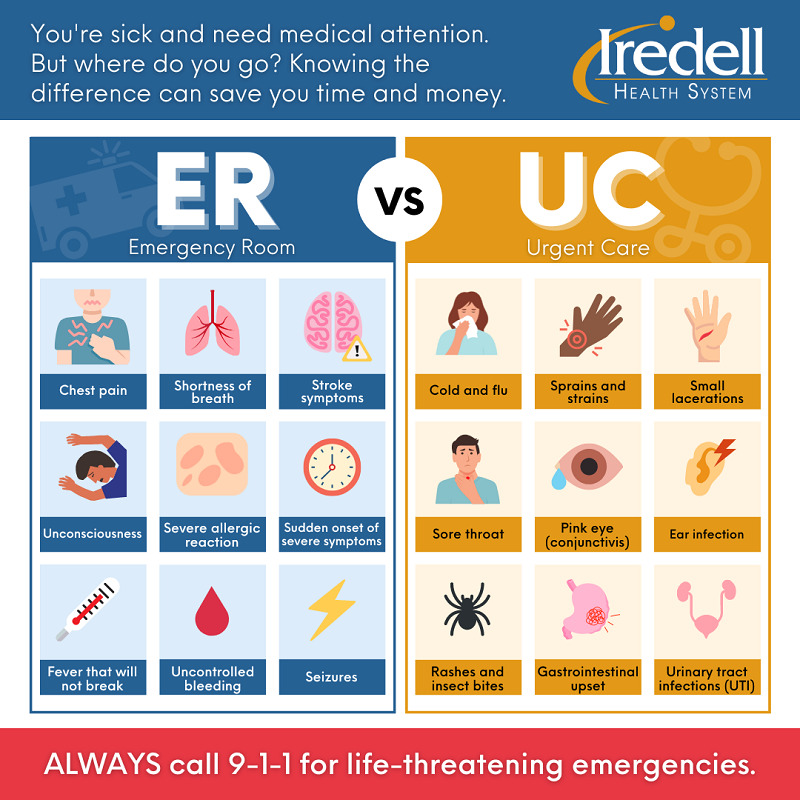 Special to Iredell Free News
You're preparing your favorite meal and accidentally slip and slice your finger. The cut seems deep and hasn't stopped bleeding for a few minutes. You think you may need stitches. So, what should you do? Should you head to your local emergency room or an urgent care clinic?
If you've ever had the question of whether to go to an urgent care or emergency room (ER), you're not alone.
"Patients can sometimes be unsure of where to go based on their symptoms or the condition they're experiencing," said Dr. Jonathon Bringolf, medical director of Iredell Urgent Care and Wake Forest emergency physician.
In order to know which is the better choice for you, you need to understand the differences between the two. The biggest difference between an urgent care and an ER is the type of cases they can handle.
"An urgent care is a medical facility that provides medical treatment for non-emergent, minor, acute illnesses and injuries. Patients should choose urgent care when they need evaluation or treatment of a minor injury or illness," said Bringolf.
Urgent care clinics can deal with minor illnesses like colds, the flu, sore throats, earaches, rashes, and low-grade fevers. They can also handle non-life-threatening injuries, such as sprains, bruises, minor broken bones, or small cuts, like one you would have in the kitchen.
To view other conditions and injuries that are treated at an urgent care, you can visit the link below:
www.iredellurgentcare.com/when-to-come-to-urgent-care
If you have a health concern but can't get in to see your doctor quickly enough, urgent care can be a good option. You can think of it as the middle ground between your primary care provider and the emergency room.
Urgent care clinics are also typically faster than an emergency room. At an ER, patients are treated based on the seriousness of their conditions, so for a minor illness, an urgent care is likely quicker. Additionally, it's cheaper to be treated at an urgent care than at an ER.
"Urgent care is different than an ER based on the resources it has available to manage and treat medical conditions. ERs have more resources like staff, laboratory tests, imaging modalities, medications, and additional advanced therapeutics that allow it to manage more emergent conditions," said Bringolf.
According to Bringolf, you should go to an emergency room if you have a condition that is life-threatening or could cause disability. This includes severe bleeding, chest pain, and stroke symptoms.
You should always call 911 for an ambulance to transport you to the emergency room if:
• You're unsure that you're facing an emergency;
• The condition threatens life or limb;
• The person could get worse on the way to the hospital, or traffic is an issue;
• Moving the person could cause further injury; or
• You are experiencing any symptoms that could possibly be a heart attack or stroke.
"If a patient is unsure of whether or not they're experiencing an emergency, they should err on the side of caution and be evaluated in an ER," said Bringolf.
Iredell Health System has two urgent care facilities, Iredell Urgent Care – Statesville, located at 1540 East Broad Street, and Iredell Urgent Care – Mooresville, located at 653 Bluefield Road. Iredell Urgent Care – Mooresville is open 24/7, and Iredell Urgent Care – Statesville is open daily from 7 a.m. to 11 p.m. To learn more, you can visit iredellurgentcare.com.
About Iredell Health System
Iredell Health System includes Iredell Memorial Hospital; Iredell Mooresville; two urgent care centers; Iredell Home Health; Iredell Wound Care & Hyperbaric Center; Community and Corporate Wellness; Occupational Medicine; the Iredell Physician Network and more. Iredell Memorial Hospital is the largest and only nonprofit hospital in Iredell County. The comprehensive healthcare facility has 247 beds; more than 1,800 employees; and has 260 physicians representing various specialties. Centers of excellence include Women's and Children's; Cardiovascular; Cancer; Surgical Services and Wellness & Prevention. The Health System's second campus, Iredell Mooresville, is home to the area's only 24-hour urgent care facility, as well as an ambulatory surgery center, imaging center, rehabilitation services, and physician practices. The mission of Iredell Health System is to inspire wellbeing. For a comprehensive list of services and programs, visit www.iredellhealth.org