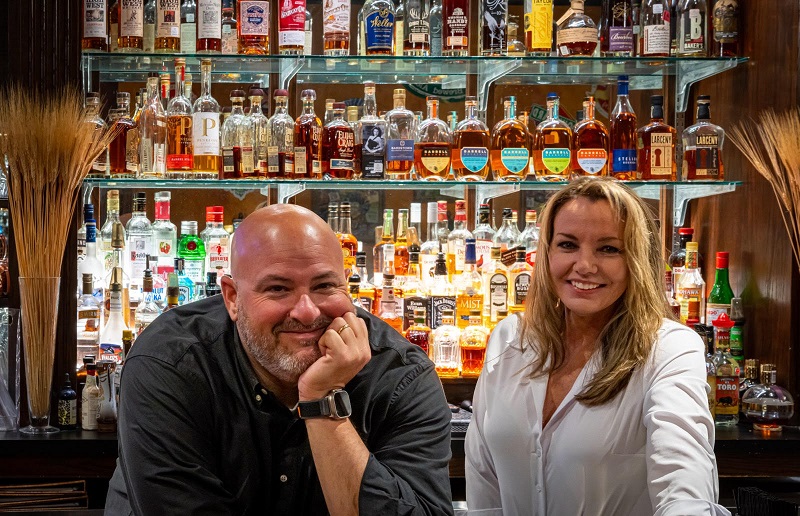 The Quarter, a casual restaurant that 'leans to New Orleans,' will open before the end of summer
BY MIKE FUHRMAN
Jason Cole and Andi Chadwick didn't have a long-term master plan when they decided to open Twisted Oak American Bar & Grill in Downtown Statesville in 2013.
Almost ten years later, with three successful restaurants in hand and a fourth in the works, they remember the early days of their business partnership with a mixture of nostalgia and horror.
"Our vision was just to get to the end of the week," Jason recalls.
"That was a dumpster fire," Andi added. "I've never cried so many days in a row."
The regular challenges associated with opening a new restaurant — training a new staff and mastering the menu, among others — were compounded by the fact that Theatre Statesville was hosting a play in the Twisted Oak banquet room, which drew a huge crowd. Many folks left unhappy that first weekend.
It's easy to laugh at those early days when you consider everything that has followed. During the ensuing decade, Chadwick and Cole have added Broad Street Burger and Smokin' Southern Cantina to their portfolio. Although they shuttered another restaurant, Unwined, they plan to open The Quarter, a casual restaurant that "leans to New Orleans," before the end of summer in the space previously occupied by Unwined.
A four-day "exploratory trip" to Nola helped the partners solidify their vision for their newest venture.
"I'm super excited about that," Cole said. "We've got some cool stuff going down there. People are going to love it."
Along the way, they have learned from their early missteps, survived a global pandemic and developed an immense feeling of gratitude for their long-time staffers and their loyal customer base.
During the COVID-19 pandemic, when government health mandates restricted restaurant capacities, Cole and Chadwick made a decision to pivot their business to help customers get their hands on toilet paper, hand sanitizer and other household staples.
"We did a penny over cost," Chadwick said. "It was just to keep our people working."
"We sold anything we could get our hands on — pork butts, burgers and rolls," Cole added.
While Twisted Oak — with its diverse menu of favorites like fried green tomatoes, shrimp and grits, and twisted cajun pasta — had a solid customer base when the pandemic began in March of 2020, Broad Street Burger didn't really find its groove until COVID-19 drove a major surge in take-out across the food service industry. At Broad Street Burger, which features a variety of signature burgers, wings and salads, business exploded.
"They went in a Chevy Malibu and came out (after the pandemic) almost a Ferrari," Cole said.
The partners took a risk when they opened Smokin' Southern Cantina in December of 2020. But its unique menu of what Cole and Chadwick call "sunny weather food" with Cuban and Hawaiian influences has become popular with the lunch and weekend crowds. The colorful outdoor seating area has added flair to the downtown area, and the pork belly tacos, gator and taters, and build-your-own bowls are unique in Statesville dining.
In an industry where it's nearly impossible to attract and retain staff, Cole and Chadwick have several long-time employees. They are eternally grateful for Dewayne Bowden, Leonard Holland, Andrew Johnson, Laurie Lyons, Mac McFadden and Mellissa Myers.
Their successful partnership is remarkable when you consider that their friendship was a matter of happenstance. After Cole injured his back years ago, he went into Arli Massage Studio, where Chadwick was working at the time for emergency treatment.
They both grew up in the restaurant business. Cole and his father had owned the KFC in Statesville, and Chadwick's family owned The Capri in her hometown of Canton, Ohio, for decades.
"I wanted to open a restaurant," Chadwick said. "He wanted to get out of franchise."
From that initial goal, they have grown their venture. And they have been approached several times about opening restaurants in other nearby cities.
"We've said no every time," Cole said, "but who knows?"
"If we ever do, it's going to be on the Coast," Chadwick added.
EDITOR'S NOTE: This article was originally published in the June edition of "IFN Monthly."