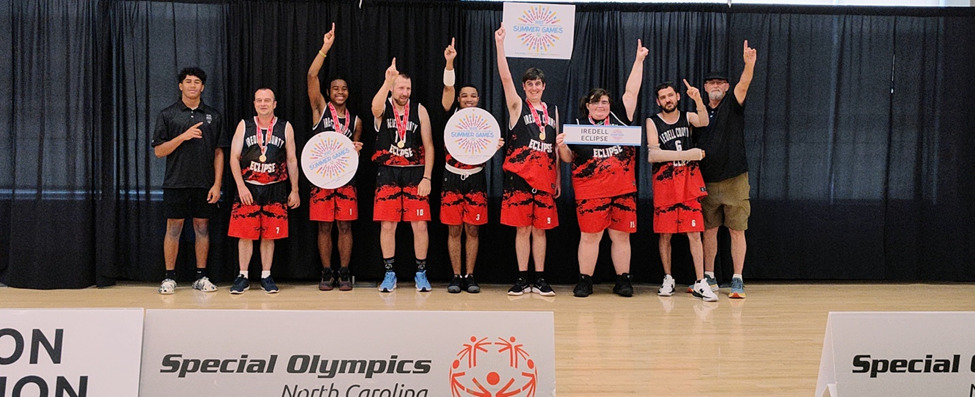 Special to Iredell Free News
More than 1,300 athletes from across North Carolina recently competed in the Summer Games in Raleigh.
Iredell County athletes competed in swimming, bowling, and basketball and brought home dozens of medals. The athlete chauffeurs responsible for transporting the athletes to various locations in Raleigh to compete all weekend were Joe Keenan, Ted Williams, Matt Cartner and Randy Stroud.
The Special Olympics Iredell County caravan included 27 athletes, five unified partners, eight coaches and about 40 parents and siblings.
Local Coordinator Bobbi Williams announced the athletes brought home 30 gold medals, seven silver medals and eight bronze medals.
Basketball
The basketball team brought home gold for 3-on-3 Basketball. Coaches Randy Stroud and Unified Partner Evan Crater coached the winning team at four state summer games. Other coaches who helped prepare the basketball athletes are Clarissa Reinhart, Bri Rucker and Cody Phelps.
Receiving gold medals were Tyler Bowie, Jonathan Humes, Zion McAlister, Sissy Olson, Chase Stroud, and Keith Smith. The team was also accompanied by Preston Fox, who was unable to play due to an injury.
Bowling
Nine bowlers from Iredell County competed. The bowling singles coached by Joe Keenan competed at Bowlero in Cary. Monique Farmer and Josh Moore received bronze medals and Randy Wynn came in fourth place.
Those bowling doubles were coached by Cindy Snook and competed at Buffaloe Lanes South. The Bowling for God Team of Kari Dixon and Kim Snook won a bronze medal, and the Iredell Rockers of Will Gandy and Brett Troutman came in fourth place. Team Tony (in memory of long-time swim coach Tony Stikeleather) comprised of Delaney Hensen and Reece Williams, won gold medals. Coach Keenan and Snook coach all the bowlers weekly at Plamor Lanes in Statesville.
"I am very excited for each athlete," Snook said. "They worked so hard, and I could not be more proud of them.
Swimming
Special Olympics Iredell County Dolphins had an outstanding showing in the aquatics event. Amber Hampton earned a bronze medal in 100m freestyle, a bronze medal 50m freestyle and a gold medal in 50m backstroke. Braeden Bailey earned a gold medal in 25m freestyle, a gold medal in 15m unassisted freestyle and a silver medal in 25m kickboard. Chase Mullins earned a gold medal in 50m backstroke, a silver medal in 100m freestyle and a silver in 50m freestyle. Merritt Tuck brought home a gold medal in 25m freestyle, silver in 25m kickboard and silver in 15m unassisted freestyle. Jaxson Eroh earned gold medals in 100m freestyle, 50m freestyle and 50m backstroke.
Sierra Manning also brought home gold medals in 25m freestyle, 15m unassisted freestyle and 25m kickboard. Sophie Funderburk earned gold in 15m assisted swim, was fourth in 25y assisted swim and fifth in 25y flotation race. Hunter Williams earned a gold medal in 100m freestyle, a silver medal in 50m freestyle and fourth in the 50m backstroke. Dawson Nealy secured a bronze medal in the 25m backstroke, bronze in the 25m freestyle and a fourth-place finish in the 50 m freestyle. Pat Reid won gold medals in the 15m walk, 25m assisted and 15m assisted swims.
Karlie Cartner earned fourth in the 25m backstroke, a silver medal in 25m freestyle and bronze medal in 50m freestyle. Ben Kasprzak also brought home gold medals in the 25m freestyle, 15m freestyle and 25m flotation race.
The 4 x 25 freestyle relay team of Amber Hampton, Jaxson Eroh, Hunter Williams and Chase Mullins also earned a gold medal.
The swim team had several unified partners throughout the season. Those attending and assisting swimmers at summer games were Jacob Cartner, Andrew Cockerham, Paula Lorton, and Cole Williams.
Swim coaches for the three day competition were Lisa Cartner, Jeanne Massey, Kim Eroh, Dennis Williams, and Tammy Bowie.
LEARN MORE
To learn more about how you can become involved in Special Olympics follow us on Facebook at Special Olympics Iredell County or email Bobbi Williams, Local Coordinator, at iredell@sonc.net
Photos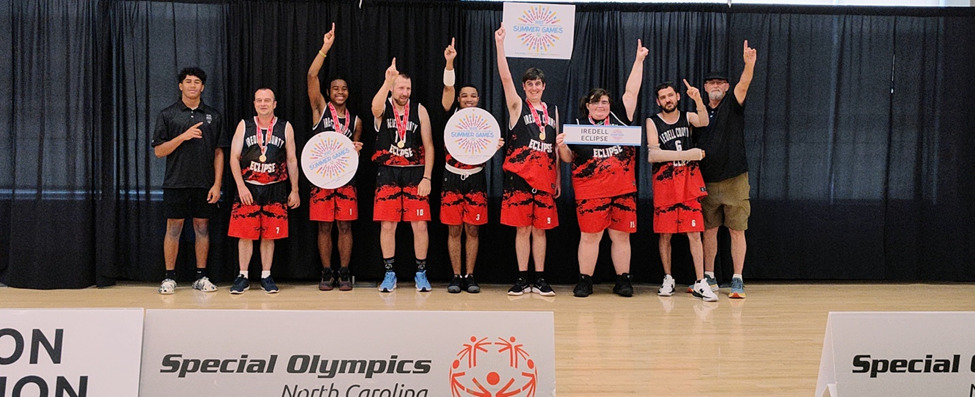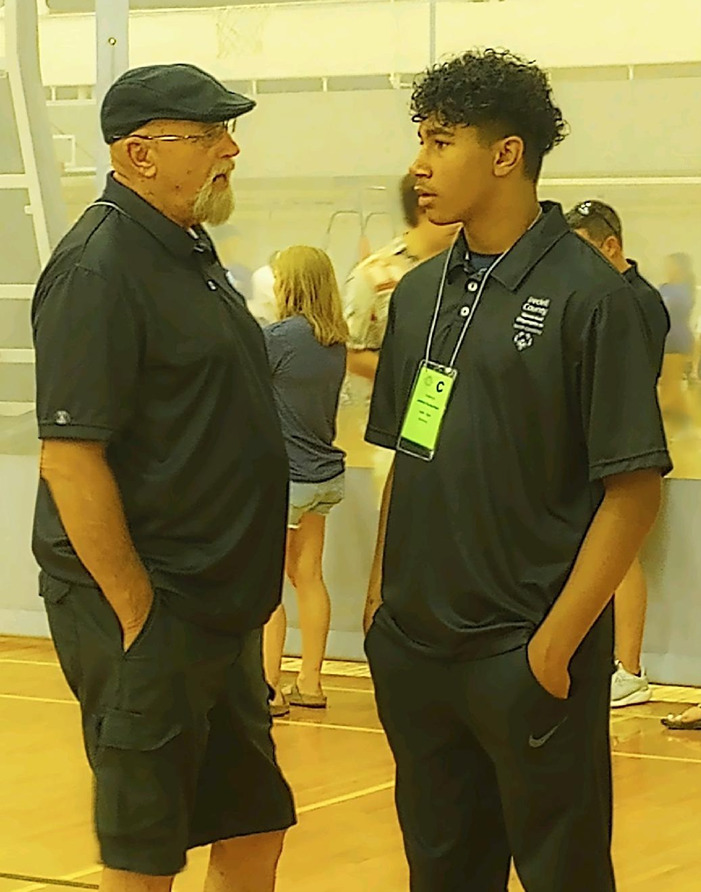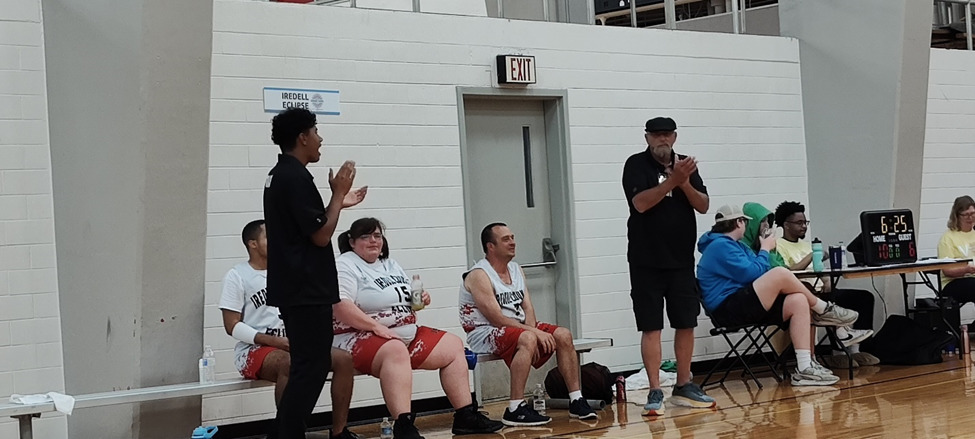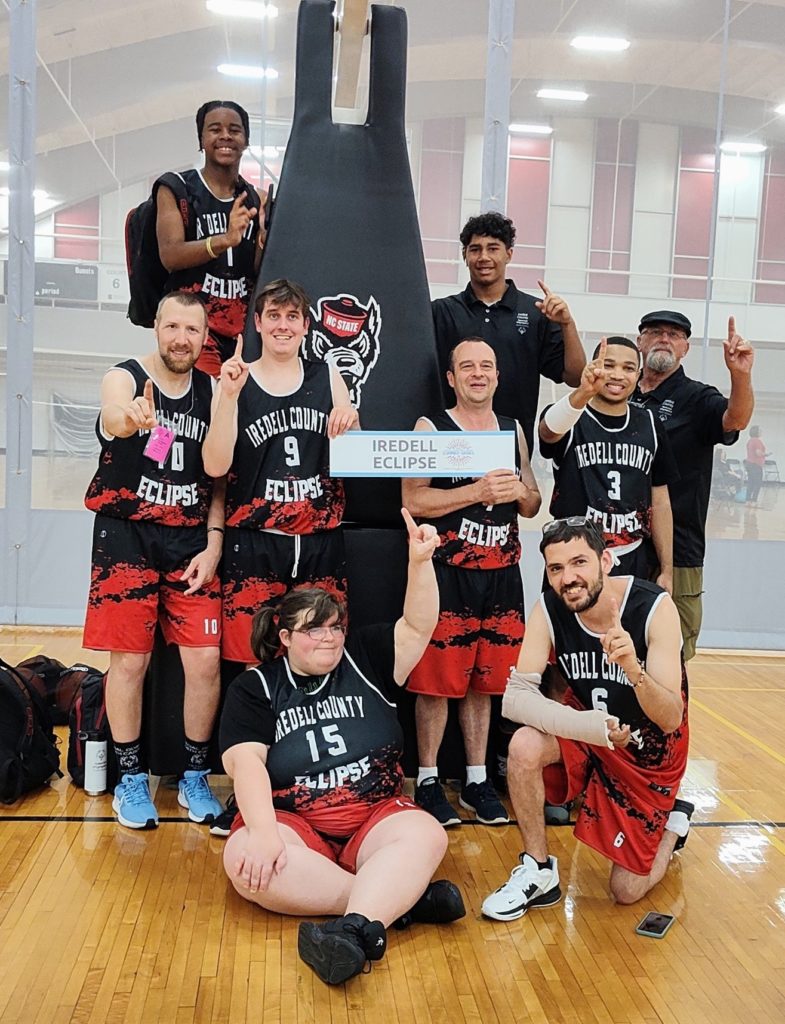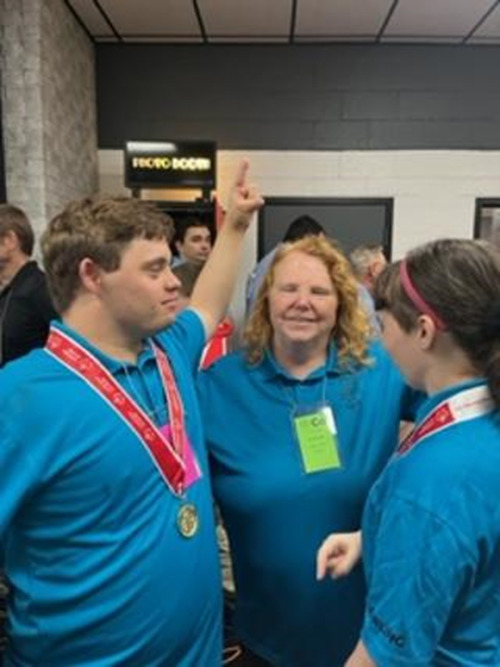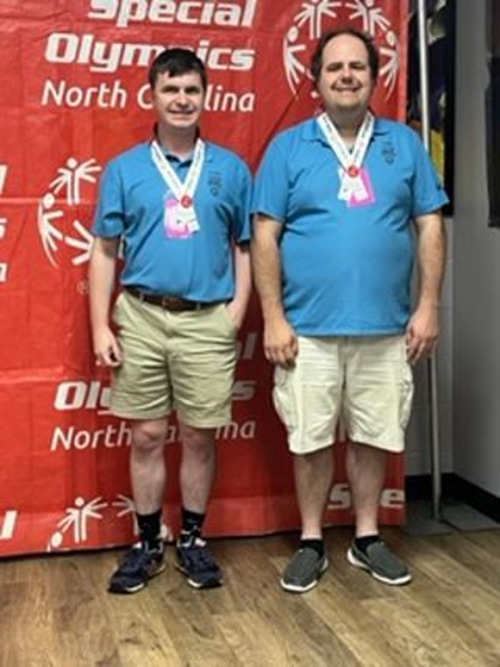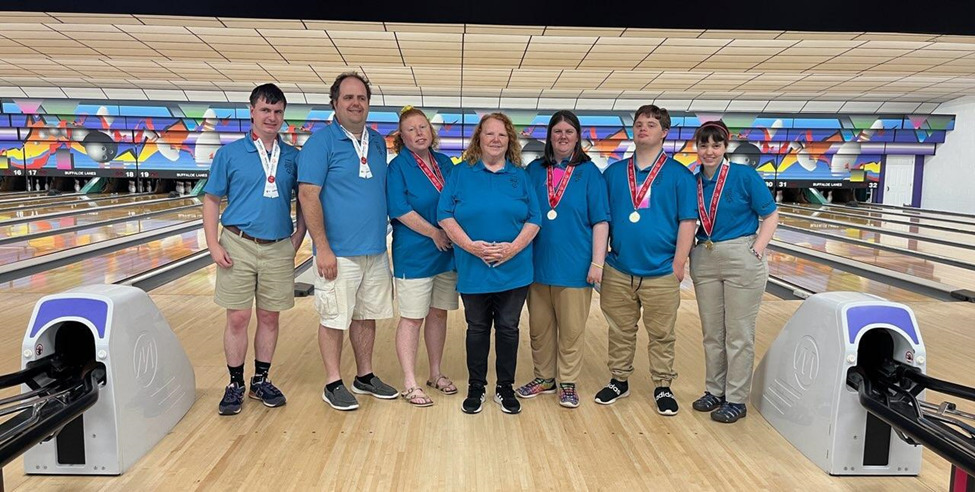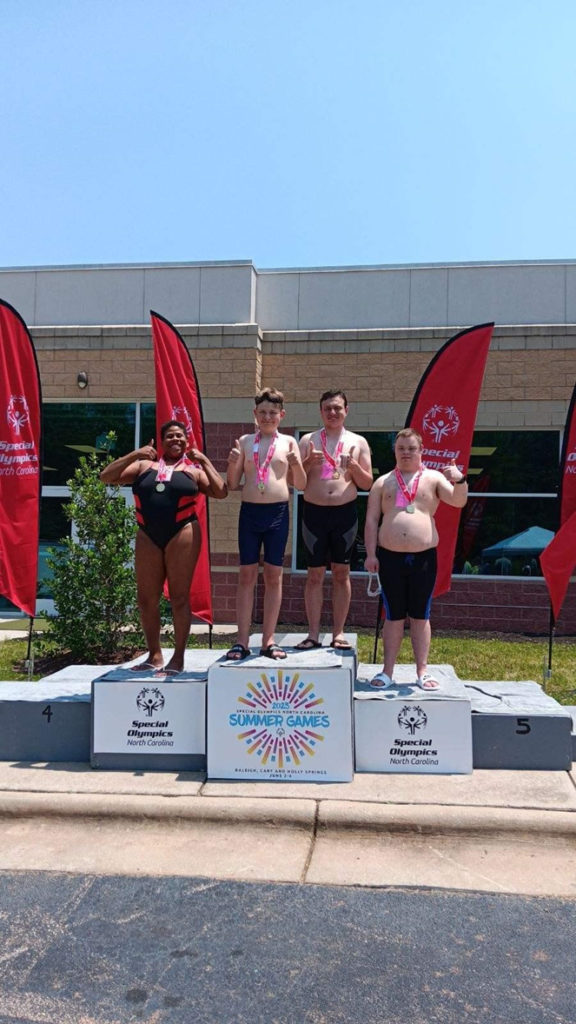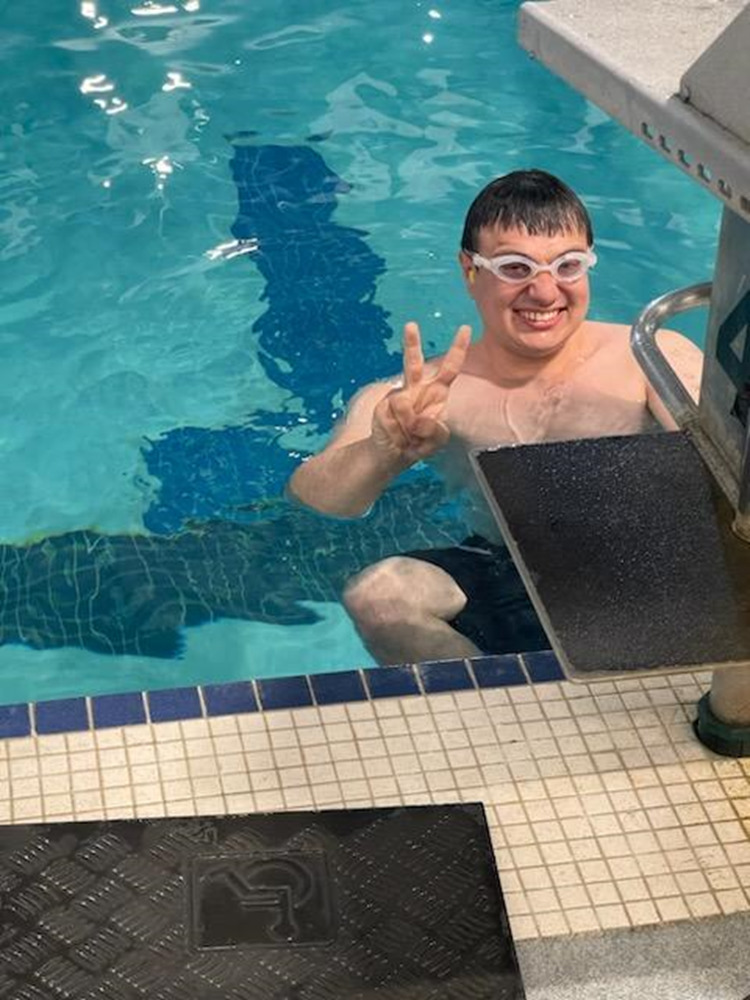 Athletes Will Gandy and Dawson Nealy had a blast at the Saturday Night Bingo/Dance/ and other fun activities for all 1,300 athletes at State Games.