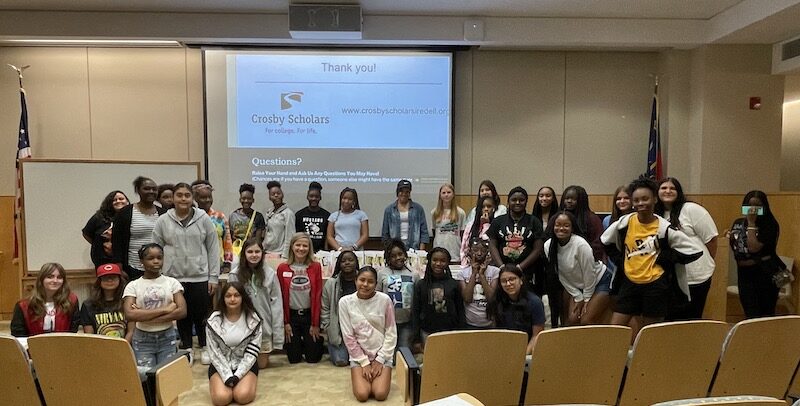 BY KARISSA MILLER
The second annual Abby Winthrop SMART Girls Leadership camp was held this week on the Mitchell Community College campus in Statesville.
Forty girls participated in the free camp, which was built around the theme "Are you ready to Bloom?" The camp gives middle and high school students an opportunity to learn and connect with local female leaders who aim to inspire and empower participants.
"All of the speakers and volunteers who have helped me this week I truly appreciate them. I think all of these people, who took time out of their busy schedule, are helping these girls bloom," said Aletha Hyde, director of Abby Winthrop SMART Girls.
The organization, which is based at the Boys & Girls Club of the Piedmont, was founded by Vicki and Russ Winthrop to honor the life and memory of their daughter Abby, who passed away in July 2019 due to complications from a congenital heart defect. Abby's college major was Human Development and Family studies. She planned to pursue a career working with youth.
During the camp, students had an opportunity to ask Vicki questions about Abby's life and health challenges. She hoped the Q&A session allowed the students to learn something that could potentially help a grandparent or family member at home who isn't well.
"Abby was unique in the way she didn't ever have preconceived ideas about anybody that she met — whether that was where they came from or what school they went to," Vicki said.
"A lot of that came from being so isolated (when in the hospital and sometimes socially) from the world. The part that she'd be the proudest of is that we are meeting each girl where they are at, which was huge with Abby," she added.
Vicki said one of Abby's best character traits was loyalty. She wants the girls to know that they are loved and no one girl or dream is better than someone else's.
"It's important that these girls know that we are loyal to them in what they decide to do and in what they want to be," Vicki said.
Vicki said that she's grateful to all the partners who stepped up to make the camp successful. This summer's camp was planned by a volunteer committee, which placed an emphasis on incorporating more hands-on experiences.
Beverly Rufty, media coordinator at Mitchell Community College and a member of the planning committee, arranged a tour of Mitchell's Workforce Development campus and presentations from instructors in the college's nursing, public safety, information technology and other career-oriented programs taught at the college which lead to licensing or credentials.
An etiquette class was presented by Leslie Morrison and Saira Estrada from Speak Life & Live. The girls took part in a community service project hosted by the Statesville Woman's Club and a local non-profit Bella's Back Packs. The group heard a presentation about the local court system in Iredell County led by Magistrate Reba Imes and also got a tour.
Other presentations included Jennifer Christian from Crosby Scholars, Christiana Lovelace from Truth Girlz and Nicki Mott from the Statesville Family YMCA.
The girls also took part in a scavenger hunt of downtown Statesville lead by local historian Steve Hill, and a walking tour of Mitchell's main campus lead by the Student Government Association.
Photos