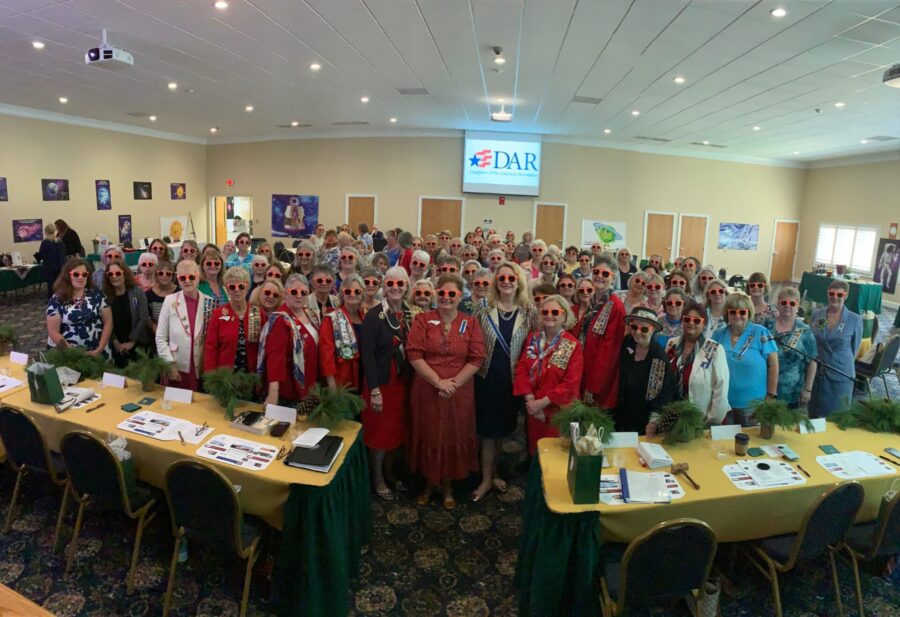 BY BRANDY TEMPLETON
Dozens of members of the Daughters of the American Revolution traveled to Statesville this week to attend the District IV annual meeting at First Baptist Church.
It was a major undertaking for the local Fort Dobbs Chapter, which has the honor of hosting the meeting once every 12 years.
The organization helps veterans, domestic violence centers, educators, and other worthy causes. DAR members donate supplies, make goody bags, organize meals and snacks, and volunteer in their communities. DAR members also place thousands of wreaths on veterans' graves every year.
"We do anything and everything we can for God, home, and country," explained Susan Tolle, second vice regent of the Fort Dobbs Chapter.
Tolle, who helped organize the event, said she was appreciative of the community's support, noting the contributions of First Baptist Church, the City of Statesville, the Historic Sharpe House, local merchants, and West Iredell High School. The church provided a nice setting for their meeting, the city and local merchants donated nice gifts for the swag bags, and West Iredell High's Color Guard volunteered its services.
The annual meeting kicked off Thursday with dinner at The Historic Sharpe House.
On Friday morning, various DAR chapters and members were recognized during the business meeting for their volunteer work. Some members give their time daily and never tire of their good works.
State Regent Anna Baird Choi spoke of the organization's current theme "Rooted in Legacy, Reaching New Heights in DAR service."
"Our theme reflects what we are and what we do," she explained. "We are rooted in legacy and continue to reach new heights in service."
Statesville Mayor Costi Kutteh applauded the women for bringing the DAR "to a new level."
Cricket Crigler, DAR Vice Regent, praised members for their patriotism and volunteerism. Members enjoy friendships and sharing life's journey with one another, she said.
"We're a very cohesive, mindful group with a strong thread of friendship," she said.
Terri Eads, Fort Dobbs Chapter Regent, expressed her gratitude for local members and the community's support of the meeting.
"The members of the Fort Dobbs Chapter National Society of the Daughters of the American Revolution were honored to host the annual meeting of District IV," she said. "We had so much support from the City of Statesville for this meeting, which included our gracious mayor, who brought us greetings, to the West Iredell High School JROTC, who presented Colors, to the merchants of Statesville, who donated items for gift bags for all the attending members," she said.
"I want to thank Susan Tolle, our Second Vice Regent and hostess committee chair, and all the members of her committee who worked tirelessly to bring every thing together for a much enjoyed and successful meeting. I am a very proud Chapter Regent."
Photos