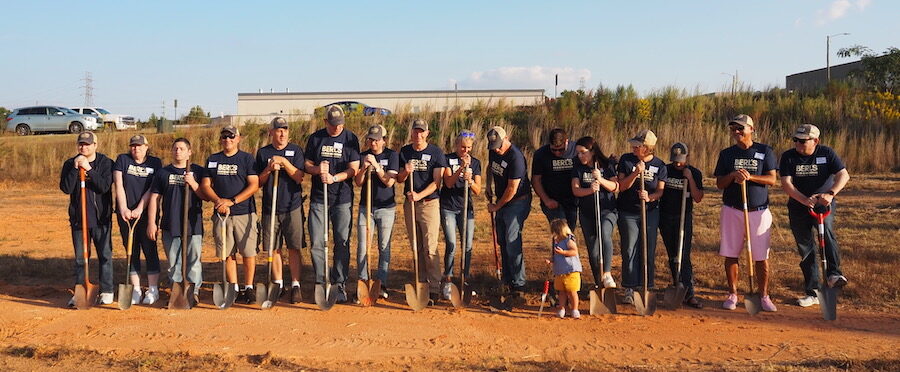 Special to Iredell Free News
Berl's Commercial Supply held a groundbreaking ceremony for its new warehouse in the South Fork Business Park in Mooresville on Wednesday.
The warehouse is being constructed by Empire Building Group, which has built several other industrial buildings in the area. Engineering work is being done by Darden Engineering Services PLLC.
Berl's, which is based in Mooresville, was founded in 2008 as a distributor of restroom hand dryers by industry veteran Christopher Berl.
Initially known as Restroom Direct, the company quickly expanded from Dyson, World Dryer, and Excel Dryer hand dryers to other commercial restroom accessories by manufacturers such as ASI, Bobrick, Bradley, Suitmate and Zurn plumbing. Today, Berl's is also one of the top distributors of Elkay drinking fountains and bottle-filling stations in the U.S.
Berl's continued to grow throughout the COVID-19 pandemic with the expansion of its ArmPull and FootPull lines of door hardware that allow users to open doors without using their hands. In addition to the U.S., Berl's also sells similar products throughout Europe through Berl's sister company, Bavada, Ltd., headquartered in Dublin, Ireland, and utilizes a warehouse in the Netherlands for delivery throughout Europe.
"Iredell County in general, and Mooresville in particular, is the place we want to be," said Chris Berl, president of Berl's. "We experienced tremendous growth since we moved to Iredell, and this new location primes us to continue that growth."
"I can't wait to move to the new location," says Jose Lopez, Warehouse Manager at Berl's Commercial Supply. "It's going to have everything that we need to grow, and more."
Jenn Bosser, president & CEO of Iredell County Economic Development Corporation, said she was excited to see the company grow and prosper.
"Iredell County is a major transportation corridor with access via I-77, I-40, and I-85, connecting 72 percent of the U.S. within a two-day trucking drive, and a 40-minute drive to Charlotte Douglas International Airport, the sixth busiest in the world," Bosser said.
Having started in Mr. Berl's Garage, Berl's is upgrading from a 20,000-square-foot facility to a new 71,500-square-foot space.
Photos