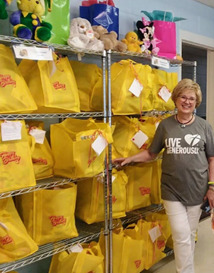 Special to Iredell Free News
Nonprofit Bright Blessings announced this week that it was closing its satellite office in Mooresville.
Simultaneously, the team that had opened and served that office announced that it has founded a new organization, Bridge of Hearts, a community-based non-profit that will provide similar programming and volunteer opportunities with the goal of bringing joy and support into children's lives.
"We are excited to launch this new organization," said Linda Morris, executive director. "Bridge of Hearts' mission continues the important work of engaging the community to celebrate, care for, and love our youngest and most vulnerable citizens."
The new organization, which serves more than 700 children in 50 schools throughout Iredell County and in the towns of Davidson, Cornelius and Huntersville in North Mecklenburg, remains at Broad Street Methodist Church, "which continues to graciously provide rent-free space," Morris added.
Among their new plans, she said, "We are going to have three school system liaisons to provide close contact with our local schools, and we will also start serving impoverished pregnant students."
To accomplish this mission, Bridge of Hearts programs will include:
♦ Celebrating Birthdays: Recognize children's birthdays with wrapped gifts, age-appropriate books and party supplies.
♦ Caring for Children: Encourage a positive self-image, assurance, and build self-esteem through basic hygiene and other self-care items.
♦ Caring for Babies: Provide socially disadvantaged middle/high school pregnant students with nursery items for their babies.
"Bridge of Hearts volunteers range in age from 6 to 90," Morris said, "and there are many ways to support our work. These include volunteering at our headquarters, conducting collection drives at your neighborhood or business, or doing projects at your home or in a small group, such as creating snack bags or hygiene kits."
Supporters can also help through providing in-kind donations either self-chosen, or from the organization's Amazon Bridge of Hearts Wish List.
"We look forward to another great year of serving children." she said.
The new organization has adopted a poem written by Miss Will Allen Dromgoole entitled "The Bridge Builder" to illustrate its philosophy. Morris explained, "Each spring we stop to see if in fact the bridge we have built might have removed 'pitfalls' in the path of the young in our community."
Joining Morris on the Bridge of Hearts Board of Directors are: Pam Schneider, board chair; Jeffrey Hartman, retired Wells Fargo Wealth Management executive; Robert G. McIntosh, owner and managing partner of The McIntosh Law Firm; Dr. Boen Nutting, assistant superintendent for Iredell-Statesville Schools; Fran Nichols, retired teacher; Lula Pralong, community volunteer; Daniel Richart, patient accounts representative for Guidehouse, Inc.; the Rev. Wesley Smith, senior co-pastor of Williamson's Chapel UMC; and Angela Swett, director of marketing and public relations for The McIntosh Law Firm.
LEARN MORE
For volunteer opportunities with Bridge of Hearts, or for more information, contact Morris at lindamorris@bohnc.org.