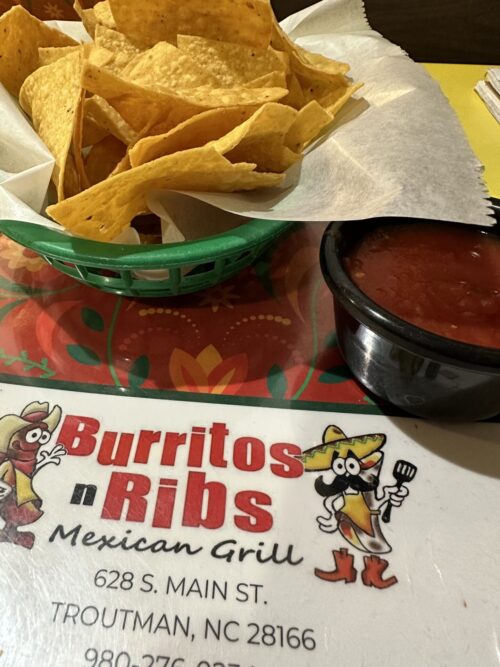 BY JAIME GATTON
When you have a hankering for ribs, does your mind automatically think Mexican restaurant?
No?
Well, allow me to open (and maybe blow) some minds …
Burritos N Ribs Mexican Grill is a family-owned restaurant at 628 S. Main Street in Troutman. It's in an unexpected location. One minute you're driving along N.C. 115 then — BAM! There's a Mexican restaurant.
Vibrant, festive painted patterns accented by ornamental cacti in the landscape add to the grill's curb appeal and make it hard to miss. Plenty of seating is available inside, and there is patio seating with umbrellas outdoors. The place is impeccably clean — even the bathroom — and the staff is welcoming and friendly.
But, hands down, the star of the show is the cuisine.
From flautas to chimichangas, burritos and — yes! — ribs, the presentation of each dish I've ordered during two visits is absolutely magazine-worthy. And the taste? Every bit as impressive as the beauty. The food has a different twist than a usual Mexican restaurant — just enough to make you want to go back for more.
For my first visit, I invited two friends who work in the service industry: one is an incredibly talented fine-dining culinary chef, and the other is the general manager of a popular, upscale cocktail bar in Downtown Mooresville.
We asked about margaritas. Unfortunately, Burritos N Ribs doesn't have its liquor license, so margaritas are premade in lime or strawberry flavor. But we didn't hesitate to order them. Premade margaritas are nothing to rave about, but not a drop remained in any of the three glasses when we finished our meal, so there's that.
In our order: tacos with a side of "really hot sauce" that our server retrieved from the restaurant's cooler, a carne asada chimichanga and steak flautas.
I gorged myself on chips with salsa, queso and guacamole. Bonus points to Burritos N Ribs for bringing individual portions of salsa, equal to the number of people at the table. It prevents the occasional "double dipper" and guests from having to reach over for salsa, potentially dripping into someone's lap or drinks.
Everything — right down to the pico de gallo and guacamole — was fresh and perfectly seasoned during both visits. Queso was delivered to the table piping hot. While it seemed a little thin/runny at first, it became the perfect consistency at the table and didn't harden as it cooled like often happens at other eateries. (It could also be that it was practically inhaled during both visits, so it didn't really have time to cool.)
The lunch portion sizes at Burritos N Ribs are out-of-this-world. After both visits, I left carrying boxes stuffed with leftovers; only the person who ordered tacos left without a take-home box.
My son is 17 years old with a voracious appetite. I took him and his sister with me for the second visit to Burritos N Ribs. He ordered the Burrito Campechano, filled with beef, chorizo, rice, beans, cilantro and jalapeños and smothered in queso. He was full before he even finished half of it, and a lady whom I presume to be the owner made her way to our table to ask if everything was okay. She had noticed his food looked barely touched, and she was concerned he didn't like his meal. She offered to make him something different.
That is impeccable customer service.
We explained that — no — everything about our meal was divine; my son was simply already stuffed.
My daughter ordered the ACP — rice, grilled chicken and queso dip — while I ordered chili rellano and, of course, a rack of ribs for the table to share. We chose the popular (and recommended by our server) habanero-mango sauce for the ribs and were glad we did! A perfect blend of sweet and heat covered the tender ribs; the sweet mango flavor came in strong on the front end, and habaneros provided a kick at the end. Finger-lickin' good — literally.
The chili rellano was different than most I've had. The red sauce on it had an unexpected hint of smoky chipotle, and I was pleased with the twist.
My only complaint is that during both experiences, I sat for a while with an empty drink. But I know I could have gotten the attention of a server if I had wanted to bother them during the lunch rush, and it's a small price to pay for everything else we all enjoyed about this grill.
My dad was a truck driver, and I was raised to always look for lunch spots with work trucks in the parking lot; the hardworkin' folks will always steer you toward the best food, he'd say. The Burritos N Ribs' parking always seems packed at lunchtime with pickup trucks and first responders, including Troutman police officers. So the first time I visited Burritos N Ribs, just by what I saw in the parking lot, I had a hunch that I was in for a treat.
I wasn't wrong.
Jaime Gatton is a regular contributor to Iredell Free News.
Photos
Editor's Note: This article was originally published in the July edition of "IFN Monthly."