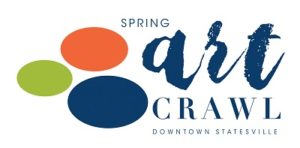 Special to Iredell Free News
Downtown Statesville Development Corporation is accepting applications from artists who wish to apply to be considered for participation in the Spring Art Crawl.
The event is set for Friday, March 31, from 5:30 to 8:30 p.m. in Downtown Statesville.
The artist deadline for application submission is Tuesday, March 7.
All artists, even past participants, must submit three images of their work, along with the application, and specify the medium used. All work must be original fine art created by the applicant. The artist fee for this event is $20. Artists are responsible for all items required to display artwork in their assigned location.
To complete the application and pay the artist fee, visit https://www.downtownstatesville.com/springartcrawl.
LEARN MORE
For more information about this event, contact the Downtown Statesville Development Corporation at 704-878-3436 or email liz@downtownstatesvillenc.org.
About DSDC
Downtown Statesville Development Corporation (DSDC) is a 501(c)3 nonprofit organization charged with administering the Main Street program for Statesville and whose mission is to champion, promote and lead Downtown Statesville as the economic, social and cultural engine in the region. This is achieved in collaboration with public-private partners working together to enhance the appearance, desirability, and vitality of downtown. Visit www.downtownstatesville.com for details.