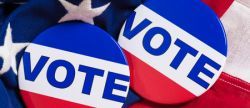 Special to Iredell Free News
The candidate filing period for 2023 Municipal Elections and the 2023 Mooresville Graded School Elections will begin Friday, July 7, at 12 noon and end on Friday, July 21, at 12 noon.
Three seats on the Statesville City Council will be on the ballot on October 10 with a run-off election scheduled for November 7, if necessary. The incumbents are David Jones (Ward 1), Amy Lawton (Ward 4) and Frederick Foster (Ward 6).
In Mooresville, the office of mayor and three commissioner seats will be elected on November 7. If necessary, there will be a primary election on Oct. 10. The incumbents are Mayor Miles Atkins and commissioners Bobby Compton (at large), Eddie Dingler (Ward 1) and Thurman Houston (Ward 2).
Voters in the Mooresville Graded School District will elect three school board members on November 7. The incumbents are Roger Hyatt, Debbie Marsh and Kerry Pennell.
In Troutman, Harmony, Love Valley and Davidson, mayoral and city council races will be contested on November 7.
In Troutman, the incumbents are Mayor Teross Young Jr. and council members George Harris and Edward Nau.
In Harmony, the incumbents are Mayor Lee Matney and council members Buddy Gaither, Julia Clanton, Douglas Galliher and Scotty Harris.
In Love Valley, the incumbents are Mayor Tim Meadows and council members Ted Davis, Randy Ladd, Randy Lackey, Linda Chase and Mark Loden.
In Davidson, the incumbents are Mayor Rusty Knox Jr. and council members Jane Campbell, Autumn Michael, Matthew Dellinger, Tracy Brandon and Ryan Fay.
Filing Information

Dates & Deadlines