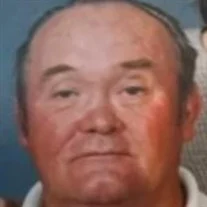 Jessie Ray Nicholson, 79, of Statesville, N.C., passed away on Saturday, June 24, 2023, at his home surrounded by his family. Born on July 7, 1943, in Iredell County, he was the son of the late Walter Cleveland Nicholson and Viola Grace Lewis Nicholson.
Jessie graduated with the last graduating class of Union Grove High School. He was an avid golfer who enjoyed the passion of gardening and coaching baseball. He was a loving husband, father, grandfather, great-grandfather, brother, and son who loved and cherished his family.
In addition to his parents, Walter Cleveland and Viola Grace Nicholson, he was preceded in death by his daughter, Melissa Dawn Nicholson; son, Walter Ray Nicholson; grandson, Larry Dean Nicholson Jr.; sister, Myrtle Hollar; and brothers, Luther Nicholson, Mott Nicholson, Dewight Nicholson, W.C. Nicholson, Lawrence Nicholson, Troy Nicholson, and Thurmond Nicholson.
Left to cherish his memory include his wife of 57 years, Delores Kay Nicholson; sons, Jeffrey Bryan Nicholson and his wife Juanita, and Larry Dean Nicholson and his wife She Jessie; grandchildren, Leann Nicholson, Hunter Nicholson, Destinie Xander, Savannah Nicholson, Caitlin Landosky, and Codie Parrish; great-grandchildren, Brianna, Michael Jr., Jaxon, and Kenslee; sisters, Hattie Lea Elkins and Betty Lou Millsaps; brother, Hugh Nicholson; and many nieces and nephews.
The family will receive friends from 6 to 8 p.m. Monday, June 26, 2023, at Nicholson Funeral Home. Funeral Services will be held at 1 p.m. Tuesday, June 27, 2023, at Grassy Knob Baptist Church with Pastor Joey Campbell and Pastor Alan Lunsford officiating.
Burial with Military Honors will follow the service in Grassy Knob Baptist Church Cemetery.
Online condolences may be made to the family at www.nicholsonfunerals.com.
Nicholson Funeral Home has the honor of serving the family.