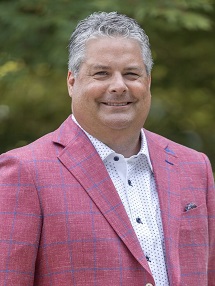 FROM STAFF REPORTS
Former Mooresville town commissioner Chris Carney announced Thursday that he is running for mayor in the November election.
Carney announced his campaign in front of a crowd of about 100 friends, including several local and state government officials and representatives from the town's business community.
"Chris' fundraiser was the biggest one this county has seen since I can remember," said N.C. Rep. Grey Mills, whose district includes Mooresville. "That volume of support shows that many people have a great deal of confidence in Chris and his ability to lead."
Carney isn't new to public service. A Hickory native and Mooresville resident since 1997, he served as the Ward 4 commissioner on Mooresville's town board from 2005-2011 and was named mayor pro tem in 2009. He was appointed to serve in the N.C. Senate from 2011-2012.
Carney has spent the last 10 years outside of public service, raising his three kids — Rachel, Maddie and Will — with his wife of 26 years, Francie, while continuing to serve the broader Mooresville community through volunteer service to numerous faith and civic organizations.
"We are at a tipping point of losing what makes our town special," Carney said in his official announcement. "I can't stand on the sidelines any longer. Too many voices are going unheard. It's time for government to be reminded that it works for the people."
With experience as vice chair of the N.C. Senate Transportation Committee, Carney is poised to advocate on behalf of Mooresville for the resources needed to address residents' frustrations with congested, inadequate roads.
"Roads are our biggest issue," Carney said. "We need a designated road fund: a percentage of our budget that we apply annually toward dedicated road construction."
Smart growth that doesn't overwhelm infrastructure and area schools is another key focus of Carney's campaign.
"The idea of having stand-alone apartments has rightfully angered the public and added to traffic congestion with very few road improvements and no real value to the existing citizens of Mooresville," Carney said. "It has become apparent that we're more concerned with attracting new people here than we are about caring for our existing citizens' quality of life."
If elected, Carney said he would be a champion for small business.
"Whether it's Lowe's Corporation, Carolina Beverage or Randy Marion, even some of our biggest companies in Mooresville started off as a small business with under 10 employees," he said. "One of the things that makes Mooresville great is that we're not just a suburb of Charlotte. We don't need to depend on I-77 for jobs. We need to focus on encouraging the growth of our own small businesses into larger businesses that down the road can employ the children that are graduating from right here in our town."
Of the town's recent treatment of long-time Ward 4 business Josh's Farmers Market, Carney said: "One of the greatest responsibilities of an elected body is to protect citizens from the government. The idea that any small business would no longer feel welcome in Mooresville means we have to take another look at the culture of our government and how we interact with our corporate citizens."
First responders will also be a top campaign focus for the mayor-hopeful. "As Mooresville has recently tried to become more like a big city, it's also brought big-city problems to our police and fire on the front lines," said Carney.
As a state senator, Carney co-sponsored a cancer bill to help firefighters in North Carolina.
"I supported them then, and I will support them now because the most important thing government can give its citizens is a safe community."
Four seats on Mooresville's town board — including the mayor and three commissioners — are up for grabs this year. Mayor Miles Atkins has previously announced he will seek reelection. At-large Commissioner Bobby Compton, Ward 1 Commissioner Eddie Dingler and Ward 2 Commissioner Thurman Houston are also up for re-election. Filing begins at 12 noon on Friday, July 7, at noon and lasts until July 21. If needed, a primary will be held on October 10. The general election is November 7.