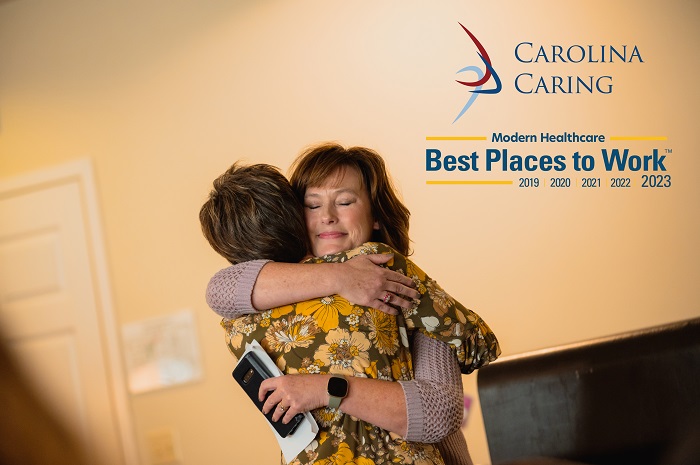 Special to Iredell Free News
For the fifth year in a row, "Modern Healthcare" has honored Carolina Caring as one of its Best Places to Work in Healthcare. The nonprofit serious illness care provider is being recognized for leveraging a profoundly engaged workforce to create a culture of excellence that consistently delivers innovative, compassionate care.
Modern Healthcare will publish a special supplement featuring a ranked list of all the winners with the October 2, 2023, issue.
"An uncertain economy, staffing shortages and increasing demands for flexibility and remote work opportunities are forcing every business in the industry to focus on attracting and retaining talent in unprecedented ways," said Dan Peres, president of Modern Healthcare. "The 2023 Best Places to Work winners proved the value of understanding what employees want — and need — today. The healthcare industry is going through a period of extraordinary change. Having the right people in place is more critical than ever, and the winning workplaces understand that taking care of employees is central to business success."
This award program identifies and recognizes outstanding employers in the healthcare industry nationwide. Modern Healthcare partners with the Best Companies Group on the assessment process, which includes an extensive employee survey.
"Working alongside the most compassionate and inspiring healthcare workers is humbling. There is no better feeling than to see Carolina Caring staff being recognized for their commitment to our mission and community. I am honored that Carolina Caring is being recognized for the fifth year and we're thrilled to be recognized as a place where employees feel valued for their contributions," said Dana Killian, president and CEO of Carolina Caring.
Carolina Caring will find out their ranking on the Best Places list and be celebrated at the 2023 Best Places to Work in Healthcare Awards Gala taking place September 28 at the Renaissance Chicago.
Founded in 1979, Carolina Caring is an independent, community-based, nonprofit healthcare provider. It specializes in programs that offer relief from chronic conditions, serious illnesses, and the challenges they bring, including palliative medicine and hospice care for all ages, primary care and grief counseling. Currently, Carolina Caring serves 12 counties, including Iredell, in the western North Carolina and the Charlotte Region. For more information, visit www.CarolinaCaring.org.