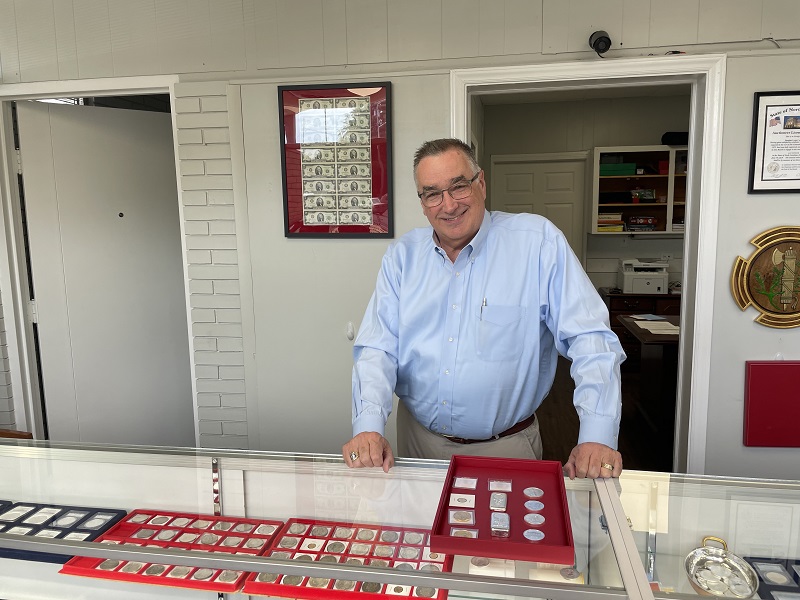 BY MIKE FUHRMAN
Doug Caudle remembers the day he found one of his most treasured possessions — and simultaneously discovered what would become a lifetime passion.
One afternoon, when he was 12, Caudle was running around the playground at Monticello School when a shiny coin in the dirt caught his eye. He stopped and picked it up and realized it was foreign currency.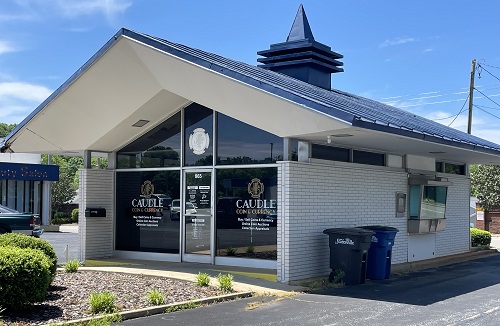 The year was 1975. In those days, if you wanted to know what a coin was worth, you could pop into John Carson's coin shop on Center Street in Downtown Statesville and ask the proprietor. So that's what Caudle did.
The coin, he learned, was a French franc.
"It didn't have any value," Caudle explained. "Mr. Carson was very kind and shared information about the coin and sparked a lifelong interest in the beauty and history of coins."
Fast forward 48 years and you can find Caudle behind the counter of his own shop — Caudle Coin & Currency — regularly sharing information about the history and value of coins with his customers and amateur numismatists (coin collectors). He buys and sells coins, as well as gold and silver, in the small shop in the Forest Heights Shopping Center.
Caudle opened his business in December of 2021, three years after selling the family manufacturing business, Piedmont Fiberglass. He also obtained his auctioneer's license and regularly conducts online auctions that attract buyers from all over the world.
"I needed to do something," he explained. "I was too young to be that old."
While there is tremendous interest in trading gold and silver — and that is a robust part of his business, Caudle's focus is on rare coins and paper currency.
He sounds like a history teacher as he discusses the minute details of Morgan dollars, which were minted from 1878 to 1904 and again in 1921, and Franklin half-dollars, which were struck from 1948 through 1963. These treasures are prominently displayed, alongside several 200-year-old half-dollar pieces featuring Lady Liberty worth about $90 each.
A coin's value, Caudle explained, is based on how many were minted, where it was minted and the coin's condition. Coins made in Carson City, Nev., have increased value because that mint was only in operation for 19 years. The amount of gold or silver in a coin can greatly enhance its value. Recently, as inflation has devalued the U.S. dollar, Caudle has seen an increase in customers wanting to invest in gold bullion and gold coins.
Although he has been interested in coins for nearly 50 years, Caudle still gets excited as he ponders the history of the coins that have passed through his collection. A 1799 penny that he sold, for example, was in circulation while George Washington was still alive. Examining a Morgan dollar minted in California in 1896, he considers the distance it has traveled. "What has it bought?" he wonders. "How did it get to Statesville from San Francisco?"
Almost all of the coins in Caudle's shop are part of his personal collection, but he also sells coins that belong to other folks on consignment.
Often, someone comes into the shop who has inherited a relative's coin collection. While some want to sell off the collection, others just want to know the value of their inheritance. In one of these collections, Caudle discovered a gold coin worth about $8,000.
With increasing frequency, Caudle said, individuals walk into the shop with a coin that they bought online with the expectation of selling it to him for $1,000. "They come in all excited and I have to be the dream crusher," he said. "Don't believe everything you read online."
As for his own collection, Caudle is willing to part with everything except that French franc that he found years ago as a schoolboy. He's holding onto that little treasure.
"About everything else except my wife and my dog is for sale," he said.
EDITOR'S NOTE: This article was originally published in the June edition of "IFN Monthly."