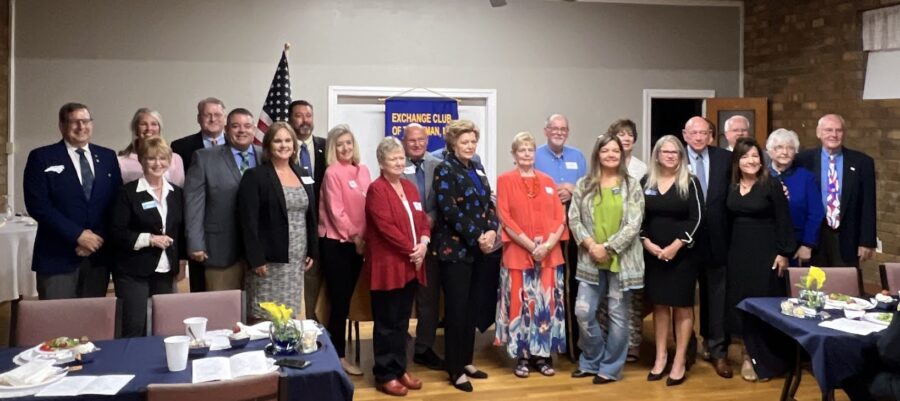 BY DEBBIE PAGE
After the moving Walk of Heroes flag display on the greenway and the accompanying Memorial Day ceremony by the Evening Exchange Club of Lake Norman, town officials, club members, and folks in the community began talking about establishing a branch of the organization in Troutman.
On Thursday night, that vision came to fruition with the official charter ceremony to form the Exchange Club of Troutman, which promotes patriotism, youth services and community service.
The Evening Exchange Club of Lake Norman served as the club's sponsor and provided start-up funding. President Marie Watts, who came to support the charter ceremony, said the Exchange Club offers endless opportunities to make the community a better to live in and offered her club's help as needed.
Exchange seeks to include members from all backgrounds who share a unified mission to serve while learning and growing, acquiring leadership skills, having fun, and developing camaraderie.
After enjoying a dinner buffet, 21 charter members were inducted, including Robert and Tonya Bartlett, Curtis Fortner, John Gallina, Cotton and Vickie Ketchie, Crystal McIntosh, Ken Overcash, Sylvia Poole, Kenny Rimmer, Alice Rimmer, Leisa Rowe, Mike and Becky Sharar, Patti Sloan, Barbara Sprinkle, Robby and Amy Suggs, Emily Watson and Ron Wyatt.
After the induction and the awarding of charter member pins, Region 10 Vice President Fussell Hughes asked the new members to attend meetings regularly to share their skills and experience, help their community, encourage more community members to join, and enjoy making new friendships.
Members then elected John Gallina as president, Amy Suggs as president-elect, Crystal McIntosh as secretary, and Tonya Bartlett as treasurer.
Barbara Sprinkle and Becky Shire (2023-24) and Curtis Fortner and Robbie Suggs (2023-25) were selected to the Board of Directors.
Troutman Town Council member Eddie Nau welcomed the organization into the community, saying that he expected positive and great things as the town and club worked on new projects together. Council member George Harris and his wife Becky and Police Chief Josh Watson also attended the event.
Town Manager Ron Wyatt thanked the Ketchies for their efforts to get the club organized in just four months. Since Troutman is known for its patriotism with the annual Independence Day Parade, Wyatt believes the club will be a success.
After receiving his gavel and meeting bell, Gallina thanked the "club builders" who did a lot of behind- the-scenes work to make the Troutman club possible.
"I know all the folks in Troutman will work diligently to make you all proud and to be a shining example of a club," he said.
Gallina also thanked local, state and national Exchange representative for their support as well as the Town of Troutman's contingent for its backing.
Leadership is not about making decisions but unifying, nor is it about making a plan, Gallina said, but instead about pulling the best and brightest to train, teach, and mentor to help and support others to meet their goals and aspirations.
"It's about working to be our best, together, to conquer goals and unify around those goals" to make the community an even better place that future generations will want to live in, he said.
The Covenant of Service, expressing Exchange's philosophy and ideals, was composed in 1923 by Exchange Club member Thomas L. Bailey, who served as National President of Exchange from 1925 through 1927, and later served as governor of Mississippi from 1944 through 1946. It was officially adopted by the organization in 1927:
Accepting the divine privilege of single and collective responsibility as life's noblest gift, I covenant with my fellow Exchangites:
To consecrate my best energies to the uplifting of Social, Religious, Political and Business ideals;
To discharge the debt I owe to those of high and low estate who have served and sacrificed that the heritage of American citizenship might be mine;
To honor and respect law, to serve my fellowmen, and to uphold the ideals and institutions of my Country;
To implant the life-giving, society-building spirit of Service and Comradeship in my social and business relationships;
To serve in Unity with those seeking better conditions, better understandings, and greater opportunities for all.
WANT TO JOIN?
Candidates who join by November 3 will also be considered charter members. Membership dues are $50 per quarter, with an initial $35 joining fee. The club plans to meet at the Troutman Fire and Rescue Community Room until a more permanent location is secured. Email treasurer Tonya Bartlett at tmr7731@hotmail.com for membership form and more information.
Photo Gallery