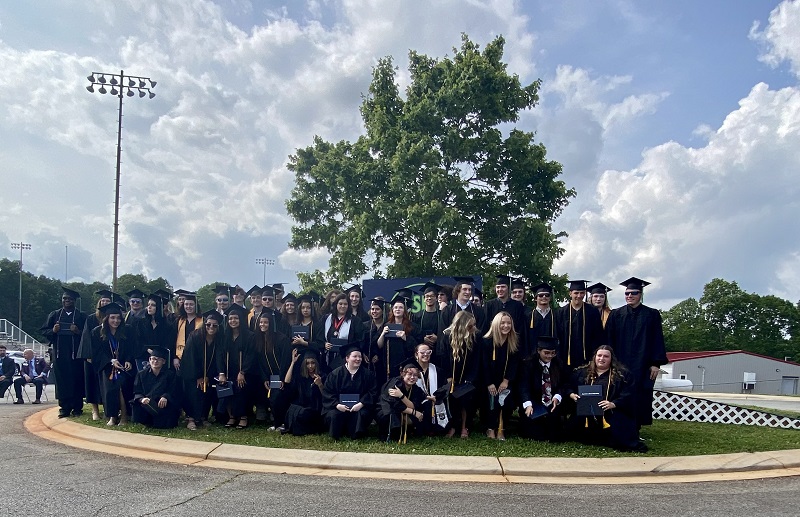 FROM STAFF REPORTS
The Agriculture and Science Early College celebrated the fourth class of graduates in the school's history on Friday.
Principal Billy Wells congratulated the 51 graduates on the hard work and determination that paved the way to receiving their high school diploma. Of the graduates, 47 will also receive credentials from Mitchell Community College this week. All 51 have earned college credits during their time at ASEC.
"You helped build this school, and in turn ASEC has helped build you," Wells said. "It has been a good and worthwhile experience, and we trust you will go forward and represent the ASEC well."
It was a bittersweet occasion for Wells, who is retiring this year after six years leading the school. He reminded the students that they would be able to lean on lessons learned and connections made during their time at ASEC as they move into their next chapter.
"Life is collaborative," he said. "We do not walk or work alone."
Honor graduate Madeline Sigmon shared words of encouragement with her classmates, urging them to turn to faith as they move forward.
"It is my hope that each of us will fearlessly enter into the next stage of our lives," she said.
Fellow honor graduate Kelsey Kiser reminded the class to remember they have overcome many challenges to reach this point. "This journey has by no means been easy on any of us, (and) the road to success is not always straight," she shared.
The school also celebrated the collective achievements of its class of 2023, noting that its graduates had received more than $5.4 million in college scholarships.
Photos