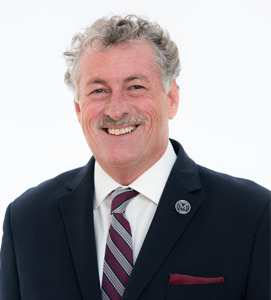 Special to Iredell Free News
Mooresville Town Commissioner Bobby Compton officially announced his candidacy for mayor on Wednesday, pledging to lead the community toward a safer and prosperous future.
A Mooresville native and retired firefighter, Compton is running against former commissioner Chris Carney in the November election. Mayor Miles Atkins decided not to seek re-election.
"From my years as a firefighter to my current seat as commissioner, improving the lives of Mooresville residents has been at the forefront," Compton said in his campaign announcement. "This has been my passion since 18 years old and I hope to continue putting this Town and its people first as Mooresville's next mayor."
Compton's journey of service began in 1974 as a firefighter in Mooresville. For 30 years, he worked to protect lives and property of Mooresville residents. Compton was named fire marshal in 1988 and remained in that position through his retirement in 2005. He returned again to public service in 2011 when he was elected commissioner at large, a seat that he continues to hold.
Compton has served as chairman of the Centralina Regional Council, member of the National League of Cities, member of the North Carolina League of Municipalities and ex officio to the Town of Mooresville Historic Preservation Commission and Public Arts Committee. He also sits on the Board of Directors for the Mooresville Downtown Commission. In April of 2023, he was recognized as Downtown Mooresville's 2022 Main Street Champion
Through this service, Compton said he was continuously work to advocate for the betterment of Mooresville and its people.
Compton said his mayoral campaign will focus on the fundamentals of local government. His major points of attention include:
♦ Public Safety: As mayor, Compton will prioritize the well-being of Mooresville residents, working closely with law enforcement and the fire service to enhance community safety practices. He also will lead measures that ensure public safety personnel have the necessary resources and support to
carry out their life-saving duties effectively.
♦ Economic Growth: Compton said he will continue to foster an environment that attracts businesses, encourages entrepreneurship and creates job opportunities for the greater community. His economic policies will focus on sustainability, including small businesses.
♦ Transparent and Accountable Leadership: As mayor, Compton pledges to maintain open communication with the public, seeking input on important matters and increased involvement in decision-making.
Compton promised that his administration will be characterized by honesty, integrity and a commitment to serving within the best interests of Mooresville residents.
"It is with pride and determination that I announce my candidacy for mayor of Mooresville," he said. "My 43 years of local government experience, all in this town that I love, have instilled in me a deep appreciation and allegiance to Mooresville and its citizens. I know where we've been, I know where we are currently and I am eager to lead us into the future.
"Together, we can continue to grow Mooresville in a positive way and build on the principles of unity, progress and compassion," he added.