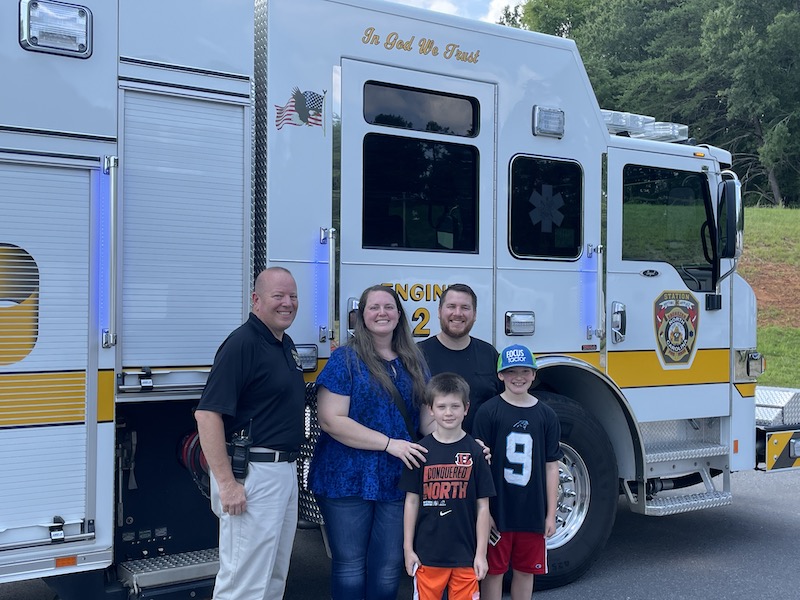 BY KARISSA MILLER
Iredell County Emergency Communications officials are calling Jameson Whitman, a 9-year-old, and Greyson Whitman, a 7-year-old, heroes after the brothers called 911 after their mom had a medical emergency earlier this month.
It seemed like a regular morning at their home on July 18.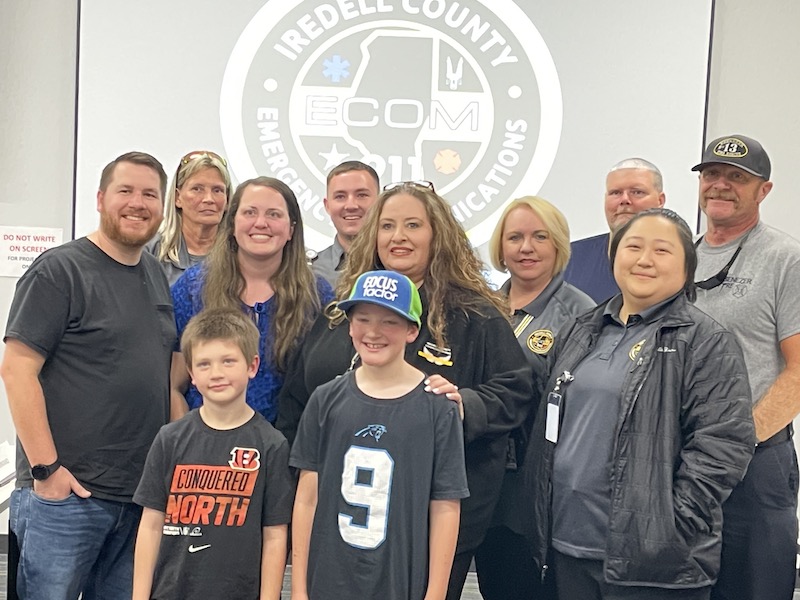 Casey Whitman, their mom, was in the kitchen cooking when Jameson noticed "she fell and looked like she was asleep and not waking up."
He didn't know what was going on, but he knew that something wasn't right and that it was an urgent matter. Jameson notified his dad, who was at work.
He remained calm, dialed 911 and was able to describe his mom's symptoms and provide other valuable information to telecommunicators.
Meanwhile, Greyson helped make sure the door was unlocked for first responders and the boys made sure their dog was in another room of the house.
Jameson, who is a rising fourth-grader, and Greyson, a rising second-grader, attend Cloverleaf Elementary, an International Baccalaureate School.
Casey, who completed an internship with Cloverleaf Elementary last year, recently earned her master's degree.
The mom of two describes her boys as "loving and helpful," which proved to be true on July 18.
The family relived that day in a good way on Wednesday afternoon during a special event at the Iredell County Public Safety Center. They enjoyed a tour and met the emergency responders who helped that day.
As a special surprise, the family was picked up at their home and brought to the Public Safety Center in a firetruck.
"Awesome job for both of you guys. Y'all worked as a team. By doing that, you made a difference. … I'm very proud of you guys," said Jamie Barrier, 911 Emergency Communications Radio Technical Support Staff.
On the other end of the line on July 18 was Emergency Communication Training Officer Kristie Harbison. Two trainees, Melodie Barrier and Robin Yang, were assisting ECOM due to a high volume of calls that day.
"This medical call will always be close to my heart. I know your parents are proud of both of you just as much as I am," Harbison told the brothers Wednesday.
Barrier and Yang, who were at their training consoles, were able to get EMS and first responders to the home quickly while Harbison attempted to assess the mother's condition.
"You have by far exceeded the expectations when someone of your age calls 911. You have definitely set the bar high for everyone that calls 911 from here on out," Harbison said.
Iredell County Commissioner Brad Stroud also offered his praise for the Whitman brothers.
"I just want to look at you and say thank you. That was amazing. I don't know that my children, Tera when she was 9, could have done that well," Stroud said.
John Gallina, co-founder and CEO of Purple Heart Homes, gave each boy a coin for "staying cool under pressure" and recognized their heroic efforts.
Tera Dufault, ECOM telecommunicator and part of the public relations team, along with Candy Miller, ECOM director, presented them with hero certificates and challenge coins.
Greyson was presented with a 911 hero award and a challenge coin for being "a doer and you showed brave actions," she said.
Jameson was awarded a 911 hero award and a challenge coin for "taking charge and your brave actions."
ECOM staff also recognized paramedics Austin Huntington and Sandy Cartner who responded and treated Casey.
Ebenezer firefighters Ryan Harrison and Jesse Church were the first to arrive on the scene that day and assisted paramedics. However, they were unable to attend Wednesday's event because they were out responding to a call at the time of the event.
Ebenezer Fire Chief Matt McAlpin, who drove the family to the communication center, encouraged the family to stop by the station to meet the firefighters.
Casey faced different health challenges in February, which she thinks may be related to what happened on July 18 when she became unconscious.
"I'm very appreciative. I have been going through stuff all year. We aren't sure if that's connected or not," Casey said. "I'm still here."
"I'm thankful for y'all for helping us. It's been a long year," she added.
Her husband, James Whitman, said he's proud of his kids and thankful for everyone's contributions that day.
"For something like this, it makes us proud to live in this community. Thank you for all that you do," he said.
Photos