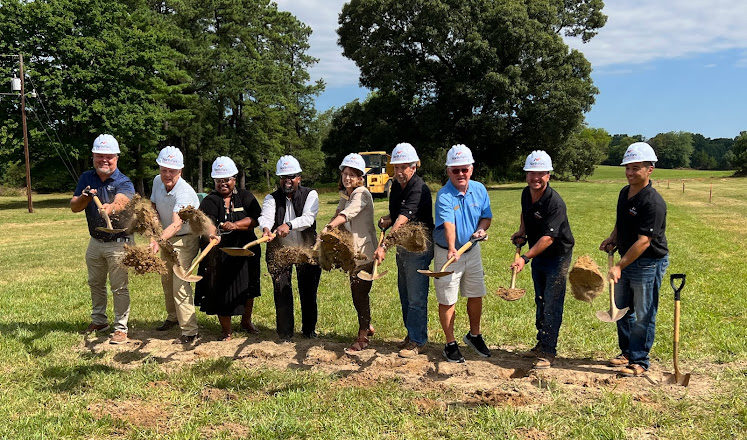 BY DEBBIE PAGE
Iredell County, town and business officials, along with Empire Building Group partners, participated in a groundbreaking ceremony on the 45-acre North Fork Business Park off Murdock Road in Troutman on Tuesday morning. The site plan includes eight buildings ranging from 15,000 to 200,000 square feet.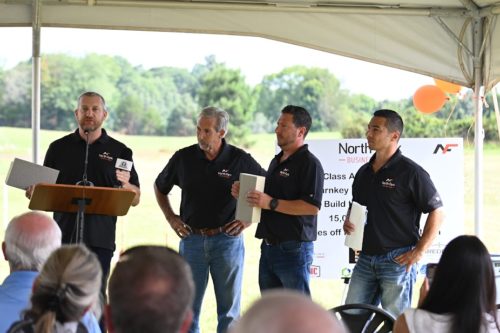 The business park, with both heavy and light industrial sections, will also feature "world class landscaping" by DalaCasa Landscape Management, owned by Empire partners Peter Casatelli and Tony D'Alessandro. Long-time Iredell County resident and developer Leon "Butch" Bouwens is the CEO of Empire Building Group.
Real estate broker Sam Barnette, who will handle real estate matters for Empire, said the group searched extensively through Iredell County before selecting the site. He thanked Troutman officials and staff for their "warm, positive interactions."
Barnette acknowledged the difficult job that the Troutman Town Council has to encourage healthy growth while maintaining the small-town feel that makes Troutman special. He commended council members and planning staff for asking detailed questions during the project's approval process to fine tune the plan and ensure the development would be an asset to Troutman.
Troutman Mayor Teross Young, Mayor Pro Tem Paul Henkel, council members Felina Harris and George Harris, and Town Manager Ron Wyatt, Iredell County Board of Commissioners Chair Melissa Neader, Iredell Economic Development Corporation CEO Jenn Bosser, and Statesville Chamber of Commerce President Shannon Viera were among the honored guests at the event.
Barnette displayed a conceptual drawing of the park, which included eight steel facilities built to suit as flex spaces and warehouses, either for sale or lease. Each will have a full custom interior up-fit and highly insulated metal siding with a stucco-like finish.
The up-fits can include offices, conference rooms, break rooms, roll-up doors, and specialized utilities to meet specific tenant/owner needs.
Barnette expects many types of businesses will be interested in the industrial spaces, including motorsports, manufacturing, and distribution businesses, which will bring new economic opportunities and revenue to the town.
A strict owners' association will ensure compliance with aesthetics, cleanliness, and upkeep.
Casatelli promised that the park will look like no other in the county, with excellent landscaping, mature trees, and landscaped berms. "We plan on this being one of our benchmark properties," he said.
Bosser thanked the Empire Building Group for its investment and superior products as well as its commitment to addressing the concerns of the community and nearby neighbors.
Having quality buildings ready helps attract commercial and industrial development to the community, Bosser added.
Neader was enthusiastic about this project, while acknowledging that change is sometimes challenging. She was excited about the variety of facilities the park offers as well as the involvement of local resident developers who expanding their businesses here.
"That's what we do here in Iredell County — we find opportunities and work together on those," said Neader. "It is an opportunity to have growth and business and industry to co-exist with neighbors. I'm excited to see this project."
Wyatt said that Bouwens, who has built over 150 facilities in the county, and the other Empire partners have a strong connection to the area and are investing resources so the area can thrive in harmony with community residents.
"Because of people like this, we are growing the right way," said Wyatt.
After the groundbreaking, Mayor Young said the park will make a real difference in the community. "It's always about jobs. The community is growing, and it's important to have jobs and good business partners for our community."
"There are opportunities for businesses like this to help grow our infrastructure, our parks and rec, and do things for our community to continue to allow us to grow and develop. We are looking forward to the partnership."
The businesses already here will also benefit from new folks coming to the business park to work and live, added Mayor Young.
Henkel said the project continues the town council's efforts to balance residential and commercial growth.
"I think this is going to be a quality project that will provide jobs in a location we have designated for many years for industrial and commercial growth," the mayor pro tem said.