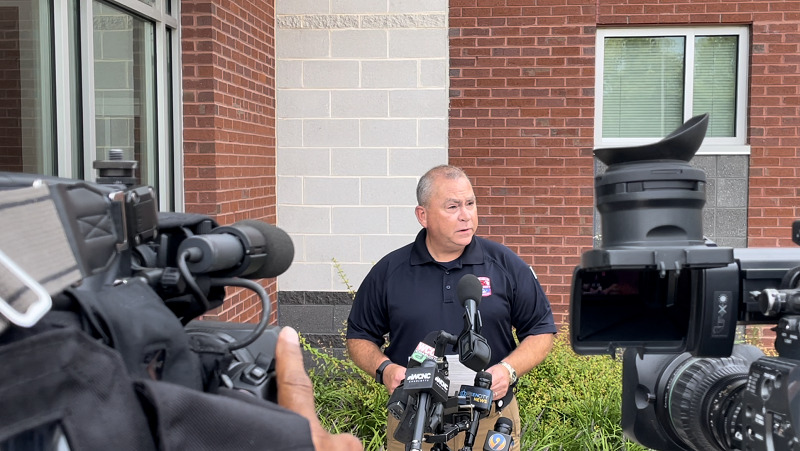 BY MIKE FUHRMAN
When Iredell County Emergency Management & Fire Services Director Kent Greene arrived on the scene of a home explosion early Tuesday morning, he did not expect to find any survivors.
The 6,391-square-foot home at 292 Barber Loop near Mooresville was reduced to a pile of rubble by the explosion around midnight. Personnel from Mooresville Fire-Rescue, the Lake Norman Volunteer Fire Department and Troutman Fire Department began arriving on the scene about 12:08 a.m.
"There's nothing left of this structure except a partial wall," Greene said during a news conference Tuesday afternoon.
Yet somehow Christian Rogers, 25, walked out of the home owned by NFL player Caleb Farley, who was not home at the time of the explosion.
Greene called it "amazing" that Rogers survived the blast. He was awake and being treated at Atrium Health Carolinas Medical Center in Charlotte for a concussion and non-life threatening injuries.
"It is incredibly fortunate for that young man that he was able to walk away from that structure," Greene told reporters.
The resident, Robert M. Farley, 61, was not so fortunate. His body was recovered by first responders around 4:30 a.m., Greene said.
Investigators from the Iredell County Fire Marshal's Office, N.C. State Bureau of Investigation and federal Bureau of Alcohol, Tobacco, Firearms and Explosives are trying to determine the origin and cause of the explosion, which also destroyed several vehicles.
At this time, authorities do not suspect foul play, according to Greene.
Dominion Energy personnel also responded to the scene of the deadly explosion.
"We continue working in coordination with emergency personnel on this ongoing investigation," spokesperson Persida Montanez said in a statement. "We are deeply saddened at the tragic loss of life. Our hearts go out to the family impacted by this event."