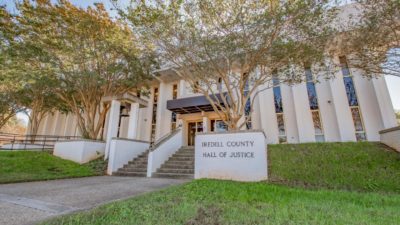 FROM STAFF REPORTS
A former Iredell County Sheriff's Office sergeant was sentenced to 60 days in jail for using excessive force against an inmate during an incident at the Iredell County Detention Center last fall.
Jonathan Fred Perdue, 42, recently pleaded no contest to misdemeanor assault with a deadly weapon for his role in the incident at the jail the weekend of November 12-13.
Judge Hugh Lewis accepted Perdue's plea in Iredell County District Court and imposed the active 60-day jail sentence.
Perdue was one of three officers who used unnecessary force when dealing with an inmate, who was not resisting or being combative, according to Sheriff Darren Campbell. The inmate, whose name was not released, sustained minor injuries, according to the sheriff.
All three officers were terminated by the sheriff following an ICSO review of the incident.
The N.C. State Bureau of Investigation investigated the incident and filed charges against Perdue and detention officers Tevin Smyre and Adam Clark. Smyre and Clark were charged with misdemeanor assault.
Catawba County Assistant District Attorney Howard Wellons prosecuted the case.