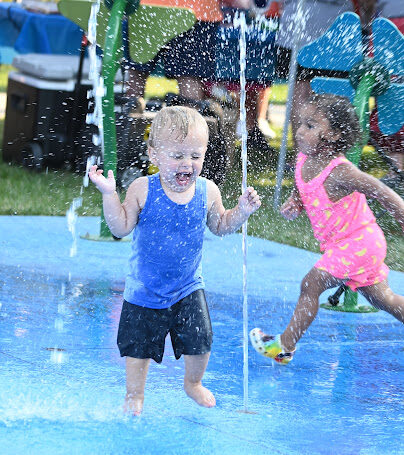 BY DEBBIE PAGE
Over 500 community members mingled at ESC Park at the annual National Night Out event, hosted by the Troutman Police Department, on Tuesday night.
Attendees enjoyed free hot dogs and hamburgers and shaved ice concoctions as well as an abundance of snacks and sweet treats from vendors. Many also gave out small gifts to those who visited their booths.
Kids also enjoyed the splash pad, several inflatables, the large playground, and vendor activities such as corn hole or giant Jenga as they listened to music provided by DJ Sheldon.
Police Chief Josh Watson was pleased with the turnout for the event and the great interactions and connections between community members and representatives of law enforcement and emergency services from throughout the county.
Watson thanked all the vendors, area law enforcement and emergency services, and community members who came out to the event. Food Lion donated hot dogs, buns and condiments and Lowe's Home Improvement donated water.
In addition to the Troutman Police Department and Troutman Fire and Rescue, other agencies present were the Iredell County Sheriff's Office, NC Probation and Parole, Statesville Police Department, N.C. Highway Patrol, Iredell County EMS, and Lake Norman State Park rangers.
Watson said the event helps community members build one-on-one relationships with law enforcement "so when later on down the road when they need help or interact with an officer, they already have that connection."
Watson is a third generation law enforcement officer. "Growing up with a grandfather, father and uncle that were officers, it was always a part of my life. i wanted to do something positive and serve a call bigger than myself."
He encourages young people to consider law enforcement as a career. "It's very rewarding. It's not always negative actions – you make friends with all different kinds of people that you never would in any other job."
"You are able to help people and give back to others and protect those who cannot take care of themselves."
Watson said that events like this help people see that "we are normal people too. We have families; we have interests and hobbies. There's a whole lot aside of this uniform that we can share with people."
In the department's community policing model, TPD's officers' first priority is to help and protect the community. They also refer people with substance abuse or mental health issues to help solve the problems.
"An officer's goal is not to write ticket or arrest people, but we took an oath to uphold the law. That's only one small part of our job. There's a lot of interactions and helping others, almost counseling people we are on calls with, that we do, and it's very rewarding," added Watson.
Looking around at the large crowd milling about the park, Mayor Teross Young said the turnout indicates the strong partnership between community members and Troutman law enforcement, fire and rescue, and EMS agencies.
"We're all a community. As long as Troutman continues being the small town community that we want it to be, it doesn't matter how big we get, we've got to keep that mentality" of looking after neighbors, Young said.
Photos