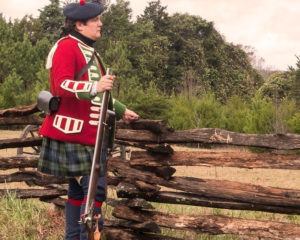 Special to Iredell Free News
Fort Dobbs State Historic Site will hold a special "Highlighted History" event on Saturday, June 3.
Visitors will learn about the June 1760 invasion of the Cherokee homeland by a British army commanded by Archibald Montgomery. Re-enactors will illustrate life on campaign as experienced by men of the 77th Highland Regiment as well as Carolina militia soldiers.
Featured outdoor activities include scheduled musket firing demonstrations and a presentation about the campaign by Historic Interpreter Jason Melius.
All programming will take place outdoors, but several guided tours of the reconstructed fort will be offered on a limited basis throughout the day.
Event hours are 10 a.m. to 4 p.m. on Saturday, June 3. The event is free; fort tours cost $2.
LEARN MORE
For more information, call (704) 873-5882 or visit www.fortdobbs.org.
About Fort Dobbs
Fort Dobbs State Historic Site's mission is to preserve and interpret the history of Fort Dobbs and North Carolina's role in the French and Indian War. It is open Tuesday-Saturday, 9 a.m.-5 p.m. Special events and living history weekends are offered throughout the year. Fort Dobbs is located at 438 Fort Dobbs Road, Statesville. It is part of the Division of N.C. State Historic Sites within the NC Department of Natural and Cultural Resources.