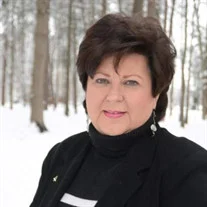 Our beloved wife, mom and mimi, Shelia Frady Lamberth, 75, of Statesville, N.C., passed away Monday, May 22, 2023 with the love of her life by her side.
Shelia was born December 30, 1947, in Springhill, La., to the late Harold George Frady and Margie Jackson Frady. She was a 1965 graduate of Woodlawn High School in Shreveport, La. On May 13, 1967, she married Gary Lamberth of Statesville, N.C., while he was stationed at Barksdale AFB in Bossier City, La. After they were married, they moved to Statesville, where Shelia began her career as a hairstylist in 1969. She retired in 2019 after a successful 50-year career.
She was preceded in death by her sister, Kathy Frady Nealy.
Shelia is survived by her husband of 56 years, Gary Lamberth. In addition to her husband, she is survived by her two sons, Todd Lamberth (Wendy) and Shane Lamberth (Mary Kay); grandchildren, Jennifer Madru (Brian), Brittany Slate (Christian), Rebecca Turney (Matt), Danielle Ellis (Brian), Hayley Lamberth, Leah Lamberth and Luke Lamberth; great-grandchildren Asher Slate and Nolan Madru; siblings Sherry Frady Palmer of Austin, Texas, and Lisa Frady Robinson of Benton, La.; and many nephews and nieces that she absolutely adored; and special friends, Brenda Hicks and Derone and Stephanie McNeill.
The family will receive friends from 4 to 6 p.m. with a memorial service to follow on Friday, May 26, 2023, at Front Street Baptist Church in Statesville, N.C., with Pastor Tim Stutts officiating. In lieu of flowers, the family asks that you consider making a donation to the Pulmonary Fibrosis Foundation (PFF) to help find a cure for idiopathic pulmonary fibrosis (IPF) at www.pulmonaryfibrosis.org.
Nicholson Funeral Home is honored to serve the Lamberth family.