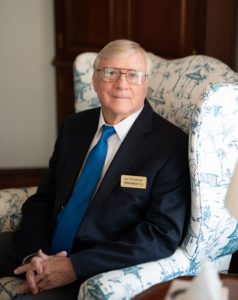 BY MIKE FUHRMAN
As a young boy, Joe Troutman would sit on the stoop outside his family's home on Armfield Street in Statesville and watch funerals across the road at Race Street Methodist Church. He remembers being drawn to the idea of helping others during a difficult time.
Soon he was providing final arrangements for neighborhood cats and dogs and even a pet chameleon. Prized among his childhood possessions is a death certificate he made for a bird that he determined died of blunt force trauma.
That compassion he displayed for all of God's creatures as a child has served Troutman — and the community — well throughout his 60-plus year career in the funeral service. He has helped with final arrangements for more than 25,000 people.
"I've got more friends in the cemetery than I do living now," he said.
Today, at age 85, Troutman continues to work as a funeral director for his son William, who owns Troutman Funeral Home. His life's work has been a calling, and Troutman considers it a true privilege to help families during their grief journey and make sure their loved ones are honored.
"Every family has special stories and special remembrances," he said, "and I've been blessed to share those over the years."
Seeing so many families struggle, especially after the loss of a child or young adult from an accident or suicide, has been difficult, Troutman concedes. But having the opportunity to provide even a small measure of comfort to those left behind has been gratifying, he added.
Throughout his career, Troutman has arranged services that have drawn more than 1,000 mourners. From how to handle parking at the cemetery to helping coordinate seating arrangements in the church, he pays attention to every detail. He is driven by the belief that a rating of 99 out of 100 is not enough, his son said. For funerals where no one shows up — and sadly, that happens — Troutman insists on the same level of professional service, personally making sure there are flowers and a ceremony.
"If it's not in your heart, you can't provide the service people need," he explained.
'Service to humanity is the best work of life'
When Troutman was 14, he started helping out on the holidays at Johnson Greenhouses, which was located next to Johnson Funeral Home. A couple of years later he was helping out on the ambulance service — which in those days was operated by local funeral homes. And when his father accepted a promotion and his parents moved to Greenville, S.C., during his senior year in high school, Troutman stayed behind in Statesville and took a job with Bunch Funeral Home, which was owned by family friends Glen and Myrtle Westmoreland. He worked full time while attending Mitchell Community College. After graduating from Mitchell in 1958, he made $50 a week and was on call around the clock.
In 1961, Troutman completed embalming school and took the next step in a career that has taken him to just about every church and cemetery across Iredell County. To this day, he remembers — down to the section and exact plot number — where many prominent community members who died decades ago are buried.
And the people he has served over the years remember Troutman. Occasionally, someone will approach him at a funeral and share a memory of Troutman transporting them to the hospital in an ambulance more than 50 years ago. Others recall how perfect the ceremony was for their beloved mother or grandfather.
Along with his then-wife Pam, Troutman purchased Nicholson Funeral Home in 1983, reaching the hallmark of his career in the funeral service.
When William purchased Troutman Funeral Home from Jim and Susan Sappenfield in a handshake deal in 2018, he asked his father to help re-establish the business. His father's presence and counsel have contributed to the funeral home's exponential growth in the past five years, William said. He's learned the importance of paying attention to every detail and being there for whatever the family needs during a difficult time in their lives.
For Troutman, it's been great spending time with his son and seeing him flourish in his new role.
"I'm very proud of him. He has certainly followed in my footsteps," he said. "I recognize in him the same compassion for people I felt I've had all these years."
Troutman's service to the community has transcended his career. He was the county coroner for a period in the 1960s and 1970s and served on the Iredell County Board of Commissioners from 1976-1984, including six years as the chair. He also served as the interim county manager for six months.
A former member of the Jaycees and a long-time Rotarian, Troutman has served on the Mitchell Community College Board of Trustees since 2000. He's also served as the treasurer of the Alumni Association for 62 years.
Being invited to be a member of the Jaycees, in particular, holds a special place in Troutman's heart. The last line of the service organization's creed — "that service to humanity is the best work of life" — put into words the feeling that he experienced years earlier on his porch on Armfield Street.
"That's what I grabbed onto," he said.
In 2019, Troutman was named Citizen of the Year by the Greater Statesville Chamber of Commerce for a lifetime of service to the community. Ever humble, Troutman called that recognition "a total surprise."
"My professional career and my civic involvement has been the most rewarding because I have made so many friends and accomplished so much through my longevity," he said.
EDITOR'S NOTE: This article was originally published in the June edition of "IFN Monthly."