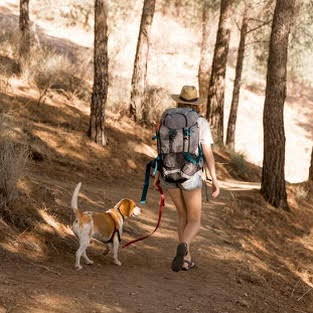 Special to Iredell Free News
Iredell County offers a diverse range of outdoor adventures for nature lovers and their furry companions. From picturesque lake trails to scenic mountain hikes, there are plenty of dog-friendly hiking trails in Iredell County and throughout the region, providing opportunities for memorable and healthy experience for you and your pet.
Lake Norman State Park
Lake Norman State Park, located in Troutman, is a haven for outdoor enthusiasts and their four-legged friends. Covering over 1,900 acres, this park offers a variety of trails suitable for dogs of all sizes and fitness levels, including:
Alder Trail: This 0.8-mile loop trail starts at the Park Lake parking lot and crosses the picnic area before winding along the edge of Lake Norman. As you walk along this trail, you'll be treated to breathtaking views of the lake and the surrounding natural beauty.
Itusi Trail: If you and your pet are up for a longer adventure, the Itusi Trail is a great choice. This 6.7-mile trail, primarily designed for mountain biking, is also open to hikers. It winds through the park's diverse landscapes, offering glimpses of towering trees, meandering creeks, and peaceful meadows.
Lake Shore Trail: For a scenic lakeside hike, the 5-mile Lake Shore Trail is a perfect option. Beginning near the Cove picnic area, this trail takes you along the shores of Lake Norman. You and your pet can enjoy the stunning lake views as you explore this well-maintained trail.
Statesville Greenway
The Statesville Greenway offers a picturesque escape for both you and your pet. This mostly paved trail system winds through lush greenery. The wide pathways provide ample space for you and your furry friend to walk or jog while enjoying the natural beauty of the area.
Rocky Face Mountain Recreational Area
For a more challenging hiking experience, venture to the nearby Brushy Mountain area and explore the Rocky Face Mountain Recreational Area. Located in Hiddenite, this natural landmark features a steep, dog-friendly trail that ascends the mountain, rewarding hikers and their pets with a stunning panoramic view. Along the way, you'll encounter unique rock formations and diverse plant life, creating a memorable adventure.
Cornelius Road Park
Located in Mooresville, Cornelius Road Park is another gem for pet owners to explore. The park features a dedicated dog park where your pet can socialize and play with other dogs in a safe and enclosed environment. In addition to the dog park, the park offers a scenic trail that circles the area, allowing you and your pet to enjoy a leisurely stroll while taking in the beautiful surroundings.
Uwharrie National Forest
If you and your pet are up for a bit of a drive, the Uwharrie National Forest offers an expansive wilderness waiting to be explored. Located less than two hours away in Troy, the 50,000-acre attraction offers miles of dog-friendly trails in a true back-to-nature experience. Hiking through the forested trails, you'll be immersed in the sights and sounds of nature, creating lasting memories with your furry friend.
Pet Safety and Insurance
While reveling in these outdoor adventures with our pets, it's essential to prioritize their safety and well-being. In Iredell County, dogs are required to be on a leash in all state parks to ensure the preservation of the natural environment and the safety of other visitors. Additionally, it's crucial to bring water for both you and your pet to stay hydrated during your hikes. Checking the weather forecast before heading out is also important to avoid any unforeseen weather-related issues.
Considering the potential medical expenses that may arise from accidents or illnesses, pet insurance can provide peace of mind for North Carolina pet owners. Pet insurance in North Carolina offers a range of coverage options to suit different budgets and pet care needs, ensuring that you can provide the best possible healthcare for your furry companion.
Happy Tails!
Iredell County presents a unique opportunity for pet owners to bond with their pets while enjoying the great outdoors. From the serene shores of Lake Norman to the rugged beauty of Rocky Face Mountain, there's something for every nature-loving pet owner in this picturesque county. So leash up, grab your hiking shoes, and embark on an unforgettable adventure with your four-legged friend. Always remember to respect the natural environment, adhere to leash laws, and pick up after your pet.
SPONSORED CONTENT