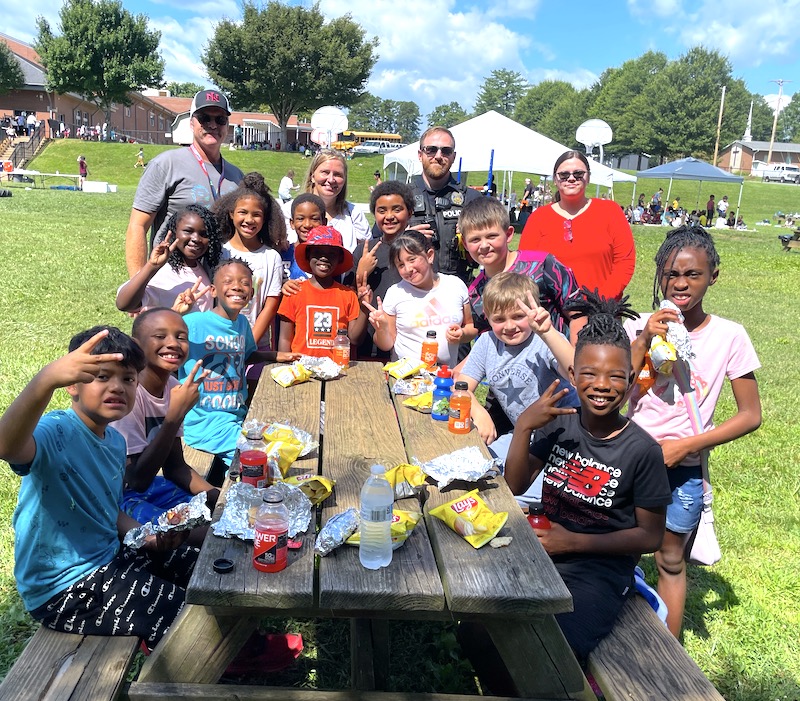 BY KARISSA MILLER
A warm, sunny school day provided the perfect setting for games and races on Friday at N.B. Mills Elementary School.
Students and teachers gathered in an open space beside the school for a day of fun that ended with a hamburger or hot dog lunch.
Classes rotated through half a dozen games spread out across the field. Games included traditional favorites such as tug-of-war, as well as limbo and a potato sack race.
"It's fun to run around and play with your friends and do new activities," student Zy'nah Watts said.
Watts said tug-of-war was her favorite event.
"We beat the boys," explained her friend and classmate Destiny Rankin.
Third-grader Juvantae Imes was smiling and cheering on his classmates Friday.
"They are funny and they are so fun to play with," he said. "I feel great when playing sports that I care about. I love to play football and stuff."
Principal Jonathan Nicastro stayed busy and lent a helping hand wherever needed. He also took time to meet with the community partners that helped sponsor the event.
"It was a really awesome welcome back and great community involvement," Nicastro said.
While field day is usually associated with the end of the school year, school board member Abby Trent, who organized the event, said she simply wanted to do something special for the kids.
"I wanted to do something to start the school year off smoothly. Field day is something everyone loves. Seeing the smiles on their faces made my day despite an earlier mishap with the slides," Trent said.
The event provided a way to bring community partner groups together who had never collaborated.
Grill 4 God cooked and donated a total of more than 500 hamburgers and hot dogs.
"It's great working with the kids and seeing them enjoy themselves and laugh,' said Grill 4 God Executive Director Brad Bullock.
Other community partners that were involved included Foundation of Hope and Front Street Baptist Church. Faith-based partners and school volunteers helped with inflatables, popcorn and sno-cones.
School board member Brian Sloan, who was among the volunteers, said it was a great way to give back.
Sloan found a student — who needed some extra assistance — and helped bring the student around to all of the activities.
"It's the most fun I've had all day," he said.
Teacher Melissa Gill said her students loved it.
"It was a way to bring us all together as a community. No one was worried about things going on in their home life or at school," Gill said.
Photos