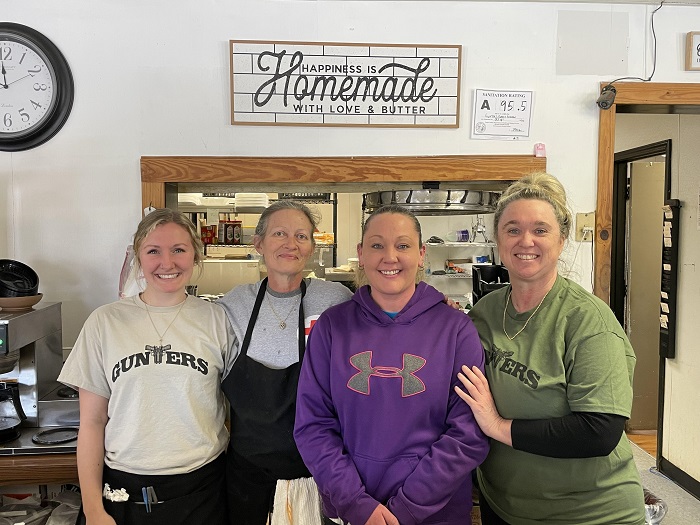 BY MIKE FUHRMAN
If you stop by Gunter's Family Kitchen for lunch, there's a good chance you'll run into Dan Wilhelm.
He's a big fan of the homemade meatloaf, dip chicken and salt-and-pepper catfish — and the macaroni-and-cheese is another personal favorite. For dessert, Wilhelm says you can't go wrong with the peach cobbler or apple crisp — and the strawberry cake ain't bad either.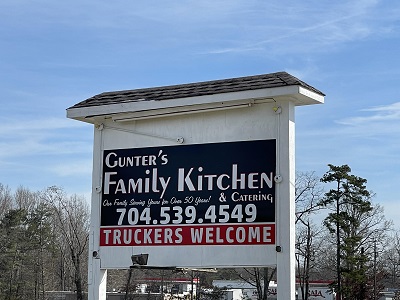 Calling Wilhelm a "regular" is perhaps an all-time understatement. By his estimation, he's had lunch at the Union Grove restaurant just about every day for the past eight years. And if he's going to miss Sunday lunch at Gunter's, he makes sure he comes for breakfast before church.
"I'm generally here when the door opens," Wilhelm said between bites of a thick burger from his regular seat at the lunch counter.
Located a stone's throw from Interstate 77, Gunter's Family Kitchen is a staple for folks who call "the Grove" home as well as regulars from Statesville and the surrounding area and as far away as Greensboro and Charlotte. Truckers appreciate the free parking out back, where they can rest after a big meal, and first responders never pay for their drinks.
The specials change daily. If you're lucky enough to be there on pork chop day, make sure you're hungry, especially if you order the mashed potatoes, green beans, cornbread and apple crisp.
As Wilhelm, a retired electrical worker, says, "If you go out from here hungry, it's your fault."
Southern hospitality is as much a part of the Gunter's experience as the country cookin'. The staff members know the regulars on a first-name basis, and they know which ones likes their tea sweet — so sweet it makes your molars tingle — and which ones likes it half and half.
"Most of my business is everyday regulars," owner Tina Gunter said. "It's the community that keeps this place going."
The Gunter family has been in the food business for five decades, starting when Steve and Earlene Gunter — Tina's parents — opened Gunter's Country Store in Turkey Foot.
Steve passed away in 2012, but Earlene still helps out, along with seven other family members spanning four generations.
"My daddy did pave the way for all of this," Tina said. "We were known for chicken wings."
Over the past couple of years Tina has been quietly building a small business empire. Along with the Union Grove restaurant, she also owns a sister restaurant in Mocksville, Gunter's Wing Shack in Harmony and Gunter's Stop-N-Shop in Union Grove.
Tina's son, Devon Parks, puts his business degree to work every day to help make the entire enterprise successful.
"He's my right hand," she said. "He does everything."
Several of the long-time staff members pitch in and work at more than one of the locations, which was critical during the pandemic.
"It's stressful and it's challenging, but I love it," Tina said. "I have a great staff. That has really helped me be more successful."
EDITOR'S NOTE: This article was originally published in the March edition of "IFN Monthly." Pick up a copy at 80 locations across Iredell County.