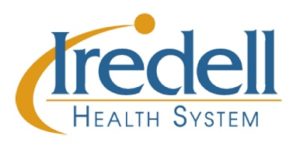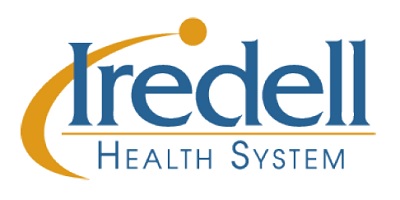 Special to Iredell Free News
Hamburgers, hot dogs, and french fries have become staples of the American diet. And while these foods are delicious, if you eat them on a regular basis, they can be detrimental to your heart health.
Many fast food items are high in saturated fat, and fried items have both saturated and trans fat.
Eating too much saturated and trans fat can increase your cholesterol and put you at risk for heart disease. The Centers for Disease Control and Prevention notes that about 93 million adults in the United States are living with high cholesterol, which represents about 36 percent of the U.S. adult population.
September is National Cholesterol Education Month, the perfect time for you to take charge of your cholesterol, and if you do not have high cholesterol, take the necessary steps to help prevent it from happening.
What is cholesterol?
"Cholesterol is a waxy, fat-like substance that's found in your blood and the cells of your body. There is both healthy and unhealthy cholesterol," said Alyssa Sharp, registered dietitian at Iredell Wellness & Diabetes Center.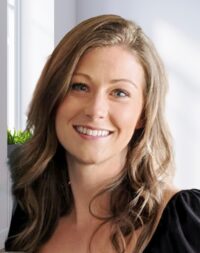 Your liver and other cells make 75 percent of the cholesterol that's in your body, which is as much as your body needs. The additional 25 percent is excess cholesterol, which comes from the foods you eat. When your body has more cholesterol than it can use, the excess circulates in the bloodstream. A total cholesterol above 200mg/dL is considered high.
"When your cholesterol starts increasing, this is a sign of increased plaque, which causes narrowing of your arteries, decreasing blood flow to your heart," said Sharp.
This plaque can cause blood clots to form that can cause heart attack or stroke.
However, not all cholesterol is bad.
"You do need some cholesterol because it is an important substance that helps make hormones, vitamin D, and substances that help you digest food," said Sharp.
"There are three components of our total cholesterol. There's LDL (low-density lipoprotein), HDL (high-density lipoprotein), and triglycerides. LDL is considered the 'lousy' cholesterol, and HDL is considered the 'healthy' cholesterol," said Sharp.
According to Sharp, if you do have high cholesterol, you should focus on what part of your cholesterol is actually elevated.
"If it's the LDL, you want to focus on reducing those foods that are high in saturated fats. If it's the triglycerides, you want to focus on reducing excessive carbohydrates, alcohol, and added sugar intake," said Sharp.
There are several factors that may cause your cholesterol to reach unhealthy levels — some you can't control, like family history, and some you can control, like an unhealthy diet. Your diet plays a pivotal role in managing cholesterol, as certain foods can either raise or lower your levels.
Healthy Eating Tips
Sharp offers the following diet-related tips to help you keep your cholesterol levels in check:
♦ Avoid saturated and trans fats.
"Saturated fat raises your LDL. It is found in some meats, dairy products, chocolate, baked goods, and deep-fried and processed foods," said Sharp.
Animal products such as whole milk, butter, cream, cheese, beef fat, sausage, bologna, and other processed meats are all high in saturated fats. Fatty cuts of meat and poultry with the skin also have high levels of saturated fats.
Trans fat is another unhealthy fat. It can raise your bad cholesterol, LDL, and lower your healthy cholesterol, HDL. Trans fat is mostly in foods made with hydrogenated oils and fats, such as stick margarine, crackers, and french fries.
"You should include healthy fats in your meals such as fish, nuts, seeds, and oils like olive oil, avocado oil, and grape seed oil," said Sharp.
Fatty fish have high levels of omega-3 fatty acids, which can reduce your triglycerides. They don't affect your LDL, but they can help lower triglycerides and increase your HDL. Examples of fatty fish that are high in omega-3s include mackerel, herring, tuna, salmon, and trout.
"When cooking, try to switch from butter to oils, or at least reduce how much butter you're adding to your food," said Sharp.
♦ Increase soluble fibers.
"If you have high cholesterol, you should increase your soluble fiber intake as it can prevent your body from absorbing cholesterol," said Sharp.
Soluble fibers form a gel-like substance in your intestines that slows down digestion, traps cholesterol, and prevents your body from reabsorbing it into your bloodstream.
"Good sources of soluble fiber include whole grains, like oatmeal, hulled barley, quinoa, and farro; fruits like bananas, apples, berries; and vegetables such as broccoli, carrots, and beans. Hazelnuts, chia seeds, and flax seeds are also high in soluble fiber," said Sharp.
Make sure to increase your fiber gradually and increase water intake at the same time. A sudden increase can cause abdominal cramps and bloating.
♦ Eat your fruit and veggies.
"Eating lots of fruits and vegetables will also help to keep your cholesterol in check," said Sharp. Many fruits and vegetables are good sources of fiber, vitamins, and minerals. Fresh fruits and vegetables, and even dried fruits, can make a healthy, handy snack that will help you lower your cholesterol.
LEARN MORE
Alyssa Sharp is a registered dietitian at Iredell Wellness & Diabetes Center located at 235 N Main Street in Troutman. If you would like to schedule an appointment with Sharp, speak with your primary care provider about a referral. To learn more, call the Wellness Center at 704- 878-4556.
Recipe
This heart-healthy meal can help lower your cholesterol.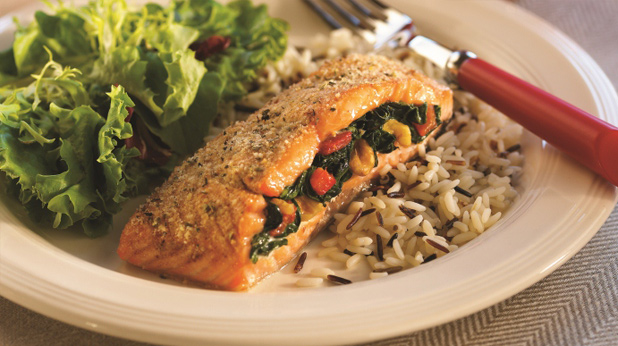 Spinach-Stuffed Baked Salmon
Makes 4 servings
Ingredients
• 1 teaspoon olive oil (extra virgin preferred)
• 2 ounces spinach
• 1 teaspoon grated lemon zest
• 1/4 cup chopped roasted red bell peppers, rinsed and drained if bottled
• 1/4 cup fresh basil, coarsely chopped
• 2 tablespoons chopped walnuts
• Cooking spray
• 4 salmon fillets (about 4 ounces each)
• 2 tablespoons Dijon mustard (lowest sodium available)
• 2 tablespoons plain dry bread crumbs (lowest sodium available)
• 1/2 teaspoon dried oregano, crumbled
• 1/2 teaspoon garlic powder
• 1/8 teaspoon pepper
Directions
1. In a large skillet, heat the oil over medium heat, swirling to coat the bottom. Cook the spinach and lemon zest for 2 minutes, or until the spinach is wilted, stirring constantly.
Transfer to a medium bowl. Stir in the roasted peppers, basil, and walnuts. Let cool for 5 minutes.
2. Preheat the oven to 400°F. Line a baking sheet with aluminum foil. Lightly spray the foil with cooking spray.
3. Cut a lengthwise slit in the side of each fillet to make a pocket for the stuffing. Be careful to not cut through to the other side. With a spoon or your fingers, carefully stuff a scant
1/2 cup spinach mixture into each fillet. Transfer to the baking sheet. With a pastry brush or spoon, spread the mustard over the fish.
4. In a small bowl, stir together the remaining ingredients. Sprinkle over the fish. Lightly spray the top with cooking spray.
5. Bake for 12 to 13 minutes, or until the fish is the desired doneness and the filling is heated through.
Nutrition Information
Serving size: 3 ounces fish and ½ cup vegetables. Amount per serving: 208 calories, 8.5g total fat, 65mg cholesterol, 280mg sodium, 6g total carbohydrate, 27g protein.
Recipe courtesy of the American Heart Association
About Iredell Health System
Iredell Health System includes Iredell Memorial Hospital; Iredell Mooresville; two urgent care centers; Iredell Home Health; Iredell Wound Care & Hyperbaric Center; Community and Corporate Wellness; Occupational Medicine; the Iredell Physician Network and more. Iredell Memorial Hospital is the largest and only nonprofit hospital in Iredell County. The comprehensive healthcare facility has 247 beds; more than 1,800 employees; and has 260 physicians representing various specialties. Centers of excellence include Women's and Children's; Cardiovascular; Cancer; Surgical Services and Wellness & Prevention. The Health System's second campus, Iredell Mooresville, is home to the area's only 24-hour urgent care facility, as well as an ambulatory surgery center, imaging center, rehabilitation services, and physician practices. The mission of Iredell Health System is to inspire wellbeing. For a comprehensive list of services and programs, visit www.iredellhealth.org.