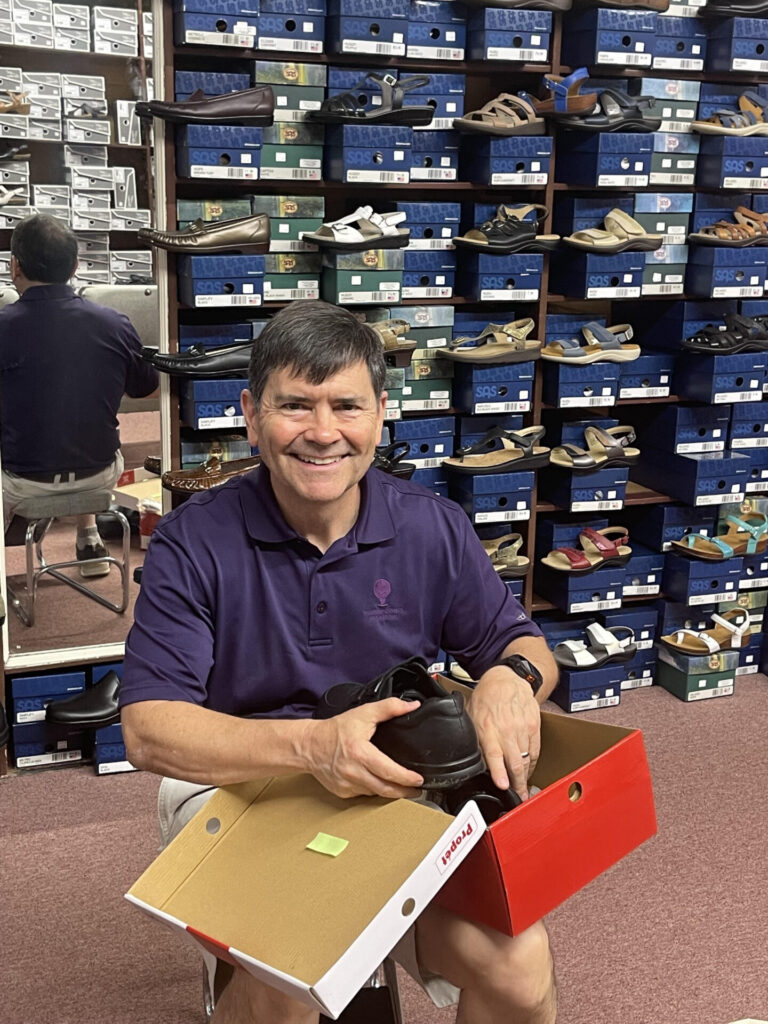 BY KIM McKINNEY
Rusty McLelland was 15 when he got his first job at Long's Family Shoe Store in 1976. His grandmother, Lib McLelland, had worked there from the time the store opened.
"I could walk up here after school. I still remember coming after football practice, probably still sweaty," Rusty recalled. "I never thought I would be in the shoe business."
In 1983, after finishing college, Rusty was trying to figure out the next step in his life. That's when he learned the owner of Long's Family Shoe Store was going to sell the business.
Rusty's father Jim called and asked him if they should buy it. Rusty would need to run the business; Jim was a brand representative for a shoe company and wouldn't be involved in the day-to-day operations until 1998.
In August, the McLellands celebrated the store's 40th anniversary.
"We're blessed to be in a community that has supported us," Rusty said.
Almost every member of the family and extended family has worked there at some time. A fourth generation of customers is now bringing in their kids in to sit on the fire truck where they do the children's shoe fitting.
The store provides personalized service for about the same price as online retailers.
Rusty said they are careful about the shoes they offer. The store stocks top-of-the-line products from top brands, and they are happy to make special orders.
Many of their customers have foot issues. The store began its diabetic shoe program 30 years ago, and many health providers refer their customers to the shop. McLelland's staff can observe the gait of a customer and suggest a shoe that will help them if they overpronate, for example.

International Mission Work
As the store has prospered, the McLellands have helped others in this community — and across the world in Uganda.
In 2001 Rusty and his wife Betty Jo felt God calling them to do international mission work. They ended up ministering to university students in Uganda for two years. Today, they continue to support Ugandans through Equipping Truth Ministries, which they founded in 2008 with an aim of "rebuilding lives on the foundation of Jesus Christ."
Their focus is on helping the residents of Northern Uganda. They had heard the accounts of the barbaric treatment of those people during the reign of Joseph Kony and the Lord's Resistance Army, an era marked by mass massacre and destruction when children were kidnapped and forced to be sex slaves and soldiers.
Kony was forced out of Uganda around 2008 and is thought to be in Sudan. The people of Northern Uganda have had to rebuild to rebuild their lives physically, mentally, and spiritually.
Equipping Truth Ministries now has a full-time staff of 22 people – all Ugandans. They work in 11 sub-counties and with hundreds of clusters in each of them. The clusters study together, and then go on to create communities to build their region.
With the help of the ministry founded by the McLellands, Ugandans are rebuilding their economy and infrastructure — building wells for safe water and teaching farmers to produce crops such as ginger and soybeans, along with how to store and sell their crops.
A big part of the ministry is education for children and young adults. Some 282 kids are now being sponsored for their education. Schools built through the ministry serve around a thousand children. Older kids who cannot attend university are taught trades such as tailoring.
"When we say the Lord's Prayer, we just skip over 'Give us this day our daily bread,' '' Rusty said.
But the people of Uganda understand exactly what that means.
McLelland Shoes is located at 119 W. Broad Street in Statesville. The store is open from 9:30 a.m. to 5:30 p.m., Monday through Friday, and 9:30 a.m. to 12:30 p.m. on Saturdays. Learn more about the ministry in Uganda at equippingwithtruth.org.
Editor's Note: This article was originally published in the August edition of "IFN Monthly."